| | | |
| --- | --- | --- |
| | About Fabryka IR&M Encyclopedia | |
| | | |
| --- | --- | --- |
| | [Heatwave] Chapters briefly | |
A summary of chapters, newest to oldest. All copyrights reserved (C) 2010-2015 by Katarzyna NINa Górnisiewicz. Images source - Internet. All copyrights belong to their respective owners.

---
Chapter 10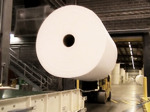 Ivo leaves Louise at the Paper Factory gate and moves towards TAU vault. He watches a rocket blowing up a gas cistern and gets captured by 2 soldiers. He pretends a wanderer suffering a memory loss and gets into the vault. He learns about the Gasoline men attacks, Mastercard vs. Visa kids card game and comes across a mysterious event at the pub on Level 4. Soren, a chief of TAU vault tells Ivo a bit more about B4 area (the one highly radiated) and gives him an updated map.


---
Chapter 9

Zen who recovers in KAPPA recalls the event in the supermarket. She also meets Monti, an engineer and freelancer who was sent to the hospital due to a foot contusion. He explores KAPPA vault deeper and finds a secret passage hidden in an elevator. Soon he finds himself in a strange corridor a few levels down the vault where victims of unknown medical experiments are left on their own, locked in little cells. He has no possibility to go back the same way he came down so he must continue his research and look for another exit.


---
Chapter 8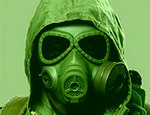 Starship prepares Ivo for the trip. He learns he will drive to the Paper Factory on a truck with Louise then they will part ways. Molok however, adds him a task to visit TAU vault and learn why they hadn't stayed in touch recently. Louise tells Ivo about SIGMA vault where they keep all the newborn and educate a bit older children. They have a little encounter with a severely wounded Samuel Svirnov, a former boss of a radio station on their way to the Factory.


---
Chapter 7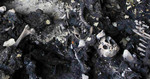 Molok sits in his room in PSI and sums up the last few weeks he spent underground. He reads reports of falling satellites and other space junk left without any control. He updates his diaries and also tries to figure out what actually had happened on the surface. He recalls the last day before he made it into the vault.


---
Chapter 6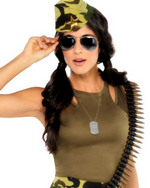 When Ivo returns to PSI, Steel teaches him about the locations with a use of a detailed map. He also tells him about a value of specific items, which should be taken to the vault and which left alone. He reveals a few more details about B4 zone, where Ivo is supposed to drive to in search for Rossie's laptop. Steel mentions explorers from TAU vault who got into the area and suffered from a post-radiation sickness. He also talks about Zoxi and Shrineville to keep Ivo away of these locations.
Ivo visits a warehouse at the lowest level of PSI where he finds his personal items confiscated on his entry to PSI. He's attracted to a girl who works down there, and it seems an attraction is reciprocated. Soon after Starship tells him to visit her in her room.
Rossie gives Ivo a few more details about her old house and equips him with appropriate jumpsuit and anti-radiation medicine called Xadir. Later, when Ivo visits a mysterious girl met in the warehouse, she quickly shows him her interest. She then introduces two local hackers and tells Ivo to bring her an item - Rossie's laptop. Her and the guys try to discover what had caused the disaster and they suspect it started at The Institute.


---
Chapter 5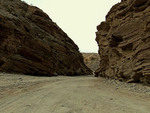 Ivo goes on his first exploration route accompanied by more experienced, ex-sportswoman Eclipse. They make it to a nearby supermarket to loot and go back to PSI vault. However, they find naked, wounded Zen and her dead now lover Igor. These two were explorers as well, caught by surprise by a few local bandits. Eclipse decides to take Zen to KAPPA, a former mine turned into a hospital and a vault which is hidden in a rocky valley.


---
Chapter 4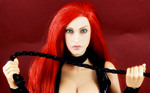 Ivo's awaken by a local prostitute Rossie who looks for a guy to do a job for her. She will pay with her body if he brings her a laptop. It's located in a highly radiated area near The Institute of Science where she lived nearby and worked for. She wants her laptop back as she has her diaries and pictures of old lovers on its hard drive. Ivo, given a hot foretaste of the reward, decides to take the job.


---
Chapter 3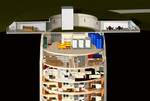 This is PSI vault. Built for rich, abandoned, bought back and re-built. Ivo finds it by a lucky coincidence and learns that many things value increased as a bartering not money matters. He buys himself an access into the vault and meets Molok, the master Archiver. Ivo's offered a job and accommodation but he needs to become an explorer to bring useful stuff into the vault. He recognizes a worker, Mike Setin, who was an ex of his gf Barb. Ivo will share a room with Steel, a former mercenary.


---
Chapter 2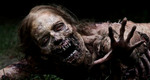 Ivo loots the nearest houses for clothes and food then finds a car and decides to go to a military camp looking for safety. He has the first encounter with a half-alive victim of the disaster.



---
Chapter 1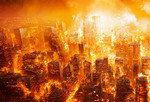 Ivo visits his girlfriend when they have a chance to watch the news about a serious nuclear threat sent to their country. He decides to go back to his house, collect the most important things including his guns and tells Barb to hide in a cellar with food and other stuff. He's hit by a car on his way home and taken to a hospital then put to a cryogenic capsule since his broken arm got an infection. It was the only way to avoid an amputation. He was put in a temporary coma then woke up when Heatwave struck. He watched the disaster spreading across the hospital from his capsule, then he is forced to leave when power is cut off. When he got outside, a range of apocalyptic views made him pass out.

| | | |
| --- | --- | --- |
| | Varicella - Dead is Better | |
HOME
REVIEWS INTERVIEWS
All reviews
Short music reviews part 1
Short music reviews part 2
All interviews
Submissions review interview
Review interview doc samples
Short movie reviews
Testimonials
Contact
CREATIVE WRITING
Heatwave s/f book
ILLUSTRATIONS & CD COVERS
Ink illustrations - Deviantart
HANDMADE ITEMS
Gemboxes
Tealight holders
Chest boxes
Matchboxes
GEMSTONES
Minerals collection
ARCHIVED CONTENT
About Fabryka Magazine
What's industrial rock?
Quick encyclopedia
Industrial manifestos pdf
Podcast archives
News archives by year
Article archives by year
All article archives
Legal music
Fabryka promo events
INTERNAL
Staff
| | | | |
| --- | --- | --- | --- |
| | Content (open) | | |
| | | | |
| --- | --- | --- | --- |
| | Keywords (open) | | |