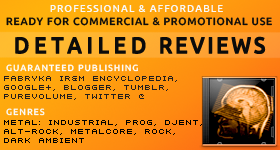 Briefly
Fabryka Industrial Rock & Metal Encyclopedia's (formerly Fabryka Music Magazine, 19 years online all together) review and interview services have been paid services since April 26th, 2011 (*why they're not free, read about at the
bottom
of this page). These are handled by
Katarzyna 'Draconina' Górnisiewicz
, the magazine founder and CEO. I've been writing music reviews since 2003 and offering paid, professional music analysis since 2011. My music reviews as well as interview questions are written specifically for bands/labels' promotional purposes, to be included in their presskits, online stores, shared online etc. and to underline what's best in your music. However, if I notice your music could be still improved to give it the best musical expression (performance, production, mastering), I won't forget to mention it in the review too.
Biggest advantage?
Besides receiving a professional opinion, every review signed by me (and Fabryka IR&M Encyclopedia) will be entirely permitted to use for your promotional and commercial purposes so that you can own it legally, and share worldwide which is thanks to a non-exclusive license (you must credit the reviewer and Fabryka IR&M Encyclopedia name). Very few reviewers offer such a good deal because such a writing is a copyrighted material.
EXAMPLES:
MINI/SHORT REVIEWS -
part 1
and
part 2
DETAILED REVIEWS with a player -
click
PR INTERVIEWS -
click
TESTIMONIALS -
click
PDF SCREENSHOTS -
click
Submissions:
Please make sure you read which genres I can review. Email me a link where I can stream exact songs, along with your contact email but don't attach mp3s unless requested. No Spotify or other subscription platforms please - I don't use them. I'd rather stream the full album/single than 5 seconds of it. When I decide I can positively review your music, I will contact you and we'll process with the review order. If I don't like your music, I'll shortly explain why it doesn't qualify for the review. It is nothing personal but a matter of an experience and a bit of a personal taste to deliver the most reliable judgment.
---
Jump to:
1.
Music genres
2.
Technical specification, review length, rating, content, review & music formats, no piracy policy, copyright & license, embedded players, delivery time
3.
Publishing platforms
4.
Pricing
5.
Submission & contact
6.
Q & A
7.
Reviewer
---
1.
Music genres
Preferred genres
(guitar driven music):
industrial rock and industrial metal
releases, but also
progressive metal, groove metal, hair metal, heavy metal, math metal, metalcore, djent
also
dark ambient
and
retrowave
music, eventually jazz/funky. Other music styles are not recommended due to lack of experience and my dislike for improvising. I don't wish to sign under a writing I'm not satisfied with. Please
do not submit remixes, covers, live versions and hooks as well as not mastered demos
.
What's included?
Detailed review
- careful listening, professional writing + additional English proofreading by experienced Editor, a non-exclusive commercial license, publishing on Fabryka IR&M Encyclopedia & affiliated blogs I run;
Short review
applies to all types of releases and includes: careful listening, professional writing + additional English proofreading, a non-exclusive commercial license, publishing on a collective short reviews page in Fabryka IR&M Encyclopedia - no further promotion is offered here, you handle it on your own.
PR interview
- topics chosen by the artist, or my own. An online research for the artist's professional background, achievements. 5 to 10 original questions to fit into the artist's current promotional needs. An additional English proofreading. A non-exclusive commercial license, publishing on Fabryka IR&M Encyclopedia & affiliated blogs.
Opportunities compared:
2020 © industrialrock.net
SHORT MUSIC REVIEW
DETAILED MUSIC REVIEW
Music genres (exclusively)
DESIRED: Heavy guitar driven: metal, rock, industrial rock/metal, progressive metal, djent, hair metal, metalcore, alt-metal, alt-rock. Dark ambient, retrowave, jazz/funky, instrumental soundtracks.
NO: black metal, rap, hip hop, pop, raegge, classical, blues, IDM, electro/EBM, techno and others.
Music format
SINGLE, EP, ALBUM
Avg. Review length (1)
600-1000 characters
150 to 600 words
Review formats, pictures included
.doc & .pdf, includes submitted and resized album artwork, or artist's picture(s) + links to artist's website(s), on-line store(s), as requested
Completed & delivered within (3)
5 business days
14 business days
Publishing platforms, promotion & SEO (4)
Fabryka IR&ME only, no other blogs
Fabryka IR&ME + own blogs on Tumblr, Blogger.
(if possible, tagging, easy links on external sites if available, 'artistname_song/album title_review/interview.html)
Publishing format
General short reviews page & link (6)
Individual site & link
Links included
Official website, social profiles, up to 4 online stores
Widgets player on Fabryka
No
Yes, if available, preferred Bandcamp, Soundcloud, Reverbnation
Widgets on external websites
No
If technically possible to embed the code
License
Non-exclusive commercial (artist/label can legally copy/paste my entire review as it is to use for own promo/commercial purposes)
Reviewer's credits
Must be kept
Rating
Max 5 stars
Accepted music files
Zipped mp3, 320kbps + jpg artwork (print size not required) via a secure download, or HQ full album, single stream
English proofreading
Yes
Rates (5)
USD 11.00 (1 song or 1 EP or 1 album)
USD 26.00 (single)
USD 36.00 (EP or up to 5 tracks)
USD 41.00 (album 6-10 tracks)
USD 52.00 (single/double album 11-15 songs)
Payment method
PayPal only, I'll send the PayPal payment request on your PP email.
Additional info:
1 or as long as necessary to describe a release, according to the reviewer. Band name, album/song title, label name, release year, rating, tracklist, reviewer's own footer data are excluded.
3 if the Internet connection fails or my English editor is too busy, the time of delivery will be slightly delayed and proper information will be sent to the submitter. Deadline is based on my reviews/interviews To-Do list.
4 No sales, plays and views are guaranteed.
5 Rates include PayPal fees for Poland, EU + a foreign currency (USD to PLN) PayPal conversion fee.
6 http://fabryka.darknation.eu/articles.php?article_id=537
Download/view this table as
pdf
.
See PAGE 2 for detailed information about above opportunities, and the reviewer.
Contact and submissions
Short reviews, detailed reviews, PR interviews - directly
- please send me a message at

to specify your order. Your message should include:
- number of songs planned for such a review plus any necessary info,
- link(s) to an on-line preview of your music - only these tracks/releases you'd wish me to review (streaming on Reverbnation, SoundCloud etc. or f.e. Dropbox download), links to the official website or social profile(s), and the most current information about your band (line-up, so far releases, if necessary).
I request
do not include this email to any mailing lists, or attach any mp3s until I approve them
, otherwise I'll mark your messages as spam.