| | | |
| --- | --- | --- |
| | About Fabryka IR&M Encyclopedia | |
| | | |
| --- | --- | --- |
| | [Heatwave] Chapters briefly | |
A summary of chapters, newest to oldest. All copyrights reserved (C) 2010-2015 by Katarzyna NINa Górnisiewicz. Images source - Internet. All copyrights belong to their respective owners.

---
Chapter 30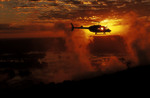 O'Brother talks about his first days of surviving Heatwave with his ex-gf Fuckie. Later, him and Ivo get on a helicopter to fly over the sea of mud towards the Discovery. Ivo slides on a rope to hack into the space shuttle and search for a black box which is supposed to have all the recent, pre-Heatwave satellite data unavailable on the surface of the planet. The black box accumulators are running out of power so he needs to deliver the device to the military base as soon as possible. He calls the chopper and climbs on the board. They want to have a look at a cruise liner sunk near the shore. Already looted is known to be a habitat of an exotic virus brought by one of the passengers so they won't land there. However, a severe accident happens next.


---
Chapter 29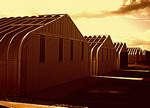 Ivo makes his way into the military base at the Meadow Hole, which used to be an old airport. He's drawn to the flight control tower's powerful look. He meets major Seth Kabooze whom he talks the details of O'Brother's request with. Ivo gets an accommodation in the Hangar 03 for two nights. He meets Kabooze again in the tower. He tells him about the city near OMEGA and recommends him to visit a woman named Derreney Pax who lives in Wallen & Trips if he wants to do a beneficial bartering. Major also talks about the Institute, radiation and suggests that the source of the disaster doesn't come from the planet. Apparently, major had an access to the latest satellite pictures taken before the Heatwave but he won't talk the topic with just a 'civilian'. He also says they lost touch with TAU which became an individual military site and they fought with Gasoliners or other bandits near the vault. Army used to use a military range near the Institute but it's too radiated due to the explosion at the Institute to exercise over there.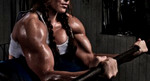 Ivo visits a canteen and becomes a target of aggression for the local cadets. Kabooze enters the scene and cuts it short. He also sends Ivo for a short gym training to the captain Prank (who decides to visit Ivo also after hours to practice some other exercises with him).
Ivo explores the base and finds an underground fuel warehouse guarded by a scary military robot. O'Brother joins Kabooze and they meet with Ivo to talk the Discovery operation.


---
Chapter 28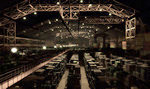 Zen with her team explore the city of Walambi near OMEGA. They get to Xennon 2 hotel to talk to insurgents. They are led to the local boss DogDow who is searching for a teleporter possibly left at the bottom of a shelter. She owns a diary of a scientist who built the machine. She sent a few of her people to the shelter, but all of them were killed at the 3rd level of the shelter. Once the secret was revealed, DogDown forces Zen to do the task threatening her with armed guards. The two return to OMEGA to pack and arm, then go back to the west. They see The Ash Sculptors as well as a cowboy-like food trader on their way to the shelter. They make it to the lowest level, find the warehouse which is a real treasury. They found a body of the scientist as well as...


---
Chapter 27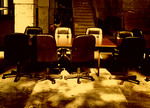 There's a conference in PSI led by Molok. Spokesmen of a few other vaults come in to talk about a conflict between OMEGA and SIGMA vaults. SIGMA cut off any contact with others and refuses to take any more kids inside. They also threw out Rossie. OMEGA claims that TAU steals supplies sent from KAPPA and so they don't receive all the requested items. There's a suggestion that Gasoliners want to gain access to OMEGA to attack SIGMA and make it their base along with rising children to make them all survive. Zen, Eclipse and a few others request a transfer from PSI to OMEGA to build a communication installation and explore the site around on their own. Molok informs all gathered people about a danger of the disease and army occupying The Lighthouse.


---
Chapter 26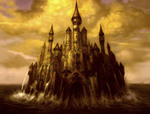 Monti decides to walk towards Ori along the seacost. Once he sees the monastery he takes out the binos and observes the rocks. He sees an airstrip and a satellite antenna. He also sees somebody trying to land on the rocks using a Xylin machine but monk guards shoot at the guy. He can't enter the monastery as there's no way from the lad to get inside. He sees HiFive with the team who were exploring near by and return to the camp. They dropped him at the camp where he stayed for the night at the house of a transsexual called Little Lucy. A courier who visits the camp gives Monti a lift to KAPPA the next day.


---
Chapter 25
Monti recovers and talks to a woman who lives in Village X and who lays on a bed near him. She tells him about dead bodies of infected women whom he contacted before. She also talks about the past of the Village which was an expensive seaside health resort. Monti learns about a distillation as well as Tassi's business. Then Monti is forced to leave the Lighthouse without Ivo who's still sick.
Ivo learns that a guy with amputated legs laying in bed in the same room is nicknamed Wombat. He's the lost explorer who lived in TAU and who was previously hired by O'Brother to bring him the Discovery hard drive. He was sucked by mud.


---
Chapter 24
Both O'Brother and Borrg have no ocntact with their business representatives (Ivo and Monti). O'Brother learns about the disease as well as soldiers in The Lighthouse.
Borrg visits people in his camp to see new faces. He listens to a story of Konik who talks about the beginning of Heatwave then recalls the doctors in an experimental laboratory replaced his eye with a laser gunpoint. He suggests they capture people from the wasteland to turn them into cyborgs and send to highly radiated areas and collapsed shelters to explore and bring valuable items to KAPPA for a unofficial trading. Borrg talks about an anti-radiation medicine which is being illegally tested in the laboratory.


---
Chapter 23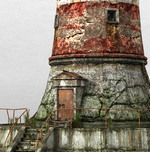 The Lighthouse is occupied by military doctors and it turns out this entire place is a quarantine set up against the nearby source of the disease. When they make a mandatory check up on Monti, he turns out infected as well as Ivo! Both are held & given a medical treatment in the Lighthouse. The drug dealer Tassi (who provides the only medicine to cure the disease) watches them from a distance when doing a business with the surgeons. Monti gets cured faster and he's told to leave the Lighthouse immediately. He's waiting for Ivo in the nearby rocks but Ivo isn't that well yet. Then Tassi comes in and hijacks Monti for a ransom.


---
Chapter 22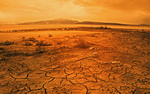 Starship has no contact with Ivo but she worries the recent news of the disease on Ivo's way. People in PSI commit suicides more often due to an extended period of time spent underground. These are replaced with women from OMEGA who already have birth or survivors from the wasteland. These usually knew about valuable locations and shared information for just for food and having a safe place to stay.
Steel reveals Rossie gave birth to a son and they will soon move to OMEGA wheer all the kids stay reach a certain age.


---
Chapter 21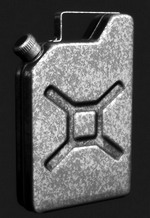 Monti visits Green'o'Bean to present Borrg's trading offer. He meets HiFive and he informs him of a disease in Village X. Ivo comes across Monti when he stays at the Gasoline Men settlement but they don't talk yet.
Monti's car has a serious malfunction in the middle of a burnt forest. He leaves it and needs to walk to the destination place which is still about 60 km from the forest. He finds a pile of dead female bodies near a bridge so inspects them on a short distance looking for any useful stuff.
Ivo drives the same direction so he lets Monti get on his car to travel together until they reach The Lighthouse.


| | | |
| --- | --- | --- |
| | Varicella - Dead is Better | |
HOME
REVIEWS INTERVIEWS
All reviews
Short music reviews part 1
Short music reviews part 2
All interviews
Submissions review interview
Review interview doc samples
Short movie reviews
Testimonials
Contact
CREATIVE WRITING
Heatwave s/f book
ILLUSTRATIONS & CD COVERS
Ink illustrations - Deviantart
HANDMADE ITEMS
Gemboxes
Tealight holders
Chest boxes
Matchboxes
GEMSTONES
Minerals collection
ARCHIVED CONTENT
About Fabryka Magazine
What's industrial rock?
Quick encyclopedia
Industrial manifestos pdf
Podcast archives
News archives by year
Article archives by year
All article archives
Legal music
Fabryka promo events
INTERNAL
Staff
| | | | |
| --- | --- | --- | --- |
| | Content (open) | | |
| | | | |
| --- | --- | --- | --- |
| | Keywords (open) | | |