2. Review technical specification

Length
The length of detailed reviews will range from minimum 150 to 600 words (a half of letter/A4 size page to full letter/A4 size page or more) depending on the type of release (single song, EP, album, double album) and reviewer's opinions. I collaborate with an English editor who proofreads my writing. A short review is usually put between 600-1000 characters* which is best for promo purposes since the modern society is overloaded with all kinds of information, thus has little patience for reading long articles ;)
*or as long as necessary to describe a release, according to the reviewer. Band name, album/song title, label name, release year, rating, tracklist, reviewer's own footer data are excluded.

Review formats & delivery time
The detailed review (or interview) delivery time: 14 business days (since the payment is recorded) to your e-mail address (if submitted directly via Fabryka).
Short review: 5 business days (since the payment is recorded, via email).
File formats: formatted .doc & .pdf with an artwork (band pictures if an interview) included.
Publishing: as soon as accepted/authorized by the artist, usually up to 3 days since receiving your 'yes, go on with publishing' :)

Accepted music files and safety
I prefer digital files (mp3, 320 kpbs the best). You don't need to pay any additional fees (like overseas CD shipping, printing posters, pictures). I guarantee that none of your songs will be used for any purpose other than the music review. No sharing, no piracy has been the policy at Fabryka IR&M Encyclopedia for the last 18 years. All downloaded files (you specify the download source; ie. Dropbox, WeTransfer, own label's music pool, etc.) will be deleted from my storage disk once the review is delivered to you and approved, and no additional copies will be made.

Rating
My judgment is based on max 5-point rating scale (5=well done!) Max 4 stars rating was used before 2013.

Review content
I pay attention to the idea, moods, arrangements, structure, depth, dynamics, potential, similarities to other bands' music, performance, mastering, production, artwork (if any), and also if a song is useful for a radio play, a commercial or TV/movie licensing. The lyrics are less important, but I may quote a line or two whenever it makes a good context.

Copyright
My writing is a copyrighted material, just much as your music. All copyrights reserved by Katarzyna 'Draconina' Górnisiewicz, Fabryka Industrial Rock & Metal Encyclopedia. Therefore, ordered reviews and interviews are provided under a non-exclusive commercial license for the purpose of utilizing/sharing the entire text, not just a quote.

Links to a band website, store, embeddable music players
I want readers and listeners to visit your websites, social profiles, interact with you, and buy your music. That's why every published detailed review will include a few useful links incl. on-line stores (iTunes, Amazon, CD Baby, Bandcamp, and any other specified) where the readers can purchase a reviewed song/album. If possible, a player from SoundCloud, ReverbNation or Bandcamp with a certain song/album will be embed on a Fabryka IR&M Encyclopedia review site. No sales and views are guaranteed. Short reviews do not include said widgets/players!

3. Guaranteed publishing
a) Detailed reviews, PR interviews: Fabryka IR&M Encyclopedia (continuously discovering and promoting ambitious music during the last 18 years), an individual page & link. Short reviews - Fabryka only, on one general short reviews page, with the same link for all reviews: part 1 and part 2.

Additionally, and exclusively for detailed reviews and PR interviews, I also publish them for SEO* reasons on following platforms:
a) Blogspot/Blogger - Google's own blogging platform - blog post, individual link (usually artistname-albumsongtitle-review.html),
b) Tumblr - most popular blogging platform - blog post, individual link (template as above).

Short reviews are not published on below blogs & social networks.
*SEO means an improvement for your band thanks to indexing and archiving my reviews and interviews by the Internet search engines (Google, Bing, etc). It will let others find your band easier (through keywords such as the band name, song title, album name, musician names, tagging other band names etc.) and become more familiar with your music.

4.

Current pricing (American Dollar only):

My pricing is competitive to other professional review services. Your payment can be sent through PayPal in USD currency (not Polish Zlotych or other currency please). It's a verified PayPal account and when I approve your submission, you'll be sent either a Paypal's 'payment request' on your contact email or a direct link to PayPal.me (Draconina's secure PP page).

Short review (a single, song, EP or album) = $11.00
1 song detailed review = $26.00
1 EP detailed review (up to 5 songs) = $36.00
1 full album detailed review (if max 6-10 songs) = $41.00
Single or double album (if max 11-15 songs) detailed review = $52.00

No refunds and returns – no physical items are involved. You will be asked to authorize my writing before it's published, however my honest opinion remains my own, therefore it should not be changed just because it's a paid writing, unless there was any incorrect information provided (such as a band member name, song/album title, release year, instrument etc). The artist is responsible for providing me with the most current professional information about themselves and his/her release before the reviewing process begins.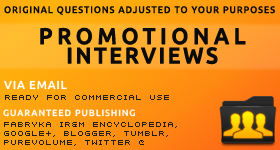 PR interview may be a good solution to present your band in more or less official way. I do my best to ask original questions, which refer to topics preferred by bands and oscillate between music and non-music related subjects. Therefore, we can make it interesting for readers and comfortable for you - to promote your release(s), merch, shows/tour, videos or anything important what people may listen to, watch and/or pay for. When I receive your payment, we'll first discuss topics of the interview. You are most welcome to suggest any topics of your interest to be included in such questions! Then:
a) original questions will be sent on your email during 14 business days (.doc file),
b) send your replies along with 2-4 illustrative pictures on Fabryka IR&M Encyclopedia email during the next 7 business days,
c) I will send the entire, formatted interview (.doc + .pdf files) on your email during the following 3 business days.

I don't do audio interviews.

PR interviews (interview through e-mail only, commercial/promotional use; rates include a non-exclusive commercial license, publishing & on-line promo):
5 original questions = $26.00
10 original questions = $41.00
Please contact me about the final rate if you're submitting for both review and interview.

5. How can I submit?
Short reviews, detailed reviews, PR interviews - directly - please send me a message at

to specify your order. Your message should include:
- number of songs planned for such a review plus any necessary info,
- link(s) to an on-line preview of your music - only these tracks/releases you'd wish me to review (streaming on Reverbnation, SoundCloud etc. or f.e. Dropbox download), links to the official website or social profile(s), and the most current information about your band (line-up, so far releases, if necessary).
I request do not include this email to any mailing lists, or attach any mp3s until I approve them, otherwise I'll mark your messages as spam.

---
6. Questions & Answers

Do you send your reviews to other magazines, forums, news aggregators, etc.?
No, I do not offer any extended promotion due to lack of time. I offer my highly responsive ear along with creative, professional writing which comes under a useful, non-exclusive commercial license. I only publish reviews/interviews on platforms listed above, see: Publishing platforms

Do you guarantee any views, music sales, FB likes for my band?
No, this environment is difficult to control and you need to talk to a true promoter to have these things done. I'm a music reviewer. I guarantee careful listening to your music, in-depth music analysis, wise & useful opinion, high quality writing, on-time delivery.

How professional is your review?
I focus only on an album, EP, songs - music content, but not on myself. I don't charge for writing about me, my dogs, my CD collection, items on my desk, meals I just ate, alcohol I drank, shows i've been to, or my expectations towards a release. No ego involved. Reviews are written from honest, subjective and objective points of view.
Check out my article: Methods of reviewing music here.

Why can't I get it for free?
Paying for my reviews won't give you any better opinion and therefore, it's not any 'shady' business. I keep things fair. I hear what I hear and I'm honest about it. Writing is a regular job thus, there's a need for being paid yet it grants you receiving a music review/PR interview under a proper, useful license. My articles are original and copyrighted. The license lets you avoid a copyright infringement.
To compare, when you own a newspaper and need an article obtained in a legal way but hire no journalists, you can either find a suitable article and pay for a license to be able to use it or pay a writer to provide you with a brand new article. The same, if you need a photo/drawing/illustration for your T-shirt, album artwork, website, you must pay the author to be able to use their work for your promo and/or commercial purposes (unless they agree to let you obtain & use it under other conditions, creative commons, royalty-free, bartering etc.) In case of photos, a license is usually limited to a number of items, editions, time period, but in case of my reviews, the non-exclusive commercial license doesn't expire anytime and is not limited to a number of websites or print materials. I do paid work only.
And yet the music industry has changed on both ends; music magazines don't hire so often because journalists can do things on their own, through their own blogs etc. and offer own job quality and rates directly. This allows to keep a complete control over one's work. I've 18 years of experience in the music industry, a diploma in marketing & management, know-how, careful and professional writing, a great sense of hearing and finally, bills to pay & things to buy (so have you too!). More here and Harlan Ellison - Pay the Writer video.

---
This offer has been updated on January 13th, 2020. Changes include: new table design, Links.
---
Katarzyna 'Draconina' Górnisiewicz | Founder, CEO, webmaster, reviewer, illustrator, designer (also known under 'NINa' moniker)
Draconina is in her early 40s now. She has a degree and license in business management and marketing. Since graduating in 1998 from business management she also obtained a license in graphic design in 2000. Polish is her primary language, but she speaks English fluently, allowing her to communicate with a variety of foreign nationals from all over the world. She's been writing music reviews since 2003 and offering paid, professional music analysis since 2011 (supported by Testimonials).

Draconina's mind always on fire - she follows her curiosity, heart and intuition thus, when she attaches to something she finds worth of her time and interest, she masters it. Her understanding of music, creative concepts, imagination as well as the love for writing and a great sense of hearing what is on the cutting edge had resulted in establishing Fabryka Music Magazine (2001-2016) through which (Myspace social network including) she was actively supporting the industrial rock and industrial metal music scenes until she turned the magazine into the Industrial Rock & Metal Encyclopedia in 2017. Working within the magazine allowed her to greatly increase her knowledge of music industry insights as well as develop many other skills.

House plants care and gardening has been her other passions since the childhood. She set up a website called Filodendrony (Philodendrons at filodendrony.info) specifically for Polish plant lovers in 2007 where has been encouraging people to grow Aroids at home. Draconina writes articles and shares practical knowledge by observing her own collection, provides picture plant identification, sells her plant cuttings etc. In fact, Philodendrons and other Araceae plants became a world-wide hype 11 years later. Draconina has been working on a TBA compendium/how-to book about specific indoor plants since 2018.

Moreover, she's an artistically talented person (s/f & fantasy writing, ink & pencil illustrations, woodworking, Gothic calligraphy). She was designing original CD cover artworks and posters between 1994-2011 but currently she's more interested in handmade art. Draconina wrote several s/f short stories (unpublished yet) and has been working on a debut post-apocalyptic book Heatwave since 2010. Enjoy her original art on Deviantart.

Finally, Draconina (born as a Chinese Fire Dragon) is an avid rocks, minerals and gems collector too. Because she's a sensitive person who feels energy, channels esoteric knowledge and knows how to read said energy surrounding us, she also decided to make and sell gemstone chip bracelets (Dragon's Gemstones smoczekamienie.rocks) to people interested in Reiki and lithotherapy.