| | | |
| --- | --- | --- |
| | About Fabryka IR&M Encyclopedia | |
| | | |
| --- | --- | --- |
| | [02/14/2011] WWII published a preview of Stiff Valentine newest album - America Bleeding | |
Eleven new songs by Canadian band Stiff Valentine were published on WaxTrax II label website. The album was co-produced by Chris Peterson (Front Line Assembly, Delerium, Unit:187) and features guest appearances of Eric Powell (16Volt), Jason Bazinet (SMP, Front Line Assembly, Chemlab, 16Volt), Craig Huxtable (FLA, Noise Unit, Landscape Body Machine), Jared Slingerland (FLA), and more.

WWII | Last.FM


---
Other news about Stiff Valentine | Other articles about Stiff Valentine
| | | |
| --- | --- | --- |
| | [02/14/2011] Preview of three new Skrew songs | |
Three newest songs by Skrew from their fifth studio album Universal Immolation are available for previews on Myspace and Soundcloud.


---
Other news about Skrew | Other articles about Skrew
| | | |
| --- | --- | --- |
| | [01/24/2011] Interview with Obszön Geschöpf | |
Considering the shit that MySpace has done over the last month, I think we will have to find another medium for promotion. Facebook is nice, but it's more to dredge :) Once you start to push up the demand for friends, you're suddenly banned for several days. With this sort of obstacle embedded into Facebook, it makes the format almost completely useless for bands and artist.

Interview with Obszön Geschöpf in English.

Interview with Obszön Geschöpf in French.


---
Other news about Obszön Geschöpf | Other articles about Obszön Geschöpf
| | | |
| --- | --- | --- |
| | [01/14/2011] KMFDM to release WTF?! on 04/21/2011 | |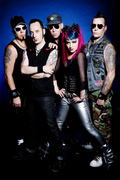 According to the news published today, KMFDM will release their new studio album called WTF?! on April 26th, 2011.
WTF?! features 11 brand new songs, including the band's latest anthem and album's lead single "Krank", the dreamy yet driving "Dystopia" and the super-charged revolution-themed rocker "Rebels In Kontrol", which has already made news as a protest song in support of Wikileaks.
The WTF?! artwork features a humorously suggestive, yet ultimately destructive cover illustration by KMFDM contributor Brute!, a fitting visual for this sly but brutal release.

[Read More for extended news]

Official | Last.FM | Discogs | Facebook
| | | |
| --- | --- | --- |
| | [01/13/2011] Pedigree new album out in late 2011 | |
According to Estonian industrial metal band Pedigree, their new album will be released through Ohm Resistance late 2011. The band will be touring Eastern Europe in May this year.
More details - soon!

YouTube | Myspace


---
Other news about Pedigree | Other articles about Pedigree
| | | |
| --- | --- | --- |
| | [01/10/2011] Skrew - the very first show with a new line-up on 02/12/2011, Red 7, Austin, TX | |
SKREW is BACK!

With a career spanning two decades,the critically acclaimed, and genre defining band "SKREW," returns with it's Industrialized metal ferocity. Currently finishing up with writing their next album "Universal Immolation." With a new line up, this version of SKREW promises to be the strongest to date.

Fueled by anger at the present state of affairs in the world, these seven individuals came together with one goal in mind: combining heavy guitars, electronic noise, and the brutal truth of the lies we accept as reality, to create the soundtrack for the coming of days.

Called the future of industrial noise by SPIN magazine, SKREW has historically been known for their groundbreaking mix of Industrial and metal that illustrates the state of our world, an orchestrated miasma of sound chaos which at times could be the soundtrack to a riot or your worst nightmare. Combining unrelenting drums and brutal guitars, laying in a bed of electronic discomfort, and laced with smart scathing vocals, SKREW has returned.

Known for their jaw dropping live performances and groundbreaking production both in the US and Europe, SKREW are playing their first live shows in a decade. With a new line up, this version of SKREW promises to be the strongest, most ferocious to date.

Line-up
Adam Grossman - Guitars
Ty Pickett - Vocals
Bill Ables - Guitars
Dusty Kohn - Guitars
Paul Gooch - Synths, Percussion
Myke Bingham - Bass
David Baxter - Drums

Facebook | Twitter | Discogs


---
Other news about Skrew | Other articles about Skrew
| | | |
| --- | --- | --- |
| | [01/08/2011] Promonium Jesters - new single | |
Promonium Jesters have a new single out now. The song "Revival Gun" was recorded in December 2010 for the Fix - The Ministry movie contest. It features bass and samples from the Ministry song "Psalm 69" contributed by Paul Barker, mixed seamlessly with new material performed by Promonium Jesters

The single is a digital only release, available through iTunes and Bandcamp


---
Other news about Promonium Jesters | Other articles about Promonium Jesters
| | | |
| --- | --- | --- |
| | [01/05/2011] New review - Dexy Corp_ "Uchronopolis" (2010) - album of the year | |
| | | |
| --- | --- | --- |
| | [01/01/2011] Special edition of Fabryka reviews (pdf) | |
There is a special edition of Fabryka Magazine reviews available for free download. The .pdf file contains reviews of all industrial rock/metal albums released in 2010 and it is set to match iPad and other ebook reader displays.
It's our exclusive download and must not be attached on any other sites, but hot-linking is permitted.
HOME
REVIEWS INTERVIEWS
All reviews
Short music reviews
All interviews
Submissions review interview
Review interview doc samples
Short movie reviews
Testimonials
Contact
CREATIVE WRITING
Heatwave s/f book
ILLUSTRATIONS & CD COVERS
Ink illustrations - Deviantart
HANDMADE ITEMS
Tealight holders
Chest boxes
Matchboxes
GEMSTONES
Minerals collection
ARCHIVED CONTENT
About Fabryka Magazine
What's industrial rock?
Quick encyclopedia
Industrial manifestos pdf
Podcast archives
News archives by year
Article archives by year
All article archives
Legal music
Fabryka promo events
Gallery
INTERNAL
Staff
| | | | |
| --- | --- | --- | --- |
| | Content (open) | | |
| | | | |
| --- | --- | --- | --- |
| | Keywords (open) | | |