| | | |
| --- | --- | --- |
| | About Fabryka IR&M Encyclopedia | |
| | | |
| --- | --- | --- |
| | [03/01/2011] Microwaved announces full guest line up for the new album | |
The full line up for the new record is set and is finally ready to be unleashed on to the public. Here is how it breaks down.
Nicolas Whitfield of 9th Evolution, Steve Christie of Deadliner, SiNDADDY, Darrin C. Huss of Psyche, Kerry Peterson of Stiff Valentine (and wife of Front Line Assembly member Chris Peterson), Davoramma Six of Society Burning, Alexis Doddato of Smakdab, Dizzy Drastik of The Rejects/Murderdolls/The Drastiks, Aeon Grey, Aaron K9 Wherry of A+9 Records, James DeBower of Mekanikal Soul, Sean "Satyr" Tracy of PRODUKT, Jason Chipman ex-Skrew, Martyr Uzumaki of dreDDup, Brandon S. Chase of SuturSelf, James Craw and Tyler Crew.

[Read More for extended news and music samples]

Facebook | Bandcamp | Myspace


---
Other news about Microwaved | Other articles about Microwaved
| | | |
| --- | --- | --- |
| | [02/17/2011] Mephistosystem keyboard player leaves the band | |
On February 10th, 2011 an industrial/electronic rock band Mephistosystem announced that their keyboard player Christian Luedi left the band. The reasons were personal and purely related to Christian's plans for the future.

Source: Myspace | Official

[Click Read More to read the statement posted by the band]


---
Other news about Mephistosystem | Other articles about Mephistosystem
| | | |
| --- | --- | --- |
| | [02/15/2011] Fanoe - biography video, an event with The Young Gods | |
Fanoe (Switzerland) has released a biography video featuring some previously unreleased material.
The band has also announced their incoming show supporting a legendary The Young Gods in Kiff Aarau on 03/11/2011.

Watch the video | Official website | www.kiff.ch


---
Other news about Fanoe | Other articles about Fanoe | Free downloads from Fanoe
| | | |
| --- | --- | --- |
| | [02/14/2011] New video by Man.Machine.Industry featuring Lady M | |
| | | |
| --- | --- | --- |
| | [02/14/2011] WWII published a preview of Stiff Valentine newest album - America Bleeding | |
Eleven new songs by Canadian band Stiff Valentine were published on WaxTrax II label website. The album was co-produced by Chris Peterson (Front Line Assembly, Delerium, Unit:187) and features guest appearances of Eric Powell (16Volt), Jason Bazinet (SMP, Front Line Assembly, Chemlab, 16Volt), Craig Huxtable (FLA, Noise Unit, Landscape Body Machine), Jared Slingerland (FLA), and more.

WWII | Last.FM


---
Other news about Stiff Valentine | Other articles about Stiff Valentine
| | | |
| --- | --- | --- |
| | [02/14/2011] Preview of three new Skrew songs | |
Three newest songs by Skrew from their fifth studio album Universal Immolation are available for previews on Myspace and Soundcloud.


---
Other news about Skrew | Other articles about Skrew
| | | |
| --- | --- | --- |
| | [01/24/2011] Interview with Obszön Geschöpf | |
Considering the shit that MySpace has done over the last month, I think we will have to find another medium for promotion. Facebook is nice, but it's more to dredge :) Once you start to push up the demand for friends, you're suddenly banned for several days. With this sort of obstacle embedded into Facebook, it makes the format almost completely useless for bands and artist.

Interview with Obszön Geschöpf in English.

Interview with Obszön Geschöpf in French.


---
Other news about Obszön Geschöpf | Other articles about Obszön Geschöpf
| | | |
| --- | --- | --- |
| | [01/14/2011] KMFDM to release WTF?! on 04/21/2011 | |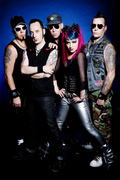 According to the news published today, KMFDM will release their new studio album called WTF?! on April 26th, 2011.
WTF?! features 11 brand new songs, including the band's latest anthem and album's lead single "Krank", the dreamy yet driving "Dystopia" and the super-charged revolution-themed rocker "Rebels In Kontrol", which has already made news as a protest song in support of Wikileaks.
The WTF?! artwork features a humorously suggestive, yet ultimately destructive cover illustration by KMFDM contributor Brute!, a fitting visual for this sly but brutal release.

[Read More for extended news]

Official | Last.FM | Discogs | Facebook
| | | |
| --- | --- | --- |
| | [01/13/2011] Pedigree new album out in late 2011 | |
According to Estonian industrial metal band Pedigree, their new album will be released through Ohm Resistance late 2011. The band will be touring Eastern Europe in May this year.
More details - soon!

YouTube | Myspace


---
Other news about Pedigree | Other articles about Pedigree
HOME
REVIEWS INTERVIEWS
All reviews
Short music reviews
All interviews
Review submission info
PR interview submission info
Review interview doc samples
Short movie reviews
Testimonials
Contact
CREATIVE WRITING
Heatwave s/f book
ILLUSTRATIONS & CD COVERS
Ink illustrations - Deviantart
HANDMADE ITEMS
Tealight holders
Chest boxes
Matchboxes
ARCHIVED CONTENT
About Fabryka Magazine
What's industrial rock?
Quick encyclopedia
Industrial manifestos pdf
Podcast archives
News archives by year
Article archives by year
All article archives
Legal music
Fabryka promo events
Gallery
INTERNAL
Staff
| | | | |
| --- | --- | --- | --- |
| | Content (open) | | |
| | | | |
| --- | --- | --- | --- |
| | Keywords (open) | | |