2010-06-23 |

Katarzyna NINa Górnisiewicz
and
Marco Gariboldi
|

e-mail interview
---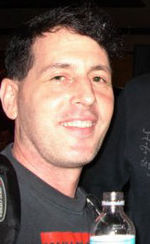 NINa: What does the name Van Richter mean?
Paul Abramson (Van Richter Manager):
It is Dutch for "on the Richter scale", and since we are based in California with mostly European bands the name made sense.
NINa: What led you to setting up your own business? Did you find it unappealing to work for other people in the past?
Actually the reason we started the label in 1993 was because there were so many great bands in the genre outside of the U.S. that needed representation. I also preferred to go out and stake my own claim in the world. I started Van Richter with nothing and built it from the ground up which I am proud of today.
Marco: What advice would you give to someone who wants to upstart a label in these difficult and uncertain times?
I would probably advise against it as the business it way too hard to make a living at especially if you are a start up. However if it is your passion then you will need to find a way to make your business model work and survive for the long term.
Marco: Paul, you have a long career behind you, and I'd like to ask your opinion about the Industrial music scene of the last 3 decades. How has the music business changed and how has it evolved (if it's evolved) over the course of the '80s, '90s and most recent decade? Could you give a brief description of the evolution of these three decades?
The 80's was the break out era for the genre with labels like Wax Trax! and the early days of Nettwerk leading the way. In the late 80's NIN broke out and industrial came to the main stream. The 90's brought a new wave of labels such as Van Richter and more of an invasion of bands from Europe and in particular Germany to a wider audience. With the new millennium came a time of stagnation and loss of pioneer and seminal bands of the genre due to the collapse of the music industry as we knew it.
NINa: Van Richter was founded in 1993, but looking into the label catalog it seems you have extremely selective criteria when it comes to the bands you contract with. What"s the first thing that draws your attention when you consider signing a new band? Is it about their social networking with things like Myspace and Last.fm song plays, their online activity - updates, shows, creative ideas or is it perhaps simply based on the quality of their music?
First and foremost it is the quality of the music. These days there also needs to be a story or buzz on the band. Labels can ill afford to take the risks of the old days due to declining sales. The band also needs to fit into our roster of artists. All the viral marketing helps but it is not the most important consideration.
NINa: From the latest interview with Metropolis Records owner Dave Heckman it came out these are not the best times for labels and music sales, mainly due to piracy. How would you describe Van Richter's situation? Do you have any plans, strategies, or incoming contracts over the next 3 years?
Piracy is an age old issue of our industry. However it has increased significantly due to the digital age. The genie is out of the bottle and can never be put back in. Those labels like us that can adapt will survive while others won't. We believe people should pay for music. If you give them a quality interface like iTunes our experience is that they will buy music. Those that steal will always find a way to do so regardless. Unlike Metro we have embraced the digital era and the winding down of physical music has helped us to clear our vaults and release catalog we would not normally put out because of physical cost risks. Yes maybe overall sales are down but if you find your niche you can survive and thrive online.
NINa: What have been the best and the worst times for Van Richter?
I would say the worst time was probably the early 2000's before iTunes rolled out when people were stealing music thanks to Napster's illegal peer to peer service. If Napster had gone legitimate instead of filing for bankruptcy that may have stopped the bleeding. I would say the early years of Van Richter were the most fun as the scene across the world was really robust for the genre.
NINa: Has anybody ever offered to purchase of the label?
Yes back in the .com era of the late 90's there was an offer from a .com but they went under before discussions went any further.
Marco: I guess the doors of Van Richter are always open for new bands who want to send demo to your attention. What features and requirements must a band possess to join the Van Richter team?
We have some loose guidelines for demo submissions on our website which we hope bands will follow. A band these days needs to have compelling music as well as a story or willing to work to make a name for themselves. We also look for bands that want to join us long term as developing new artists is a very tough road especially these days so we need their full commitment.
NINa: What does Van Richter offer for bands which don't want to invest the time into the DIY process anymore?
If they are what we are looking for then a traditional record deal may be possible. Otherwise if not then we can offer them digital distribution on a non exclusive basis through our pipeline. We have done this for many bands including 13 mg, Terminal Sect, Blue Eyed Christ and Waiting for God among others.
NINa: Your labels catalog includes mostly European bands, however, you are settled down and running the business from Palm Springs, CA, USA. Does it mean America has no cool bands you'd like to sign, or do European distributors have better offers for you?
Unfortunately most European bands have better production than their U.S. counter parts even today. Most of the artists we work with from Europe have their own home studios as well as engineers. We are not opposed to U.S. bands but none as of yet have met our standards to add to the VR roster.
NINa: You have one of the best European industrial metal bands in your catalog known as Testify. There's also a new collection of their songs called "Aggro" on iTunes. The last time I heard from Myk Jung was when he did vocals in the band Schuldt. What's the latest news with Testify? Have they recorded anything new?
Testify was probably one of the best aggro industrial bands ever created. Unfortunately "Aggro" is a best of swan song release with tracks culled from their previous works plus an exclusive remix by Van Christie of Die Warzau. There are no plans as of yet for a physical release or any current activity from the band members.
Marco: Do you think there is a chance that Van Richter would consider joining up with other labels to organize an industrial music festival on the West Coast?
Sure but that is easier said than done. Who is going to pay the costs as well as promote it? With the current U.S. recession concerts are a risky business. Also the travel expenses from Europe would also make a U.S. festival cost prohibitive.
Marco: There are many low-fi previews available on your website and you also have an internet radio program that allows potential customers to listen to your bands before buying their repertoire. Do you think that these are useful tools to sensitize possible buyers against illegal downloading?
Yes every little thing you do help. If people want to steal they steal. Hopefully the low fi songs and radio will drive people to the online digital shops to buy. Also having our station streaming on the iTunes platform is a big help for consumers.
Marco: I enjoyed playing with the WebDrum software available on your website, and in this respect I'd like to know what your opinion is about the future of virtual synths? Do you prefer sounds produced by hardware synths, or has modern technology eliminated any differences between virtual and hardware options?
I enjoy the old school world sound of analog synths. It is funny but when our bands are here in the States they are desperate to buy up any old piece of analog gear they can get their hands on for their studios. No computer can recreate spot on that sound. The web drum game you speak of was a deal we made at a Java developers conference. It gives our users something interactive to play with unlike other label or music sites.
NINa: Do you find the internet and gadget technologies boom; all the products like iPad, iPhone, PDA, apps, social networks & the like helpful or harmful for your label?
I think anytime Apple rolls out a piece of new hardware it helps put music into the hands of people who might not otherwise find it. What has made iTunes a success is the hardware behind it i.e. iPod, iPhone and now iPad. The other viral sites you speak of, well the jury is still out on however every little thing you do to make people aware of your music can only help your cause to hopefully get them to support it.
---
VR on Discogs
|
VR on Facebook
|
VR on Myspace
|
http://www.vanrichter.net
Pictures come from Van Richter Records archive, all copyrights reserved by their respective owners. Questions proofreading: Scott M. Owens.