2008-06-20 |

Katarzyna NINa Górnisiewicz
and
Marco Gariboldi
|

e-mail interview
---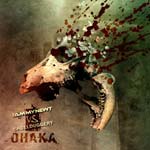 Marco: You've just released your first digital album for your own label Trozoc "Ohaka" which is a collaboration with Jayme Bass (Skullduggery). The album has a terrific cover art and an interesting sound design which reminds me Autechre and their "Warp", English IDM, the latest Mentallo & The Fixer album ("Enlightenment Through a Chemical Catalyst") or Download ("Furnace" era). You called it - experimental chaos glitch. How did you share the tasks over the cooperation? Who did what?
Chris Cozort:
Thanks for the art compliment, my friend Bomba is responsible for the creation of it. He is an amazing artist with a lot of talent! As far as the music of "Ohaka" goes, it began as a shared interest in music vibe between me and Jayme. He expressed interest in creating some tracks with me and eventually we began sending ideas back and forth via internet. In the end these ideas became tangible tracks and we started going to each others studios and really digging into them. One year later we have a 7 song album full of brilliant music and a very unique vibe. I mastered it shortly after and was so happy with the end results; I decided to release it as a digital album.
Marco: I noticed you used coinage, capital letters in the tracklist in a similar way Nivek Ogre did on the artwork of his solo project ohGr. I'm curious if you were inspired by this kind of typography?
Chris: I am a big fan of Skinny Puppy and Ogre's solo work ohGr, but the upper/lowercase track titles have always been a part of iammynewt tracks, as an accent to the particular letters creating a different words then what you are seeing at first. Subliminal track names anyone? Check them out and see what I am talking about. Maybe I am just a bad typist?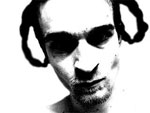 NINa: Your remix for "Suck" appeared on Pigface's "17 Ways To Suck" newly released digital album. In fact you've been mostly known as a remixing artist doing song versions for Cyanotic, The Damage Manual, Dismantled, Chemlab, Empty and my most favorite Project .44 amongst all. Are you going to continue with the remixes? Wouldn't you like to release completely new songs of your own instead of working on somebody's music?
Chris: Yes and yes. I will continue to remix other artists I am friends with and enjoy. I know you mentioned Empty already, but I just finished a second remix for them to appear on their new album coming later this year. The song title is "Never Get To You" and is one of my best remix works yet, so be sure to keep an eye out for it! An entire disc of just iammynewt music is on its way, I have been withholding its release for many reasons. Money being in the forefront, now that I have finally come to terms with the loss of a good friend. The more people that buy items I have in stock in my web store, the sooner it will see the light of day, so this is a calling for help from my fans.
Marco: Trozoc is your own company which mixed and produced some of the coolest releases of the last few years. Regarding the music scene you belong to: 16volt came back after a few years, Cracknation became stronger then ever and a lot of new bands came out, also with your help. It's a great moment, full of experimental ideas. What do you think about the differences considering the industrial music scene between the 90s and 00s?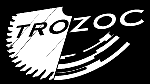 Chris: Thanks for your kind words, they are appreciated. I am trying to keep everything in prospective with TROZOC and where I want to go with it next. I was heavily influenced artistically/musically in the 90's by industrial music by artists such as Ministry, Skinny Puppy, Pigface, NIN, etc. As you just mentioned, now I am on the other side of things, helping create and build up the future scene. I think the main difference is the connection with the fans. Today in order to remain successful, artists have to actually hang out and be cool with the fans, whereas back in the 90's the scene was separated and bands were too cool or busy to know you personally. That's simply bad business. I prefer the new means by which bands are interfacing in the scene now and I have always welcomed my fans to chat it up. Fans keep you going and you need to keep them happy, so be nice and take some time out for your fans. Let them know that you truly appreciate them and give them the time of day.
Marco: There were a variety of artists you produced during the last few years both ambient, IDM and guitar orientated and they always came out with the top notch final products. Is there a particular sound which you identify yourself better to?
Chris: I will work hard on and towards any project I believe in. Then I strive for perfection in all that is the music production process. I personally identify more with… anything dark, with subtle overtones of calm. Moody, spooky music is my favorite!
NINa: Trozoc listed SiNDADDY amongst all other artists (and the list of the clients is a long one!). What was the collaboration about?
Chris: I mastered some tracks for him. We are friends, so you will probably see more collaboration from us in the future. My door is a revolving one and I try and keep the ties tight.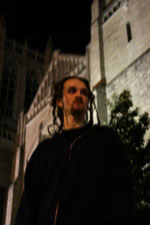 Marco: Your debut album "Boom Operator" features a collaboration with Seibold (mastering) and Martin Atkins (drums), they are both considered the icons of the 90s coldwave music. Tell us something about this collaboration please. Did you choose the two of them on purpose because you were looking for some special sound design coming out of their music production experience? Are there any other guests on your album?
Chris: I was talking to Martin Atkins a lot about different things and thought about how much I liked Pigface when I was young. I asked him if he would like to appear on it and he was excited to be part of it! This was earlier in my mastering days, so I wanted someone who had a different ear than mine at the time; I was too close to my music to be a reliable judge. Seibold happened to be the person to track Martin's drum sessions for me and during talks about the session files I was like "hey, could you help me out with the mastering?" Seibold being they great guy that he is said yes and he did a good job on it. This was in the end of 2005. There are no other guests on it. I am hoping to finally release it to the fans this year.
NINa: "Boom Operator" - Coming Soon! as it's announced on your website http://www.iammynewt.com/. When exactly is it going to be put out? Will it be a CD or a digital download or both?
Chris: I have no release date yet and would like to do both: A limited edition digipack CD release and digital distribution. The pressure to finally release it is on from the fans big time, so hopefully its day will finally come. I really want to thank all of the fans expressing their interest, understanding and patience regarding this release. You're the best!
Marco: Everyone can write and produce music nowadays thanks to the advanced technology. Do you prefer using software in a laptop/Mac or keyboards, synths, mixing boards, all those 'classic' gears?
Chris: I use the best from both worlds. I have a laptop with software and I have hardware too. When I remix artists I tend to lean towards software usage and when I am working on iammynewt signature tracks I will use my hardware for most of the creation, and then end the process with use of software. I have been getting rid of a lot of the old gear and keeping my setup simple and pristine. What is it they say…? "Less is more" In this case it really just depends on the intended ending result.
NINa: A lot of artists try remixing tasks but only a few do the versions in a way they sound good and stick closely to the originals. What's your recipe for the perfect remix? What features should it have to reflect the original song vibe?
Chris: The point of any remix is to take the original song and make it your own. Keeping some of the original signature traits of the song and putting your own signature vibe into it. If no one knows what song you've just remixed, you have already failed at your attempt to successfully remix it. But if you pop your remix into the player and people are like, "where have I heard this before?" then act confused because of the new music and arrangement, but then get into it, you have been successful with your rendition of the song. There are no rules for the way you should remix a song, but people relate to what they know, and you do want them to relate with your remix, don't you?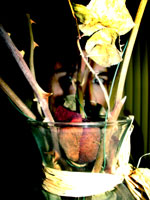 NINa: Sean Payne/Cyanotic wrote about you: "One of the most professional musician/engineer/producers I have ever worked with. Always on time and always a huge help to whatever project we are working with." Are you self taught or did you do some music studies, sound engineering in the past? Whom would you like to take more lessons from if it was possible?
Chris: I have been making music since 1992. I started out playing guitar and singing. Did that for a long time and eventually I got sick of playing guitar and singing. Took a break from music for awhile and started up iammynewt in 2002 and landed two tracks on an Invisible Records release entitled "Notes From Thee Real Underground 5". Notice there is no use of guitars or vocals? As for knowledge of the production process goes; I learn everything that I can, be it on my own or from others. I have spent many years recording with various talented engineers/musicians that taught me new outrageous techniques and provided insight from their working with or alongside people such as Mark Walk, Butch Vig, Trent Reznor, Chris Greene, Steve Albini, etc. Having that ability was a huge help with me growing as a recording artist. I learned so much from everyone that I have had the privilege to work with and/or meet; that I believe is priceless knowledge that no text book could provide. Take more lessons? If I had to pick someone to learn more from about music production it would be Andy Wallace for his mixing abilities. Silk.
NINa: What's your favorite remix album ever released and why?
Chris: Fear Factory's "Remanufacture" because it is fucking core! It takes the best of both worlds and collide them into a masterpiece of cyber/techno/industrial/drum & bass bliss. Most remix albums these days have big names and low quality on them. It has been a long time since I have heard a remix album of this caliber. This is what remixing is all about right here!
NINa: Any final words to Fabryka and your listeners?
Chris: Thanks for the interview NINa and Marco you guys are fantastic! Props out to my entire Trozoc crew, fans of industrial music, fans of iammynewt, my partner in vibe on "Ohaka" Jayme Bass, and all of the readers who actually took the time to read all of this! Thanks to everyone who has purchased "Ohaka" and if you have not yet, please take the time to check it out now, it is amazing! Three-3.
Iammynewt at Myspace
|
Iammynewt official website
---
Pictures come from Iammynewt's archive, all © copyrights reserved by (from the top to the bottom): Ohaka Art Credit: Bomba; 2 circles Photo Credit: Cozort Chris; cozort Photo Credit: Goose; 020 Photo Credit: Trinitie.