2006-08-15 |

Katarzyna NINa Górnisiewicz
and Brian Backlash |

e-mail interview
---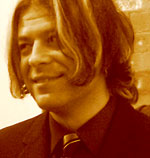 NINa: I'm a layman in terms of the studio. What is the difference between engineering, mastering, remixing and production? Which is the most fun?
Sean Beavan: Engineers are responsible for getting sound to tape (or protools) microphone placements etc. A Producer works out the budget, hires the technicians, rents the equipment, Books the studios, liasons between the Label and the Musicians, Hires musicians (deals with the union) and generally determines how the record will sound and makes sure it is commercially viable and artistic. He helps an artist bring his vision to fruition and also makes sure that that vision is in line with the record company. He also helps in the arrangements and instrumentation of the music. He generally acts as a director in film.
Mixing is the process of combining all the seperate tracks of instruments and vocals down to stereo (or surround). Providing artistic judgements which help to create a powerful and balanced picture of the song is key to success. Mastering is the final process where you equalize and compress the final master mixes so that they will generalize between each other and with other popular records in the genre.
Remixing is the process where you take a few tracks (or possibly just the vocals) and create an entirely different musical bed so that the song can translate to another genre (like giving a country song a four on the floor dance beat).
Remixing is the most creative in a very personal way because it is usually your vision alone except for the lyric and melody ( even the melody can be altered though). The are all fun and harrowing. I love mixing because I really like to make a song come to life, and it is fun to come into a project at the end and breathe new life into it. Producing is much more taxing and takes a lot more time but has the joy of empathizing with other musicians and being part of a team collaborating to create something great.
Brian Backlash: One thing you do that doesn't get much attention from fans are your remixes. Can you describe the remix process? What's the technical difference between a remix and a different version of said song?
The remix process starts with listening to the original song and seeing where it takes you. Usually there are instructions from the artist or record label as to what they want or need. Sometime it's a radio remix (something that can get on alternative radio usually), or a dance remix (something that DJ will spin in a club), If your really lucky they will let you do whatever you want or site a remix you did in the past that is what they are looking for. I love devising chord substitutions and really love to take a song into a genre that make the song even better than the original. That is always my goal. 8mm's version of "Nobody Does it Better" is pretty much a remix. None of the original chord progression exists in our version, even the vocal melody in the verse is completely changed.
NINa: As far as I know there were also two other famous producers and engineers you worked with thanks to productions for NIN - Mark "Flood" Ellis and Dave "Rave" Ogilvie. Have you ever tried to collaborate for instance, with Rick Rubin or Bill Kennedy?
I have mixed several records for Rick Rubin. He is great to work with, He has
never forgotten what it's like to be a fan of music. He concentrates on "Broad Strokes" he never gets bogged down on "Can you bring the sn up a half a db"
only whether the drums make him excited or the guitar riff hits you in the face,
or that the chorus isn't grand enough. Things that normal listeners care about.
He is a genius. I haven't had a chance to work with Bill Kennedy since the "Broken" EP. He was fun and always had awesome stories about Motley Crue none of which I can tell here.
Brian Backlash: Throughout your illustrious career, you've had the chance to record in a number of different studios. Do you have a favorite place to record? Does ambiance play a role?
Ambiance definitely plays a big part both in sound and aesthetics. Sound City has an a great drum room, the old Cello studio B just made everything sound great. I am now in love with my house. My bedroom doubles as a drum room/ guitar room and just sounds great. It's the luck of the draw. Some studios look great and cost a lot of money to design but end up sounding just OK or even mediocre and sometimes a rehearsal room in a bad part of town sounds amazing!
NINa: I'm sure you've kept an eye on Charlie Clouser's productions. What do you value the most as for his work in a studio?
Charlie, besides being a great guy, is incredibly fast in the studio, he has his setup rigged for speed and can come up with twelve ideas a minute. He has been doing soundtrack work for so long he makes revision look easy. I wish I could work at that pace.
Brian Backlash: You've been interested in recording techniques and sound manipulation since you were a boy. At what point did you decide to go to school and make a career of it?
I was working in a group home for the mentally retarded when I was 20 and decided to go back to college and change my major to audio production. I just made the decision to follow what my heart had been telling me since I was 11 years old.
Brian Backlash: How can a listener tell the difference, technically, between a well produced record and a poorly produced one?
A well produced record makes you feel the songs in your soul. It doesn't necessarily have to sound great. It has to be great.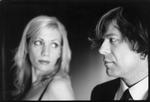 NINa: You are involved in 8mm now. Was it your wife Juliette's idea to make a band?
No. I asked her to sing backups on Kill Hannah's first record for Atlantic because I needed a female voice and no one was available (and it was the day before the songs went to be mixed). I had never heard her sing before, she had never expressed an interest in singing. She was from New Orleans so I knew she loved music but when she opened her mouth and that voice came out my jaw dropped. I wrote the music to "Never Enough" as an experiment and she wrote lyrics and a melody that killed me. She said that as she was singing the Kill Hannah stuff she was saying to herself "I hope this doesn't suck because I like it a whole lot."
Brian Backlash: What is your role in your new project, 8mm?
I take on the role of co-writer. I usually come up with a musical idea or a riff or chord progression and Juliette gets inspired and tells me the story and then writes the lyrics and we then edit together to finish it. It's a real collaboration but i'm the musical instigator. Juliette is the practical instigator in that she prods me to "Go write something!" I write primarily on guitar or piano so Juliette will just hear me playing around the house and join in when she thinks of something. After the song is at a certain place I'll then put on my engineer/producer/musician/mixer hat and start recording it all. Mostly it starts with me working out the drum beat. I have an old 1963 red sparkle Ludwig "Ringo" kit and it is so fun to play. For our new stuff our drummer Jon Nicholson is playing and he is truly amazing. Then after the beat is done I work out the other instruments, but for me the beat is what determines everything else.
NINa: There was an awesome Australian band named Jerk who released only one album called "When Pure Is Defiled" with your help in the studio in 2003, and they... vanished. Do you have any news about those guys? They're difficult to find on the internet.
That album is great. Too bad Sony didn't do anything with them. The main songwriter Lamar Lowder is producing bands in Australia and I talk to him everyonce and a while. He's really talented and a great guy. The other three guys, Charlie, Leeno, and Jon are in a band named
Ink
and are getting ready to record soon. Jon played the drummer in Lestat's band in the movie "Queen of the Damned". He is one of the best singers I have ever worked with.
NINa: Was it Jerk's rough aggression what attract you to the band?
Yes and just damned great vocals and songs. I love a cool voice. It is what attracts me to any project.
NINa: You had an opportunity to work on both NIN ("Sin", "Broken", "Fixed", "The Downward Spiral") and Marilyn Manson ("Get Your Gun", "The Portrait of An American Family", "Antichrist Superstar" and various soundtracks) music in their best times during the 90's. Listening to their newest albums (NIN - "With Teeth" and Marilyn Manson - "The Golden Age of Grotesque") I feel something of a weakness and lack of previous passion driven by their egos to create something powerful for rock music. Are publicity or media influence factors in finally deciding about these artists next efforts?
I also Co-Produced Manson's Mechanical Animals with Michael Bienhorn who has remained a really close friend. We felt like we were long lost brothers.
I think there is a relevance to an artists early works that fades a bit as they get more involved in their own machine. This is especially true of confessional songwriters. It is easier to sustain writing if you are used to making it up, creating characters so to speak. It is much more difficult to sustain the same intensity when you only write about your own life. Usually something aweful has to happen when you are older to give you the same impetus as when you were young and full of emotion and fire. It was a priveldge to work with Trent and Manson at the time I did. I think it would be a priveldge now as well.
Brian Backlash: You've said you like any kind of music as long as it comes from the heart. When producing or working with a band, is that something that you take into consideration? What kind of band will you *not* work with?
Yes, I also have to personally get on with the band. Most importantly I have to be able to feel what it is they want to do. That is where my ideas for them come from. Without that empathy no ideas would flow and I'd just be stealing their money. I wouldn't work with people I don't personally like, and if I don't understand what it is they want to achieve I won't be able to give them anything.
NINa: Whose music was the toughest challege for you to work on?
They all have their challenges. 10% inspiration, 90% perspiration.
Brian Backlash: As recording technologies become more portable and affordable, do you feel that a job like yours will become less neccessary to the process of music creation?
I do think that is how people think. Though just because something is affordable it doesn't mean anyone can do it. I do think a whole lot more guys like me are able to do great work and more of our artists will be renaissance men in the classic sense. Just like rock'n'roll opened up the era of the singer songwriter the personal computer has issued in the era of the singer/ songwriter/ engineer/ producer/ mixer/ mastering engineer/ record label executive/ maketing director/ tour manager/ booking agent.
NINa: I assume it was Trent who recommended you to work with Manson. Can you recall your first feeling when you met Manson the first time?
Yes I can. Trent and I were working on "Broken" at South Beach Studios in Miami when Manson came in to see us. I had met him briefly when he opened for NIN in a club that year on our first headlining tour. He hung out and we had a great time. He gave us his demo and Trent and I listened to it on the van ride back to New Orleans. Trent said he wanted them to be the first band on Nothing Records and I whole heartedly agreed. I thought they were rock stars and Manson was a genius.
Brian Backlash: You've worked with an incredible number of high profile bands. What's the key to getting to work with so many talented people?
Being yourself and having a genuine interest in a lot of different things. No one wants to talk to a guy who can only converse about one thing and believe me at most meet and greets most people can only talk about the music biz. By the time they get to me I'm a friendly breath of fresh air when I talk history or politics or science.
When I meet with bands interviewing producers I take them seriously. I don't worry about impressing them with who I am or what I've done. I listen to their songs and I tell them what I would do, specific changes. When I go to a rehearsal, I bring a note pad and tell them what I think. It seems to work for me.
NINa: The newest album of Guns n' Roses titled "Chinese Democracy" is supposed to be released this year. What made you decide to work with Axl and the band?
My friend Billy Howerdel (Guitarist of Perfect Circle) was Axl's guitar tech and he and Robin Finck (NIN, GNR) approached me about producing Axl's record. They were great friends and it was good to work with them. I also met Tommy Stinson there (Replacements and GNR bassist) and we became great friends.
Brian Backlash: Last question: Edison Cylinder, phonograph, compact disc or eight track?
We just listened to a test pressing of remixes for 8mm's new single "Stunning" and vinyl just sounds like a record, you know what I mean?
Sean Beavan at Myspace
|
8mm at Myspace
|
8mm official website
---
Pictures come from Sean Beavan's archive, all copyrights reserved by © their authors.