2012-01-05 |

Katarzyna NINa Górnisiewicz | via
Formspring |

RSS |

"Regime" - free song download

---
Go to: 2012-01: 05 | 06 | 07 | 08 | 09 | 10 | 11 | 12 | 13 | 14 | 15 | 16 | 17 | 18 | 19 | 2011 Interview

---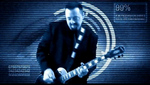 Q: [NINa] Let's say you need to deal with a post-apocalyptic reality: no electricity, no petrol, no flights, no phone/WiFi connection. What are the five things you'd take with you and the five places you'd go to?

A: [Sean Rieger] Very interesting. After Hurricane Ike hit where I live, I learned a lot about this kind of thing. In fact, I actually created a hand crank generator out of a flashlight, to charge my devices.
Anyway... As for things:
1. Shotgun (hunting food and protection from people)
2. Acoustic Guitar (if I can't make music, what point is there in survival?)
3. Hand crank generator.
4. My Asus EEE slate tablet... I can charge it with the generator and it runs Cubase 5.5, so I can still use synths.
5. Survival Knife with fire strike. (I've read a lot on survival, and a good knife with fire strike can keep you going a long time).

As far as where? Well... someplace with moderate temperatures and away from people. I probably wouldn't move around much, because if armageddon did hit, people would not be good to each other. Not at first, anyway. It would basically be gang rule, so being a hermit would have it's advantages. I'm thinking the mountains. Actually, that sounds pretty good... maybe I should just become a hermit anyway!


---

What do you think? |

Send your question to Sean