2009-04-18 |

Katarzyna NINa Górnisiewicz
and
Marco Gariboldi
|

e-mail interview
---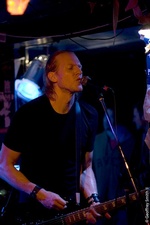 Marco: You've released a promotional single in 12" format. Do you plan to sell your new album as a vinyl or do you think it's a good way only as a promotion for DJs, clubs?
Oliver: I love the sound of vinyl, and I'd love to put the new album out of vinyl, but it's probably not going to happen immediately. Vinyl is pretty expensive, you need multiple records to get good audio quality for a full length album, and the demand is pretty low these days. But I'll always have it on my pipe-dream list, so if we win the lottery or find some buried pirate treasure you can definitely expect to see everything we do on vinyl one day.
Marco: I'm really impressed by your logo, the first time I saw it reminded me the Wilson Sport goods :) It's one of the best logo I've seen in a long time, it's simple, direct, incisive. Did you design it by yourself?
Jason: Thanks! Yeah that was us. There are so many directions to go in, so many feels to that flagship image but, ultimately it was just obvious, clean & direct. If you know what it means it is totally apparent, if you don't then it is just lines and curves.
Marco: 'Bludgeon' is a really great business card for you, it has four great experimental tracks, honestly some of the best songs I've heard in 2008. The production and the sound of this E.P. reminds me the talent of Alan Moulder and his collaboration with NIN and Soulwax, and also the guitar's distortion of great rock bands like "The The". What were the bands that inspired you to write music? Are you a self-taught musician or did you attend classes to learn how to play an instrument?
Oliver: I always took lessons while I was learning the guitar. I moved around different genres, when I started I focused on the music I enjoyed like rock and metal, but as I got better I began exploring classical and jazz, and took lessons specific to those genres. When I started playing in bands I moved away from formal lessons and found that I was happy just learning from the other musicians I got to play with.
The first artist I really dug as a kid was Howard Jones. That was probably what forged my love for electronic and industrial music later in life. As a young teenager I really got into metal, and my favorite band was Queensryche. After that is was all about Nine Inch Nails.
Jason: For my part I grew up as a kid in the bay area thrash scene, the musicianship & energy in the style was amazing, that really was my
world & my identity as a kid. But just when I was feeling pretty good about myself as a musician my uncle clued me into the world outside of Mustaine & Lombardo and tuned me into the world of King Crimson & Brian Eno, and he encouraged me to persue some of the alternate techniques I was growing in as a musician. That lead me to M.I.T. where I really developed my own personal approach as a musician and as a artist. It just became more important to be myself rather than to be able to mimic someone else.
Developing yourself in unusual ways though definately makes you a lightning rod, some people it connects positively with like Terry Cordell ( from the band Enclave ) or John Tempesta ( Rob Zombie ) which is wonderful. And then there are the others, ugh... people like Juan Urteaga (engineer) or Scott Reins (Stormdrain) who are more limited artistically, and want things watered down with the goal of making the instrument meaningless.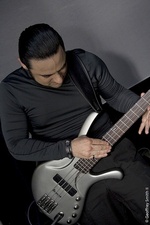 Marco: If you can collaborate with any bands or artists, are there anyone in particular that you want to collaborate with?
Oliver: I've always wanted to work with Dismantled. I love Gary's music and it was awesome to have him remix one of the songs on our new album. I'm still hoping we can take it a step further and actually collaborate on some new material sometime in the future.
Jason: If it could be anyone, it would be Adrian Belew, Robert Fripp, and Dave Lombardo, of course I would probably be fairly worthless as I would just sit there in awe the whole time. Would also love to work with Eric Powell, the guy is supremely talented, everything he creates is boarderline addictive.
Marco: Do you plan to publish your works as an independent artist, or are you're looking for a label that supports you on promotion and touring?
Jason : We actually just signed with Spiralchords Records, a specialty label of COP international. A strong connection has been built with Breda Massmann there, she has a love & a belief in the material. Otherwise we could have gone in a lot of different directions.
One thing I see happening with many industrial and dark bands is that they seem to be skipping labels entirely, it's a viable option and a lot of times the right one. Some take that path because the contracts that are offered are exploitive, some because they can't handle to rejection of putting yourself out there. But what I find disturbing is that there are some really great bands out there, that nobody will ever hear because they aren't able to reach beyond their local market. The talent is there, most times the actual recordings are even there but the reach just isn't.
NINa: What are the best ways to spend your free time and relax?
Oliver: Relax? Ha ha ha... what is this "relax" you speak of? I'm really not sure, I guess that means I don't do enough of it whatever it is. I find exercise relaxing, or anything that gets me away from the computer - just going out for a good meal can rebalance me after a rough day.
Jason: Sleep, lot's and lot's of sleep.
NINa: What's the meaning of your band name?
Oliver: There isn't really a specific meaning or story behind the name, but the phrase itself can carry a pretty deep and emotional message depending on what sort of situation you apply it to. It can be very positive, or at the same time very melancholy, and I think it's that vagueness and double meaning that attracted us both to it.
NINa: Do you like traveling? What places would you like to see in the whole world?
Oliver: Yes, I love traveling. I'd love to see the whole world ultimately. Japan is pretty high on my list, and I think a tour of Europe would be amazing. And believe it or not, I'm actually writing the answers to these questions from Mumbai, India right now :)
Jason: Definitely love to see the world, I'm going to Asia in about a week. Love to see the different places on the planet and the differing cultures, what people find exciting and acceptable. I adore taking in the nightlife in different places, see what people do when they let themselves go.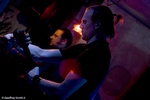 NINa: I think it's kind of easy to get burned out these days when the last boom for new music was grunge and Seattle scene in the 90's or emo, a new thing popular mostly in Europe. Will there be any new style of music so noticeable and significant in the near future? What's your way to stay creative?
Oliver: It's going to be interesting to see how things develop in the near future. There are so many tools available to musicians and home studios now that just weren't available 10 years ago unless you were very dedicated to a particular genre and had a lot of money to invest.
And on top of that, there are so many new ways to distribute your music from anywhere in the world without spending a dime. I have no idea what the next best thing will be, but I won't be surprised if it comes out of someone's basement in some far off corner of the world, as opposed to being manufactured and forced down our throat by a bunch of major labels.
Jason: Honestly, the upcoming album "Blunt Force Volume" was a true expression of life over the past few years, staying creative now to me means to drink in life as much as possible and pay close attention to it all. Because those vibrant things, those ugly truths, man those are the inspiration and to document it is to record.
NINa: Any new things incoming in your band until the end of this year?
Oliver: Yes! Our first full length album "Blunt Force Volume" is finished now. It's 10 tracks, one of them a remix by Gary Zon of Dismantled. It's being released by Spiralchords, a division of Cop International headed up by Breda Massmann. It should be available digitally sometime in June, and physically soon after that.
We Got This Far at Myspace
|
official website
|
Spiralchords
---
Pictures come from We Got This Far archive, all copyrights reserved by © Geoffrey Smith II.