2008-07-10 |

Katarzyna NINa Górnisiewicz
and
Marco Gariboldi
|

e-mail interview
---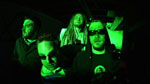 NINa: Please tell us something about you because it seems like it's been a piece of the history behind the band.
[ethan]:
I am never any good at these kinds of questions. Promonium Jesters currently are Ethan Moseley, Greg Cox, Dave Miller, Tyler Noble, and Rob Moseley. Promonium Jesters has become my state of being. I have considered myself a Promonium Jester for nearly half my life. I am not quite 27 years old yet. Greg and I have been friends since we were 10 years old. We have been making various noises since we were 14. Horrible structureless racket. Radios. Tapes. Broken guitars. Mario Paint. Static hiss. Then we evolved, discovered computers, drum machines, distortion, and synths - not in that order, but all THAT important. We continue making various noises. Horrible racket - now with structure.
When we were younger, playing music kept us out of trouble (most of the time). Instead of wasting time with juvenile crime, there was a higher purpose. Now that we're older it's still keeping us out of trouble. Instead of joining the herd settling for careers/families/mortgages/death - there is a higher purpose. Free music for free people? Doubtful, but nice for a greeting card. Now I'm rambling. The history is still ahead of the band. One day I will write a book.
Marco: "Your Face" is your 10th album, published independently. Your last two albums are available to purchase directly from your website or from other online stores (like CDBaby) or in a digital format. The music business has changed during the last decade: Napster, torrents, iTunes, Myspace, Youtube. What is your opinion on such new methods of promotion and marketing?
[ethan]:
They're a bit of a double edged sword, aren't they? It is now incredibly easy to make your music/video available to anyone with a computer and an internet connection, so it definitely helps get exposure in far away lands. But you kind of end up swimming in a sea of mediocrity. With a little luck the good stuff will rise to the surface I guess.
Myspace has become a necessary evil. I don't particularly like it, but when you're trying to book shows most venues prefer checking out your Myspace page rather than going through piles of CDs. It is convenient in that respect. When we're on tour we try to keep our Youtube page updated with footage from the shows. And as far as sharing music via torrents goes, we're all for it. Feel free to share your Promonium Jesters music with anyone and everyone.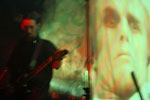 NINa: The newest album Psychic Warfare is just awesome. There are at least two songs amongst all other which made a huge impression on me – Noosphere Sentinals and Soft Targets. Do you find it as the best album in your discography so far? When is it going to be officially released?
[ethan]:
Psychic Warfare is definitely our best recording so far. And funnily enough, it was the easiest to make. Our two previous albums (Your Face/Time and Place) were both written in the studio, but with Psychic Warfare the songs were written, rehearsed, and even performed live before we stared recording. Except for Soft Targets and Send Us Your Thoughts. Those two were hardcore studio experiments.
NINa: Would the next album be kept in the same vibe?
[ethan]:
It's hard to say. We've got about 8 different album ideas slowly being put together, but no idea which one will get released first. If I tried to tell you what to expect I'd end up looking like a liar.
Marco: How could the fans possibly buy your earlier releases?
[ethan]:
They can't. Right now we've got Time and Place, Your Face, and Psychic Warfare available through our website. The older stuff is out of print. Most of it is no longer up to our standards. We may do something with it in the future, like free mp3s on the website or something.
NINa: I got the two newest CDs in a hand-made packaging. They look really cool! Who's the designer?
[ethan]:
That would be me. Thank you. These days I prefer hand made packaging instead of mass produced/standardized/alllooksame products. The packaging should also be a work of art. This way each one is unique.
NINa: Did you have any line-up changes during the past years? Was there any risk of the band's end?
[ethan]:
Yes, there have been a few line up changes. Our friend Tim Hughes used to play bass and keyboards with us, but that was many years ago. Dereck Mathers has played guitar on and off with us since the beginning. He was unable to come with us when we toured for Your Face last year, and he hasn't played with us since. Whether he'll play with us again or not remains to be seen. As for risks of the band's end, there were quite a few times over the years where we all nearly gave up. But in the last two years or so, I don't think we've had one single argument. The only thing that can kill Promonium Jesters at this point is success, but I think we can survive that too.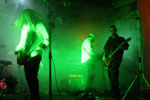 Marco: Your sound includes very different inspirations - from rock through electronic to industrial but with a constant experimental content. This is the most intriguing side of your music - always fresh songwriting. Do you rely on improvisation better if you are about to write an album or do you prefer to plan of what exactly the newest album should sound like since the very beginning?
[ethan]:
No two people in this band like exactly the same music, so we've got influences coming in from a fairly wide spectrum of musical styles. It can make it difficult sometimes to easily write music together, but when it works it WORKS! Improvisation has been and will continue to be massively important to how we write songs. Even when we try to plan out exactly how something should sound, a little improvisation always makes it sound better.
Marco: Seems like you take care of the visual aspect of your live performances. Is visual art a key factor of your artistic expression?
[ethan]:
Absolutely. When people come out to see a show, we want to give them the best show possible. That means we've got to make it interesting visually as well as musically. I want people to be afraid to go to the bathroom because they're afraid they'll miss sometime amazing. Besides, the technology has become so affordable/easy to use that if we didn't take that extra step, it would feel like we're just lazy. Who wants that?
Marco: For the last 25 years Canada has been a world benchmark for industrial music. A lot of great bands released several masterpieces that kind. Why is this music scene so alive and full of inspirations over there?
[ethan]:
Beats the hell outta me. Free healthcare makes samplers and synths more affordable?
NINa: Skinny Puppy, Numb, FLA... How much is the Canadian industrial scene eager to accept bands which had no connections to those above?
[ethan]:
Hmmmm. Do we even have an industrial scene? It's tough in a city like Toronto. Most of the "industrial" music fans there don't want to see a live band unless it's Skinny Puppy or Ministry. If they do end up at a show for a new band, it's most likely that they are waiting for the DJ to start playing that terrible dance music that gets called 'industrial'. But its not all bad.
There have been a fair number of people who have gotten really excited when they find out that we exist. Especially when we get in the van and get away from Toronto. Thunder Bay, Saskatoon, Calgary - they show some love.
Marco: Do you feel like being a part of the current industrial music scene? What do you think about it? Are there any industrial artists that you admire?
[ethan]:
Not really, but until someone comes up with a better name I guess industrial really is the closest reference point. But it is kind of fun to be a part of. I think we are going to see it get some new life. Most of my admiration goes to the classics - Skinny Puppy, Foetus, Throbbing Gristle. You can't beat the innovators.
As for current artists, I really like Wolf Eyes. They can say they play industrial music and mean it in the original Throbbing Gristle sense of the word. And Adaptive Reaction, they are awesome live and great to hang out with.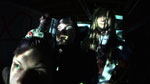 Marco: What are the principle topics enclosed to your lyrics?
[ethan]:
All the good stuff. Sex, drugs, violence, aliens, new world order conspiracy, discordian zen, the meaning of life, the problem with governments, your face, mind control, the apocalypse, infinity, the void, the black magic or corporate America, the future, flowers and sunshine, illumination, elimination, annihilation. Not necessarily but sometimes in that order. Stream of consciousness/automatic writing + Burroughs-style cut-up = Promonium Jesters lyrics.
NINa: Promonium is going on tour soon. When do you leave the city and what places you'll be playing at?
[ethan]:
Actually we just did a cross Canada tour in May with our friends Adaptive Reaction. It was our second time touring Canada and their first. Right now we don't have anything confirmed, but we are working on touring the USA with Left Spine Down in the fall. We'll let you know.
Promonium Jesters at Myspace
|
official website
---
Pictures come from Promonium Jesters archive, all copyrights reserved by © their authors. Questions proofreading: Scott M. Owens.