2008-06-24 |

Katarzyna NINa Górnisiewicz
and
Marco Gariboldi
|

e-mail interview
---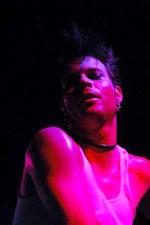 NINa: ETV is a new band on the scene so I'd have a few questions about the beginning of ETV. When did you meet the very first time and decide to play together as a collective?
Chris Navasatis:
Well, first I want to say thanks for supporting our first album.
Let's see... In high school I was really into music. I was listening to bands like NIN, Manson, Korn, Deftones, Stabbing Westward, Gravity Kills, Bizkit, Thrill Kill Kult. They had these hard driving yet rhythmic beats, thrashing guitars, distorted vocals, people screaming at the top of their lungs… I got to see Woodstock with Nails putting on a fabulous show and saw how Trent could control a crowd… I was blown away by those performances and how the crowds were all in tune with what these performers were doing. I knew then and there that I wanted or was destined to be a dirty rock star. But it took me until about 2004, when I started the first version of ETV.
Ben didn't come along until version 2. We met at my work back in the GC days a few times and he came to one of our shows to check us out. My drummer at the time was going to play drums in Ben's band "Pulled Nerve", which was the basis for the sound of the later tracks added to the ETV album. Ben stuck with me through the 2nd version of ETV and into the current version; helping create this ball of what we do. We've become partners in this creation. Ha… I think its funny looking back on it, because at first I didn't even want him in the band. Boy, I'm glad I took him. LOL…
Ben Bordelon:
Yeah, I met Chris at Guitar Center when I was there purchasing a bass and a guitar for my son. (I came along after the original band was formed.) I checked the band out and fell in love with their performances. I also knew that I would be able to take the music to a new level eventually. It's kind of funny; Chris didn't even want me in the band at first and one of the original guitarists thought that Chris and I would clash. Well, that didn't happen and now Chris and I are the only two "original" members of ETV left. Alex, Darren, Tim and Hardy came along last year sometime when a few of our old line-up decided to bounce from the insanity. Darren and Tim are also in "The Hunger", an industrial band from the 80's and 90's that has influenced me throughout the years. Alex was the Hunger's drum tech for a while and had the chance to tour with those guys as well. Hardy was a mutual friend of Navasatis's and mine through Guitar Center.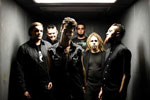 NINa: You are an industrial metal band. What do you like the most about that style of music?
Chris Navasatis:
I'm allowed to wear make-up and get away with it.
Ben Bordelon:
I like this style of music because guys can get all into it, mosh, and go crazy if they want while a girl can shake her ass off to it.
NINa: Recording industrial metal music and living in Texas seems like a challenge knowing of how many famous bands and styles come from that area. Do you have any Texas-based bands influences or do you prefer to make something totally fresh and surprising?
Chris Navasatis:
Well as for me, I'm not into this to create a new type of sound or music... I'm just doing what I like to do, and if someone likes it... rock-n-roll... If not... Listen to American Idol, which I am totally a Sanjia fan... No... For real..
Ben Bordelon:
Yes. In fact, Texas bands have definitely influenced me throughout the years. Skrew, Hunger, Butthole Surfers, Ass-Ponies, Local H, ZZ Top, Chlorine and lots more are all a part of it. I don't believe that my programming and production sounds like these acts, but they do have a big part of the emotional and mental energy placed behind the creativity. My bigger influences came from older bands such as Nitzer Ebb, Chemlab, Front 242, KMFDM, Bile, Thrill Kill Kult, Lords of Acid and many more. I'm where the actual electronic part of ETV came from.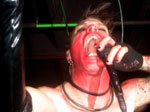 Marco: Chris, you said that your music is influenced by such great bands like Marilyn Manson, NIN or Korn. Your live performances are intense and exciting. I saw some terrific video clips on Youtube. (There's a Patty Smith song already covered by Marilyn Manson amongst all). They remind me of the early Manson shows regarding energy and vibes. How important is Marilyn Manson's influence on your music?
Chris Navasatis:
Shit. The dreaded Marilyn Manson question. Back when I was in high school realizing what I was going to do creatively since I wasn't drawing really anymore at this point, I got a karaoke machine and started singing and performing to all my favorite bands in my living room. I used to do these songs in front of my friends at parties in my house. This one time, for example, it was a Manson tune (Anti-Christ Superstar) and I dressed up in my mother's underwear, head to toe with panty-hoes all wrapped and torn around me. Really Manson-like. I turned off the lights and stood in front of my big screen TV and had a static channel on behind me to give that shadow effect and at the que of the song, I had someone turn on the lights. That was my big light show... LOL.
Cheesy but entertaining and all of my friends laughed at it, but in a good way. I still have my good friends who, to this day, will bring that up to fans. Man, I went all out, balls to the wall, and at that age and time I still didn't fuck around with putting on a show, even if it was just in my living room. It just wasn't Manson; it was with other bands too. I wanted to be my favorite bands. I got a groove box and started making some tunes in '97 or '98 and it was uphill from there.
Now while my influences are my influences, I do try to make it my own. As for the cover, I did it because I have this checklist of shit in my head that I wanted to do before I die and that happened to be one of them. I had to perform that song live just to get a reaction from the crowd. Before we did it, I was like "this is a cover of a cover of a song" and it says the "N" word… Alot… Thank god I don't have long black hair. LOL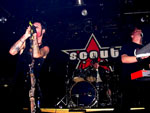 NINa: What are your views about the Texas industrial music scene, its fans, support, bands, gigs or maybe record labels too?
Ben Bordelon:
TEXAS is a CLUSTER-FUCK of entertainment. There is not much missing from the Lone-Star-State. We have it all. Every genre of music, record labels, and movie production companies… you name it. Too bad they aren't all there to help us out though. LOL. Texas has been great. Our fans are here, and we have lots that are die-hard and true to us. I have no complaints about this wonderful state-tax-free state.
Ben Bordelon:
Well, you will always have your Texas metal scene. Metal seems to never go away here. (Sometimes it gets old.) We do have friends in the metal scene, though, and we've played several shows with them. We used to have a really strong industrial-electro scene here but it disappeared somewhere between 1996 and 2000. It's been my personal goal to get Houston back on the industrial map, and hook up with someone like Metropolis or Under Ground Inc. in the near future. We are currently with Gut Records, which is the label thrown together by The Hunger a couple of years back. I would actually love to get the hell out of Texas and see other places.
NINa: I'd like to come to Texas to do a few Fabryka promotional shows. What's the best club over there to do such a thing supported with industrial/metal gigs?
Chris Navasatis:
Scout Bar!!! That's the only place we basically play in Houston. Team ETV's sound and light guys are housed there, our friends and fan base is there, and great servers are also a part of that venue. It's a badass club and they actually have a staff that caters to the bands. And did I mention the sound set-up they have? Thomas Wilson, the owner, really knew what he was doing making that place. Ya'll might have heard of him. He is one of the Front Men in The Hunger. He knows what's up and loves spoiling bands.
Ben Bordelon:
Ditto. Scout Bar all the way for me as well. Now that they opened one in San Antonio, things are going to roll a lot smoother. Don't get me wrong though; we have played every other venue/bar in town like Havok, Engine Room, Numbers, Fitzgerald's, etc. and have had great experiences at those as well. We just prefer Scout Bar over the others because we can fill it full of beautiful people and not feel bad about tearing up the place and getting everything wet. LOL.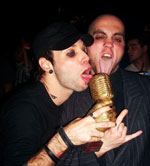 Marco: You won also a 2007 94.5 TX Buzz Award this year. Tell us something about it please.
Chris Navasatis:
Fuck yeah!! It's about time too. We've been nominated for the past 3 years for different categories and finally won "Houston's best Shittiest Band"… Just joking! We won "Best In Genre", whatever that means, but it's our first fucking award, so I'll take it... Boy was that a crazy night. LOL!
Ben Bordelon:
Yeah. I don't really remember how, but I believe I broke my ankle that night. Alcohol anyone?
Marco: You'll be supporting 16Volt shows on the 2008 Denial Highway Tour and TKK on their 20th anniversary Tour this summer. It's a great opportunity for you to promote your debut album "Songs in the Key of Filth". How were the collaborations with such great bands born?
Ben Bordelon:
Well… I'm still not sure how that worked out.
Eric Powell, Steven White from KMFDM, and I have a mutual friend (Patrick) in Houston who loves our band and has been hanging out with us a little while now. One night Pat calls me and mentions that I will be getting a call from Eric in regards to us booking a show in Houston at Scout Bar during their tour. I get the call and the next thing ya' know, we are booked on all of the Texas dates. I call it luck - my friends who have been in the industry a lot longer than I have call it a headache. LOL.
Thrill Kill Kult is a different story; they just love playing with us. In fact, we have been their support band for the last three shows here. The clubs in the area (Scout Bar, Engine Room, Havok, etc.) have liked our performance enough to book us with a lot of national and international acts. We have had the chance to share stages with all types of acts like Static-X, Human Factors Lab, Still Life Decay, In This Moment, Chant and more. We are also booked with Wednesday 13 for the second time as well as some dates with Ogre this fall. It's just a smart thing to book with ETV while you here. We will pull in the crowd and give you something to compete with as far as a stage show and performance is concerned. We are very honored to be able to hop on the road with 16Volt and Bella Morte. I just wish it would last longer.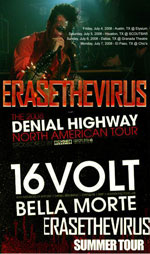 Marco: Is there any artist in particular whom you'd like to collaborate in the future with?
Ben Bordelon:
I really like Cyanotic. In fact, I'm currently speaking with Sean about remixing one of our tracks on the ETV album to go into a remix/cover thing we are putting together. We are by far nothing like the Glitch Mode crew, but I would love to see what he can do with our shit. Besides him, KMFDM, Chemlab, VnV Nation, Kourtney Klein, Eric Powell, Rob Zombie and cEvin Key. That's my personal X-Mas wish list.
NINa: Are you happier about touring across the USA or would you like to come to Europe sometime?
Chris Navasatis:
I'll perform anywhere
Ben Bordelon:
Yes. I would love to hit overseas. I have a feeling that we would go over very well there. Actually, the majority of our online sales at the moment come from Germany, Italy and Russia.
NINa: It's said the Americans may need visas to go to Europe in the near future what could complicate a bit touring as it's about making money in foreign countries. What's your opinion about that?
Chris Navasatis:
Wow! I didn't know that. That's some crazy shit. Would it happen in a reverse scenario too?
Ben Bordelon:
Well, we will cross that bridge when we come to it.
Marco: Did you collaborate with other artists on your first release or did you write and produce it by yourself?
Chris Navasatis:
The album has been in the works since, like, 2005. We've had other members in the band and recorded at another studio in Houston called Digital Horizon Recordings with Shawn Gilbert. Certain tracks of the songs Worthless, Pied Piper, The Somber March, Please, and The Fuck Song were recorded there, but when there was a line up change things got stalled up for a bit while we regrouped.
With Ben having an awesome studio of his own and since we didn't need a lot of live drums in the album, we were like fuck it, let just finish it here. He isn't lacking anything that a normal studio has and it really came out great for our first album. We did it ourselves basically. Plus, Ben is great at what he does in the studio regarding recording and mixing and whatnot. Our old drummer Kenny (NOIZ) had a huge part in the original versions of a few of the songs on the album as well. He wrote and produced the entire version of The Somber March that is on the album. Richard Talbot, our old guitarist wrote and programmed Pied Piper and assisted Ben with The Fuck Song and a couple of older tracks that never made it on the record.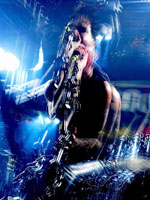 NINa: The CD is professionally recorded, produced, printed and packaged. There are 15 songs of which my attention was grabbed by Two Shits & A Flying Fuck amongst all. I mean the title. Can you imagine some people trying to analyze it as well as the lyrics? What did you mean giving such a name to the track?
Chris Navasatis:
It's a pretty straightforward song, I think. When the album was on a roll and Ben was flipping out tracks like they were meat off the back of a truck, that was one of the songs I was working on lyrically. The song is a normal ETV song about me, what I do and who I am. What you see is what you get. With me, no matter which role I'm playing, that's how it is. It's saying that if you don't like it... then, I don't give two shits and a flying fuck what you think.
NINa: We Are All Drunk. Who was throwing up and who was recording? ;)
Chris Navasatis:
Oh. That's something I'm kind of proud of. I don't know much about recording. Every time I have recorded, someone else is doing all of the tracking. So, doing it at Ben's place, he would sometimes be at his day job and I would be at the studio recording vocals. He taught me how to do it and what to and not to touch. So, I'm recording We Are All Drunk and I'm screaming at the end of the last chorus and when the song ended I made a gagging noise. I'm thinking "man would that be cool to have someone throwing up at the end of the song," because it's about getting drunk and it's the last track at the end of the album and that's normally how I end up after a night of drinking anyway. Then, I get the idea to make the vomit hitting the toilet since the bathroom is right next to the room. I got a margarita pitcher of water and made a new track. Then, I played back the main track at the end of the song, and every time I made that noise, I poured water into the toilet. I then flushed it of course. I didn't think Ben was going to go for it, but it worked. So, I'm sorry if anyone is disappointed that it wasn't real, but I don't give two shits and a flying fuck... See, that line works well now doesn't it?
Myspace
---
Pictures come from ETV archive, all copyrights reserved by © ERASEtheVIRUS and Brent Goucher, TonyTerror Photography, brooks.