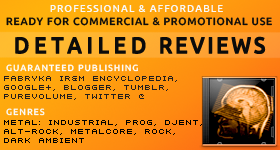 Update - BONUS
: If you submit 1-2 albums (must be between 11-20 songs max) for my professional music review, I can also do a promotional interview inc. 3 original questions (via email). Both will be published on Fabryka Magazine and major social networks (Last.FM, Twitter, Google+, LinkedIn, Blogger, Tumblr).
Required music genres:
metal, rock, guitar driven industrial, dark ambient, soundtracks. More info about this
bonus
.
You'll legally own my writing for any promotional and commercial purposes (except for resale - books, other magazines etc). You can use it for your band & music promotion (attach to your presskit, website, social profiles etc.) but also utilize with on-line stores (commercial license means that you can sell your music and recommend it through our positive reviews).
Technically, I pay attention to the idea, moods, arrangements, structure, depth, dynamics, potential, similarities to other bands music, musical skills, mastering, production, artwork (if any) and also if a song is useful for a radio play, commercial or a movie. The lyrics are less important. Details & pricing:
song, EP, album review, interview submissions
. What artists have said about Fabryka Music reviews:
testimonials
.