2006-03-17 |

Katarzyna NINa Górnisiewicz
|

e-mail interview
---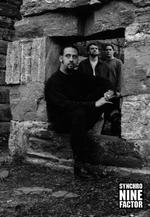 I think most people wonder where the band name comes from? Does it mean anything?
Nelson Hagood: Robby and I went to Art/Design school together in the early nineties and while there we came up with Synchronine,kind of a pun on synchronize because of the type of music we were composing and listening to. After a while we added Factor thinking that someone else may eventually come up with Synchronine and it had a nice ring to it.
Is there any leading idea for SNF's music?
All three of uslisten to a wide variety of music and it comes out in what wewrite. Consciously we try to focus on making songs that we likeand challenging ourselves to try different things as much aspossible, within a context of course.
You are originally from Philadelphia. Is it industrial rockfriendly place?
We are originally from Atlanta, Georgia. Icurrently live in Philadelphia while Jamie and Robby live inAtlanta.
You're going to play a show on March 30th with bands calledBrainclaw and Autovon in the city. What are your expectations forthat show?
We hope to have a good crowd and make some new friends, we will see if Philadelphia is as industrial rock as it can be.
Synchro Nine Factor was founded nine years ago. Looking back again - what was the most desirable aim you wanted to achieve when starting the band? Have you succeeded?
We were really interested in growing as musicians and creating something unique that we could be proud of. I believe we have succeeded in that regard.
I'm sure that besides being musicians you are fans of some other music. What was the best show you have seen so far?
It has been a while, but we remember Skinny Puppy in 1992, Marylin Manson at the Point in Atlanta, The Church and the first Lollapalooza. I have never seen Godflesh or Faith No More though.
You've played with such bands like: Pigface, My Life with the Thrill Kill Kult, Zeromancer, Bile, Decoded Feedback, Circle of Dust, Grim Faeries, Slick Idiot, Hanzel und Gretyl, Sister Machine Gun, Voodou, Christ Analogue, Torrent Vaccine, SMP, Bozo Porno Circus, God Module and Negative Format. What do you usually do between show days when you don't play? Do you hang out with musicians from other bands or spend time with your fans?
Rarely do we hang with other bands, we sometimes hang with fans and friends or do promotion while we are in the city we happen to be playing in.
There was something like a groupie culture in the 70's. Some girls would hang out with the musicians, driving with them from one show to another often having sex with them. Does that culture still exist?
We are a little tame when compared to Guns & Roses for instance, we aren't into drugs, or all of that faux stuff, we concentrate on the music more than anything. To follow us around, we would probably put you to work, handing out flyers or selling CDs and you must be willing to sleep on the floor, cramped in a van at a rest area, eat at buffets, take turns driving, and be OK with listening to TOOL nine times per trip. Although a young lady once said If I had a car I would follow you guys all over the country. Apparently she only had roller skates, so Jamie gave her a guitar pick and that seemed to appease her.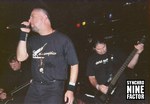 There are a few remixes made by people such as: Mr. Dave Hudson, Allen Smith and Seth Questor on the other record I got from you. Who are they?
Mr. Dave Hudson is a DJ acquaintance from Atlanta. He did two remixes for us and one of them is on the Invisible Records Compilation Notes from Thee Real Underground #5. Seth Questor is Xero/G out of NYC (
www.myspace.com/xerog
) his remix was on the Cold, Dead and Wet single that we gave out as freebies, as well as, used in the fetish documentary Alternative Worldz distributed by Adam and Eve Films. Allen Smith's project is called Gas Chamber out of Jacksonville, Florida. We did remixes from our first CD Right Wing Conspiracy before we put out re[deploy]. Although we haven't released very many of them, we may do more from our 2006 release as well as re[deploy].
Do you remember the time of tapes and 4 track recorders? Was recording more exciting then or nowadays when most of the gears are of higher quality and the music application programmers outlive one another to design the perfect and friendliest looking applications?
I archived a lot of our pre CD material, remixing stuff from four track tapes, live recordings, interviews, some ad-lib practices and other random things that I wanted to preserve. Although we may never release any of it, it was fun and exciting. Right Wing Conspiracy was done with Adat and re[deploy] we recorded in ProTools, who knows what we will do for the next one? Either way, we enjoy being in the studio, you can spend 12 hours in the dark tweaking sounds before realizing the whole day has gone by and now you have to pay up.
I'm not sure what it looked like in the USA 20 or 30 years ago but living in Poland I know that if someone gained a long awaited analogue record they would organize a meeting for a group of people and they would listen to the album and discuss it. The more you were searching for a record (even for years!) the happier you were when you got it. There is nothing to search for nowadays because music of any kind is so easy to find and buy. Even the rare songs are remastered and sold. Do you have any favourite songs that you haven't found yet in digital quality?
Music today is so disposable. I remember waiting forever for Electronic's first CD to come out, the single floated for two years before the album actually came out, the same goes for The Prodigy's Fat of the Land. I was so sick of Firestater by the time the CD came out that I found myself always skipping it.
There were several significant individuals, bands leaders who attracted music fans' attention like Jim Morrison, Kurt Cobain, Ziggy Stardust (David Bowie), Marilyn Manson, Freddie Mercury, Robert Smith or Andrew Eldritch. Can you find any more and tell us what in your opinion was the main feature connecting the way they gained their success?
Ironically we did a Sisters of Mercy cover of Vision Thing for a while live and it went over very well. I always thought Bob Marley was a powerful musician and leader,
because he communicated to people in a timeless way that knows no boundaries and crosses genres.
Synchro Nine Factor at Myspace
---
Pictures by Synchro Nine Factor, all copyrights reserved by © Synchro Nine Factor.