2006-08-25 |

Katarzyna NINa Górnisiewicz
and Brian Backlash |

e-mail interview
---
Brian: You recently released the full length disc 'MachiNation'. Has the record itself lived up to your expectations of what you wanted to create?
DieTrich: Actually it has. With all the sweat, and tracking, and retracking and the weeks on end we spent doing 16 hour days and just everything involved in writing and putting the record together and to have it come out on the other end the way it did. . . 120% happy with the result. It's definitely made us closer in a lot of ways. A great learning experience for all of us individually and as a MARAZENE BrotherHood. The only thing I would like now is for as many people as possible to listen to "MachiNation" and hopefully give them that swift kick in the ass that they've been looking for. We've all been moved by different mediums of art ie, movies or books, or a painting or whatever medium it happens to be and that's what this album and this band aspire to.
NINa: I suppose the new record will contain an essence of brutality, dynamics and kicking guitar riffs. Will be knocking on the doors of any major labels like Sanctuary, Invisible or Interscope to release the material?
D: It's tough to narrow down the overall sound of the album but there is a fresh approach. We tried to come at things a little different and I think that's where songs like "AnTiThesis and "Bete Noire" and "MachiNation" stand on their own without comparison to any other band in existance. We call it; Conceptual/Mechanized/Machine/Metal but having said that we are more than curious as to how it will be received by others outside the band.
Brian: 'MachiNation' has some interesting artwork, using cool blues combined with technological themes. Was it easy finding the right concept and artist to produce the cover art?
D: Yeah. Machine/Metal with Color and Concepts. We always saw the concept of the assembled songs as having a blue overtone to them thus the cover. Our friends at Head Gear Media also sent us a lot of ideas that seemed to capture the feel of the album. It's a current reflection of MARAZENE here and now.
Brian: You're a relatively new band, having formed in 2001. What for you has been the most difficult part of starting a new project? What's been the easiest?
D: Yeah. It's hard to say really. It's kind of weird hearing 'new' band being thrown around after five years but I guess overall we are young. The hardest thing is probably making ends meet. The biggest actual hardship would be the wonderfully unfavorable gas prices we have been seeing at the pump lately due to the current state of overall World Hardships. It's definitely cutting into our beer money and THAT does not a happy band of "SkumF***erz On the Road" make
The easist is just cutting loose at the shows. Meeting new friends. Toasting the singular cause to which we all believe in which is music. The shows are what it is all about. Payoff. Plugging in and playing.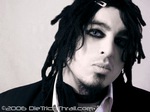 NINa: How did you succeed in getting your music placed on the DVD Matrix-Revolutions?
D: Elements of 3 tracks; "XecuTe", AnTiThesis", and "InFidel SoCieTy", made the Matrix: Revolution DVD instrumentally. A friend of a friend was in charge of the production of the Matrix Revolutions DVD. He passed the word along that they were looking for material. We submitted material and after the first track was accepted we got a call the next day telling us that they were considering using more material. We were floored of course but we also felt that the music deserved the chance to be heard on the much larger scale that the DVD provided.
NINa: You were lucky to set up a band in Chicago - the cradle of american industrial rock music. How does the scene look now? Is the industrial rock movement still spreading around there?
D: We're very fortunate for that. That and being in the 3rd biggest city in the United States. The scene is good. There are some good bands in this area and some bad bands. You can see who does the work needed to make an impact in a city this size and you can see who doesn't. You can spot the Bar Stars a mile away.
We're pleased with the way we are established in Chicago and are anxious to spread ourselves even further. This is a band that takes risks. You don't see a lot of bands doing road work without label support. We're making ends meet on the road. Some bands won't do a video without an investor. We've done that. It's tricky to put together all the things necessary to release an album. We've managed that as well. So again, we're fortunate and with a little luck on our side. And a little bit of backing up the talk with substance. Being in Chicago is actually an Accidental Luxury for bands. If you can make an impact in this city you have a good chance at the region and maybe the country. Maybe more. That's the way we look at it. Chicago is a proving grounds for a much bigger goal, essentially; getting your music heard. Raise the Flag. See who salutes. A lot of bands from this area miss that.
Brian: Having the band based in Chicago, there's obviously a lot of history with all of the industrial/electronic/coldwave bands that have come and gone over the years. What kind of audiences do you play to, in Chicago and abroad?
D: It's a mix. We're heavy so we get a lot of metal fans out. Then we're industrial too so those people come out too. Then we're a little theatrical also so we get some freaks mixed in as well. We had a managment company tell us the other day they didn't know how to market us. Not in a bad way but they weren't sure what to think, ie; are we metal or are we industrial and I told him he had just give me THEE best possible compliment he could've given me. If we have to create a category for ourselves we will.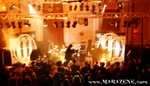 Brian: You've done an impressive job of getting the band out in front of crowds all over the midwest while sharing the stage with a slew of well known acts. What has allowed you to have so much live success and popularity?
D: A little bit of luck. But the truth is we work hard and we play hard. We spend all day working on different business aspects for the band. Then we rehearse late.
Then we go out and hang out with friends and it's like a big family going out and getting the SkumF***er Word out there. It's as simple or as difficult as that. We have a lot of friends helping us get the word out locally and regionally and, thanks to
My Space, WorldWide
.
NINa: Unfortunatelly I've never been to any of your shows yet, but you seem to be like the three members of a tank crew when you perform. What is so amazing at playing live?
D: Well, we're actually a four piece live and we will probably add another guitar player for extended tour dates to fatten the sound up. As much as I would like to talk about what we do live I'd rather just show you. For those further out check out our video for "XecuTe" on
You Tube
.
NINa: Were there any shocking events during your shows?
D: Most of the shocking and not so shocking events seem to happen AFTER the show and I think it's probably best that way (lol)
NINa: Do you plan any overseas gigs?
D: We're definitely working on it. Feedback from across the World has been incredibly positive. Thanks to online networking communities such as My Space we're reaching a lot of people we wouldn't normally reach.
http://www.MySpace.com/MARAZENE
Brian: You filmed and released a video for the MachiNation track "Xecute." What did you think of that experience? Do you feel the final results appropriately captured the essence of the song?
D: Yes! The finished video turned out even better than we could have ever hoped. It was a concept written by the director Joe Elsey and myself. I passed him a treatment which we both whittled down to a very basic idea; essentially a man takes a dose of 'MARAZENE' and he gets a little more than he bargained for. We shot it in two days in a friends garage and we painted the walls green to get a perfect kind of white background. It's posted on our
My Space page
and on
You Tube
.
Brian: Why do you frequently refer to yourselves as the 'SkumF***erz'?
D: "SkumF***erz" comes from a track on the album. It means several different things depending on the context. In regards to the song it has to do with someone on the verge of giving up hope before they've acheived Self Actualization. If you listen closely you can hear in the intro track, "Prayer for the Pathetic/The Birth of Wrath", Psalm 143 from the Bible uttered over this crazy SoundScape. It's strangely appropriate to the track lyrically and I found it delectable that somewhere so long ago someone went through a similar, if different, form of struggle that brought them to where we are in the track "SkumF***erz".
Thousands of years separate us and still we face the same internal demons. We're not so different after all. SkumF***erz could be a metaphor for doing the things you need to do even when others around us don't agree with that stand. A tough son of a bitch who isn't afraid to get their hands dirty. The song touchs on indulgence drugs, promiscuity, pride, and emotional withdrawal as well as more positive aspects such as survival and Self Actualization. It's a crucible on being comfortable with yourself and who you are even when you don't feel like you have every answer. You learn from mistakes. You learn from doing. These things make you stronger and to hell with anyone who says you can't be you.
NINa: Is it possible to surprise/shock people without using a weird image, behaviour or certain shocking opinions?
D: How about shocking people with a little substance mixed in with the "Hair dye of the week" Club? We're not trying to reinvent the wheel here. We just write what
we feel is in our hearts. If you like it then great come on and let's go to the show and get all of our mutual freaks on with some beers and come what may. We spent a lot of time in the studio getting the songs to a certain level. Now that we're on the road we ease up a little bit and enjoy the ride while doing what we love doing the most which is playing music.
Brian: You've described your band as 'controlled chaos'. What's controlled, and what's chaotic in regards to Marazene?
D: It's kind of like that House of Mirrors thing where you see us attempting to Control the Chaos while the Chaos is controlling us while we're attempting to Control the Chaos into infinity. . . Who is the Puppet and who is the Master? Someday I'm going to write the sequal to Spinal Tap with all the ridiculous amount of shit we've been through... Things go right and things go wrong no matter how well you think you have something planned... Shit happens and when it does every little bit of that Experience gives us our Edge.
NINa: And finally, the most powerful gig you have ever been to and the best record you have ever listened to would be...?
D: Tough one! So many shows! Iron Maiden on the Poweslave tour back in my home state of Iowa! White Zombie at First Avenue in Minneapolis before they hit big. Best record? That's tough! Prince: "Sign O' the Times"!
Brian: Marazene clearly spend a lot of time looking ahead and working towards future goals - what's the next priority for the band?
The road! We're currently lining up "SkumF***erz" On the Road" for the entire United States. With a couple of things in our favor over the next several months, the UK and Europe are certainly a strong possibility for 2007.
MARAZENE AT MYSPACE
|
OFFICIAL
---
Pictures come from Marazene archive, all copyrights reserved by © Marazene.