2007-06-13 |

Katarzyna NINa Górnisiewicz
Brian Backlash |

e-mail interview
---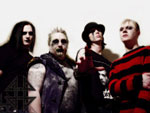 NINa: Reverened Agony - is there any philosphy hidden beneath the band name?
The basis for the band name is basically split into two parts: Reverend and then Agony. The Reverend part refers to a need to get our message out to the public the way WE see things, the way WE think they should be. The Agony part comes from the long bouts of actual physical pain felt during this period, not knowing how to express these ideas, and it just ate me (Dementia) alive. So when you combine the two, you get a coheisive explanation for the orgin of this band, Reverend Agony. A way to expose and describe the filth and shit of the world, as we see fit.
Brian Backlash: You have a new album on the way - can you give us some information about that release?
DEMENTIA: Without giving too much away, the album is tied in and based on the concept from The Divine Comedy - Dante's Inferno. Everything has a meaning, hidden, yet directly in front of your eyes, 'The Eighth Circle' runs deep, as deep as hell itself, and even ties into the orgins of the band itself while depicting current events in a literary and almost musically theatrical sense at the same time.
Brian Backlash: What do you hope to achieve with this record/tour cycle that you didn't previously?
FILTH: We hope to gain a larger fanbase while staying true to ourselves in terms of our sound. The upcoming tour with Rorschach Test should be a good stepping stone for acquiring a larger fan base in the states, touring more often and ultimately moving on to the international platform.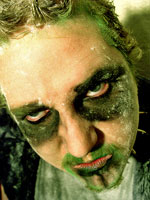 NINa: Your bio says: "The bands hard work ethics and refreshingly unique sound sets them apart in the Rockford music scene and other music scenes alike."
What did you mean by hard work ethics? Is making music more about original, fresh ideas or hard work on general?
I think we can all agree both. You can be as original as you want. If you don't work hard to make sure your music and your message find their way to the public's ears, then its Game Over. Same thing for the opposite. You can promote til your blue in the face, if your music isn't worth the CD it's stamped to, then why bother. BOTH require hard work, so hard work wins this question......
Brian Backlash: Do you pay a lot of attention to what your contemporaries are working on these days, or do you keep to yourself, musically speaking?
DEMENTIA: For us, none of us listen to the radio or watch MTV or that sort of thing. And when it comes to say, listen to the new NIN CD, or the new Puppy album, or even and old favorite, Come to Daddy by Aphex Twin for example, inspiration for what we do doesn't come in the form of, "Hey I like the way that sounds, we should record something that sounds like that.." Its more along the lines of "I really like the vibe and tone of that part" and along those lines, it will get locked somewhere in the subconscious. Movies for us do the same thing. That way when it comes to being in the studio, everything is totally natural, and you know you've done something good when it sounds right and you feel reassured in your desicions..
NINa: "Chicagoland" sounds like a mecca for any industrial rock/metal band knowing about its history and support given in the 80's by Wax Trax label.
Do you remeber an album which had the most remarkable impact on you to make a final step and found your own band?
DEMENTIA: Speaking for myself, to hear that the old Pretty Hate Machine demos (Purest Feeling) has been done completely as a solo project while Reznor worked as a janitor to make extra cash for studio time, was quite inspiring. Even before computer recording was as accesible as it is now, I remember saying to myself "I can do this, and I'll never know unless I try" Everyone has to crawl before they walk......
Brian Backlash: For your electronic elements, do you prefer soft synths or devices with buttons, keys and knobs?...and why?
DEMENTIA: Interesting question. When it comes to synth, its great to have that tangible feeling of being able to tweak the knobs and get that exact sound you are looking for. Its a common misconception that if your using soft synths, that you no longer get that feeling of intimate creation. Nowadays, you can get controllers that allow you to custom assign your knobs etc. as youy see fit. An I like that, not only do we get to use recreations of actual synths in softsynth form, but we have access to other synth that don't actual exist, not to mention all the experimental effect daisy chaining with amps that you can do, which we have been, actually quite heaviliy on this new record.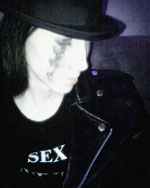 Brian Backlash: You guys have been doing a number of live shows lately. Has being on stage been a natural thing for you, or something you needed time to
work up an affinity for? What are your crowds like?
FILTH: The first live show was a slightly unsettling experience, but it didn't take long to get used to it. I don't believe that anyone can get on stage for the very first time and be a 'natural', it definitely takes a while. Now I feel like I'm at home when I'm behind my kit, I can do anything and it doesn't matter whether someone else likes it or not. I just don't suggest coming near me during a set unless you want to get smacked by my drum stick. We talk to a lot of our fans one on one and they all have a lot to say. They dig deep and want to know more and more, they're very intuitive. A crowd though...A crowd of Reverend Agony fans is something you don't want to mess with. They are fucking crazy and very supportive.
NINa: You perform wearing a transparent plastic mask on your face. What does it mean to you? A plastic generation?
DEMENTIA: Not at all, each band member represents something different off center in this world. I am Dementia. The mask simply exemplifies this persona.
Brian Backlash: Do you find it easier to these days to promote yourself via the web (Soulseek, Myspace, etc) than it was when you started in 1999?
What's your main mechanism to garner your audience?
PERVERSION: I believe that it's easier with all the new applications. We use various methods for "garnering", such as live radio broadcasts and commercials, streetteaming with teasers and free merch, and all the online promotion for our offical shows and our more intimate ones where we can relax a little and involve the audience more, and the thing that I think helps the most is actually hanging out with your fans even outside a "show" setting.
Brian Backlash: Has the MP3 invasion made it easier or more difficult to do what you do?
In a way both. There's a huge flood of online music nowadays, so it makes it harder for artists to standout. On the otherhand, with our unique sound and look, its all a matter of marketing and making yourself known, something we're known for.
NINa: You are friends with the Rorschach Test crew. What was your reaction for the news that this awesome industrial metal band led by James Baker reunited after 7 years of a hiatus while it seemed they quit?
Quite honestly? "Really? Fuckin awesome! Can't wait to hear some new music and catch a live show!" Honestly after 7 years, none of us thought it would happen. But thankfully it did, and here we are ;)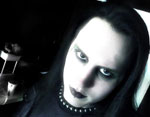 NINa: You've planned an important show on July 14th at the Warehouse club in Wiscosin featuring your band along with great Project .44, and Flat Atom.
Based also in Chicago, Project .44 consists of very well experienced musicians including bass player Charles Levi (MLWTTK, Chemlab, Haloblack and many more)
and guitarist Louis Svitek, previously in Ministry. What do you think about Project .44's music? Have you ever hung out with them?
We had the chance to talk to Project .44 briefly at the show we played with them, but more importantly, we had the opportunity to meet and hookup with their guitarist, Mike, who is also the signer of Worm, which we have had the pleasure of playing shows with in the past. I would kill random people with those guys any day! But seriously, if the two of us ever stop being busy, we're supposed to line up some remixes between the two of us (fingers crossed).
NINa: Are there many places, clubs, venues you would recommend us to go to listen to the new industrial metal bands in Chicago or have some fun to well
known classics of industrial rock music at the night parties?
New bands are hard to find. As far as kick ass clubs to sit back in a familiar environment while listening to some classic industrial, I would definetly recommend Exit, Neo, and Excalibur...
Reverend Agony at Myspace
---
Pictures come from Reverend Agony archive, all copyrights reserved by © Reverend Agony.