2006-03-16 |

Katarzyna NINa Górnisiewicz
|

e-mail interview
---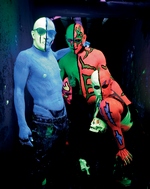 You come from France and I noticed not many bands paid the listeners' attention to them like you have. How does the industrial music scene look like in France?
VX-69: There's a very active scene, but most bands are quite underground - which doesn't mean they have no talent. There's a lot of < crossover > acts, Muckrackers, Dexy Corps, LT-No, Polytrauma, lots of more electronic stuff too, Mlada Fronta, Hiv+... And by the way, we have one of the best electro-dark bands ever, our friends from Tamtrum. It seems we are the major french < industrial > band when it comes to touring and selling records, but I still don't understand how we managed to achieve that success. Probably because a lot of metalheads listen to us too.
Is English the best language for rock music based lyrics? Is it simplier to use English to make the songs sell around the world?
It's not a matter of selling. We always used English... French just doesn't sound right for most kinds of music, really. Especially rock! German or Russian are cooler, but I can't speak a word of these languages, so English was the only choice.
Your full lenght album called 'Sexplosive Locomotive' is well known of its noisy and powerful music, melting digitalhardcore sounds. Looking through the statistics at Last.fm seems like 'Gay Boys In Bondage' is the most popular song. Is Punish Yourself success based on provocation?
Some people take this song as a provocation. Basically, it is more of a joke - the title comes from a Monty Python sketch. Taking our stuff too seriously - at last the lyrics - would be a complete error. I read once we are < industrial Village People >, that's quite right - we lay more stress on fun than on consciousness... Which doesn't mean we don't want people to react, tho, so yeah maybe we can turn a bit provocative sometimes, but always with a good laugh. We're not Marylin Fucking Manson or Alec Empire.
My favourite song of the album Sexplosive Locomotive is 'Holy Trinh Thi'. What is it about?
This is a song about Coralie Trinh Thi, a friend of ours. She's an ex-porn-star (hence the lyrics about masturbation and watching her on TV) but now she's mainly a writer (and believe me she's VERY talented!) and a movie director (the controversial < baise moi > movie)... We had the idea of the wordplay Holy Trinity/Holy Trinh Thi, then came the song. Actually we recorded it at the same time she was writing a comic book about us, so it was a kind of a gift for her.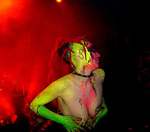 Are you inspired by guitar driven music or the electronics more?
Probably more by guitar driven music. But most < guitar music > we listen to has a strong electronic side too - Ministry, Foetus... Actually we listen to very different sounds. These days I've been listening a lot to garage stuff, Stooges and mc5-like. But at the same time, I've been heavy on dark-ambient too... All this can be heard on our new record. We don't make difference between any kind of music. When we began as Punish Yourself, we were equally listening to Front 242, The Exploited, S-Express and Bauhaus...
What kind of gear/musical equipment do you use?
Two guitars, drums, three mics, a computer with acid 1.0 and soundforge. That's all we need. If I had a lot of money I'd probably buy a lot of hardware. Yeah, a house full of synths.... But I'm not even sure I would use'em.
Do you have any deep rooted beliefs?
I strongly believe there should be no distinction based on race, sexual orientation or social class. I strongly believe all religions are dangerous. All of them. I believe the weak must be helped by the strong. In the little world of industrial music, most people seem to believe otherwise - by provocation or because they're nazi fuckheads - I'm clearly not standing on their side of the fence.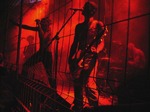 Is it better for a band to sell the records for their own (at a shop online for example) or to belong to any of well known labels?
A well known label is an help in promotion - I mean, they should do the work a musician can't handle. The trouble is: some labels just don't, and fuck the musicians. We are lucky to have signed on a very cool label that really works for us, after two self-released records. Self-releasing is really cool, but exhausting. I'd rather spend time making music than on the phone trying to get a newspaper article... Our label is small but very efficient. Which is better than being on a famous label doing nothing for us.
You gave many shows around Europe (how did it happen you haven't been in Poland yet!? :D). What show you find the most successful and which you would like to forget about?
Well, we sure wanna come in Poland! Actually, we never traveled further east than Berlin... But I hope we'll do soon ! Anyway, we had a lot of very cool gigs around Europe, the WGT in Leipzig was really funny, and playing in Belgium and Switzerland is always a pleasure... We like travelling. And there's really no gig we'd like to forget - even negative experiences help learn something. You can't go on on the road for years if you don't find something cool even in the worst conditions. Sometimes you don't have anywhere to sleep, nothing to eat and people threatening you... When that happens, if you're not tough enough to have a good laugh, you just break down.
What was the wildest thing you have done on a stage ever?
Well... We have a high standart of wildness. I've been getting naked so often I just can't remember, I used to cut myself a lot too (I seemed to think it was fun. Actually, it was, and I still have some nice scars from that time)... Doing drugs, being drunk, puking onstage, kissing girls, kissing guys, getting hurt, jumping anywhere...But the wildest thing is perhaps just when the whole crowd invades the stage. That happens sometimes, and it's always funnier than anything. Especially when some of them begin stripping...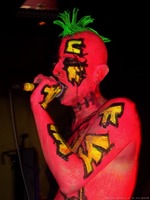 How much time do you spend on painting your body before a show?

40 minutes to one hour. And believe me, this is a real ordeal. That paint smells like dead fish and burns the eyes. Horrible stuff. Maybe that's why we're sometimes so angry onstage...

Should the TV and newspapers tell us about so many scary things what happen around the world? Do people become immune because of getting accustom to such things they watch and read in that media daily so they don't react properly (don't help) when any life threat appears near to them?

People are basically bad. Don't blame the media, they're just the image of the people watching. Weak and mean and bad. Never trust a human being or something he wrote, filmed or said. People never reacted properly to anything, I won't blame it on TV, that's just so easy...

Websites for dating people, virtual sex, perfect sillicon love toys... Does the human being need such things to put his feelings and emotions to? What else could be invented for people who don't want to get into real partnerships?

Seems like Myspace would be a perfect invention ha ha ha... Well, joke apart, if people want virtual or fake relations, it's probably because they only have fake or virtual feelings. I won't cry over them if they're unable to feel anything for real. Let the robots play with robots!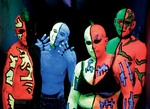 Seems like every teenager has his hero. Who did you admire when you were kids?
Iggy, Lemmy of Motorhead, and I still do admire them... I can't speak for other members of the band, but I think Miss Z would probably choose Elvis Presley or Nick Cave. I also admired Vampirella. I always dreamed of being a female vampire with red underwear.

What are your plans for the nearest future?

Releasing a new album at the end of April - it's gonna be called < Gore Baby Gore! >. Some people may be disappointed in that one, but we had a lot of fun recording it. We headed for a kind of spacier sound. Some saxophone, old-school 70's keyboards, jazz bits, guitar solos, handclaps... Don't expect DHR-like beats on that one, ha ha. But we also have Jean-Luc De Meyer of Front 242 singing on it, which will probably please EBM fans... Anyway, the album will also feature a live DVD with a lot of cool fun ultraviolence inside!


PUNISH YOURSELF OFFICIAL

---
Pictures by Punish Yourself, all copyrights reserved © by the pictures authors.