2006-07-06 |

Katarzyna NINa Górnisiewicz
|

e-mail interview
---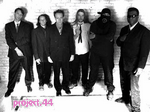 NINa: Project .44 is at the top of my personal list of the best industrial metal bands along with Skrew, Ministry, 16volt, Rorschach Test and Treponem Pal thanks to the true raw power showing the idea of that style of music. You have released two asskicking albums so far. What's going on the board now?
Chris Harris: Well the remix album "coup d'etat – the system reworked" first and foremost, it has been a labor of love to get it together. after that there may be a bootleg type DVD in the winter and a new album late '07. but until then shows, shows and shows – we have toured some but we still would like to find a good opening slot that makes sense – and play as many festivals as possible, there isn't that many in the states (and we have played a bunch) but they are always a good time.
You are about to put on a new album on 2006/07/25 which will include remixes for The System Doesn't Work. Was it easy to gather a proper set of musicians ready to go with the flow and remix your stuff?
Well the idea is to have as many different types of interpretations as possible. There were definitely artists I wanted from the word go and we got them (en esch & razed in black for example) but then it came down to "who would really do a good job fucking this song up??" I have heard a few so far and they are amazing and different 'Your Shriek' does wild mix of 'Free' – 'Worm' –does a tribute to 'Never~Nothing' that is just classic and En Esch's take on 'Faction/Discord makes it sound like it was run through the 'KMFDM sausage maker'!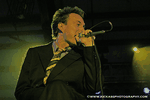 I bet Project .44 is pure raw power on the stage. What are your impressions after the American tour you came into 2006 with?
That we just need to tour more – whether the crowd was big or small they were all into it and seemed to feed off the live show. I have always believed if people are paying good money to see you perform you better put on a show, not just play the songs. So we go out all out energy wise and try to kick you in the teeth every night.
There are/were a few so called "super groups" ventures to mention Pigface, Dessau, incoming venture of both Paul Barker and Adam Grossman (the band name to be announced). What's more intriguing such super groups are created around the style of music called industrial rock/metal. Is that subculture so tight that more experienced and passionate people "inbreed" to found new bands because the newbie bands don't get the idea of industrial rock/metal music?
Hmmm, well the subculture is definitely tight, and quite incestual!! But we are definitely more like a Dessau than a Pigface only because the vision is more focused. In industrial music you have a lot of one or two person groups that always need players to do a live show, that's how you get guys playing in multiple bands (like a levi!) I also knew when recording this record I wanted the bass sounds of my buddy Levi to fill it out and there is no better guitar player in the genre than Louis Svitek. …. then you start doing live shows and you want to emulate that and Levi has played those and Louis plays as many as possible. They all have put their stamp on the band (as has Martin Atkins drumming) and for the record I wanted to make they were definitely a necessity.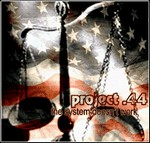 Which release of the two - Look Me Into The Eye and The System Doesn't Work are you more satisfied with?
Although it was picked up and released I still look at Look Me in The Eye as a demo, although there are great songs on the album it suffers from poor production, I would really like to rerecord and release it at some point. …. now 'The System Doesn't Work' I am 97% happy with; I think Louis Svitek did a great job engineering it and
Seibold (from Hate Dept.)
did a great job Producing it w/ Martin and I think it is solid from start to finish, so I am definitely more satisfied with it.
Are there any words taken from Project .44 lyrics which could describe the band's creed and actions most accurately?
I think the title of the first record 'Look Me in the Eye … and tell me the truth" - from business, to government, to girlfriends; we as people owe each other the truth, and everyone should weed out people in their lives that lie and deceive and aren't honest w/ you. Whether it's your local representation or partner in life, if they can't tell you the truth they aren't worth keeping in your life.
You have Louis Svitek in your line-up. His experience of playing with Ministry, Rev.Co., Marz, Pigface, Mind Funk or M.O.D. probably brought Project .44 lots of knowledge. What have you learnt from him?
Louis is a true professional you have mentioned his resume and it is impressive – he has toured the world many times and played for years with inventor of this genre, Al Jourgensen – he has a wealth of knowledge and is the best guitar player in this genre (and just about any other genre) – check out his classical guitar work on 'Away'
What is Svitek's favourite guitar manufacturer?
You should see Louie's collection, it's huge and it's all over the place – I don't want to say who sponsors him is his favorite so I will refrain!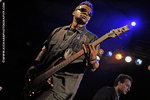 My favourite industrial rock bassman Charles Levi aka Levi/TKK, with years of practice playing with many well known bands (Pigface, Bangalore, The Thrill Killl Kult, The Urban Soundtrack, H3llb3nt), seemed to be a proper musician to join Project .44 along with Mr Svitek. His excellent bass-slapping technique is well audible in
"Corporate/T.U.T.T.". He's always hype of what he's doing. What does the recording session look like when Levy is in the studio?
Levi on the studio is just calm – whether it's a song he knows or he is coming up w/ something you know it's going to be good and you know it will get done fast – he is a pro that just knows how to work (when it's time to work) and knows how to party (when it's time to party!)
What song of yours did you take the most time working on?
Interesting question – not sure if it means it's my favorite or just because it has so many layers but 'Away' took quite a while as did 'Never/Nothing' (many intricacies to that song).
I'm a big fan of "I Don't care" song myself. What is your favourite one? ;)
Never ask a musician which one of their songs is their favorite! Impossible to answer! It really does change from day to day. Live I like playing 'Return of The Soldier' – yeah I guess that's my favorite this week!
Another asskicking song called "The Figurehead" sounds like a track that could have been recorded by Ministry in their Filth Pig era. Wasn't Al jealous about the similarity? ;)
Shhhhhhhhhhhhh the Figurehead is a cover! It's actually a very old Cure song, I can't take credit for that one.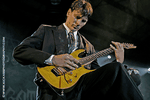 There are two cover versions on Look Into The Eye - "Tonight We Murder" by Ministry and "Personal Jesus" by Depeche Mode. I get the idea of covering Ministry but I've been always interested about the Depeche Mode fascination... and I have failed to understand it. Could you give me any hint why there are so many Depeche Mode passionates all around the world, please?
So actually 3 covers now that you know about the Cure song! And I really can't explain the Depeche Mode passionates, I am not a huge fan – I like some stuff and I don't like some of their stuff – I don't want to call them 'mother fuckers' and 'kill' them or anything though!
What event would convince you about the right path of your musical way: a) a madman with a gun threating you, b) chicks showing you naked asses and tits to sign on, c) a big record company interested in inking a deal with the band and promising lots of money and worldwide distribution?
None of those! I can handle myself w/ a gun so that doesn't concern me, chicks come and go and lie and lie down and I have seen bands adapt to a record companies wishes just to 'tweak' their sound and make it into something awful. I have a pretty focused thought on what Project .44 is and I don't see it veering too far from that, if an amazing musician that I respect wanted to work w/ me and brought some different ideas to the table that might change it a bit, but again if it was too far form what P.44 is I would not change the whole complexion of the band!
What musical instrument would you never use to make your music?
You never know what may work, I can't rule out anything on that front! Every hear a distorted flute? It sounds cool – you just never know.
Project .44 at Myspace
|
Project .44 official
---
Pictures from Project .44 archive and by
Kickass Photography.com
, © all copyrights reserved. The top b/w picture by © Mitchell Logan.