August 22nd, 2016 | E-mail interview by
NINa
| Submit for
an interview
|
professional review
| Read other
Fabryka interviews
---

NINa: Your newest album certainly inspires the imagination of many sensitive listeners. What is the hidden message of it, aside of a friendly 'kidnapping' of your listeners into your fantasy lands? Is it a spiritual metaphor of the actual state of things on the planet Earth?
David Arkenstone
: Not really a message, I would just like to illustrate that we shouldn't be afraid of the unknown, whether it be the darkness, other cultures or unfamiliar lands. And yes, kidnapping is a good way to put it, trying to take listeners on a journey to a place they've never been before.
NINa: How do you choose the titles for your songs? Do you come up with them before you start composing or when the track is completed?
David
: I suppose it may be like painting in the respect that it can happen in several ways. Sometimes I know exactly what I want to 'paint', and other times I let the music and sounds take me on a journey. Other times a selection of words or a phrase will inspire me to take a certain path.
NINa: You've made it successfully into the video game and movie industries through providing scores for sci-fi and fantasy games such as World of Warcraft or Emperor: Battle for Dune. How do you judge the credibility of a company you're interested in collaborating with?
David
: In 'choosing' a project to collaborate on, I need to be inspired in some way. The concept, art and subject matter all figure into it.
NINa: How can aspiring sound designers/score composers submit their tracks to enter these industries and avoid being exploited?
David
: I would say try to retain integrity to your art as much as possible, and it will speak and survive for itself.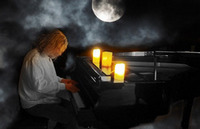 NINa: I understand that you've been on a spiritual path of awakening and it has become your musical inspiration, too. Therefore, you had written a symphonic album dedicated to Atlantis, which also earned a Grammy nomination, twelve years ago. Which galactic race does your heart resonate the best with - Sirians, Andromedans, Arcturians, Pleiadians, or someone else? Is there any star constellation in our galaxy calling out to you?
David
: When I begin to create a musical 'painting' I feel like some force moves through me. I try to harness it the best I can. I cannot say I recognize a certain race, as it always seems to be different. I would enjoy meeting the beings in the galaxy NGC 1672, for some reason that Hubble image speaks most strongly to me.
NINa: Do you consider yourself a composer-messenger who can wake up people's forgotten memory through containing certain topics, moods, and vibrations within your compositions? What areas or worlds will listeners be invited to with your next album to be released this year?
David
: I believe I have a gift that I work on cultivating every day. I am a vessel that music pours out of. At times I can direct it, other times it feels like I have no control over it. I have received many communications from people who claim to have had spiritual awakenings through my music, so I can say that to some degree, I believe I am a messenger. As far as next projects, I plan a deeper, darker collection of songs, as well as an album of music inspired by changes this planet goes through each year.
Official
|
Twitter
|
Facebook
|
YouTube
|
SoundCloud
|
ReverbNation
|
Discogs
Buy on:
Amazon
|
iTunes
Read also: Beneath A Darkening Sky (2016) album review
---
Pictures come from David Arkenstone's archive, all copyrights reserved by their respective owners. Questions proofreading: Mike 'Vesper' Dziewoński.
This exclusive interview must not be used for promotional or commercial purposes. See a Legal Note for the copyrights below.