December 15th, 2015 | E-mail interview by
NINa
| Submit for
an interview
|
professional review
| Read other
Fabryka interviews
---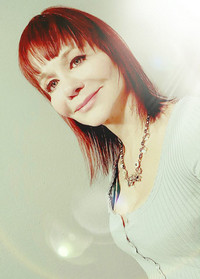 NINa: Quantum Heart brings quite a lot of jazz and soul-related sonic warmth, aside from the edgy, guitar-driven, rock and metal content. Do you feel more comfortable writing and performing music typically connected with the former or the latter?
Anne Freeman (vocals, song-writing, producing):
I'm a metal head at heart, so I typically lean in that direction production wise. But I write songs based on how I feel, not for any specific genre. I believe a good song will translate into any style, so a lot of the stylistic elements in the material, comes from the many influences in my life. I love great R&B singers like Aretha Franklin and Whitney Houston, as much as I love rockers like Janis Joplin and Robert Plant. These singers are "honest" and "real" and the delivery is dynamic and unique to the artist. The most difficult part about being an artist is defining oneself. I use production to link styles together, and create a sonic atmosphere that is unexpected and interesting.
All that being said, for me the song is the melody and the lyrics. A good example would be "Schoolyard." I wrote it on an acoustic guitar, with the intent of using the lyrics and to create a call and response. Once we started building on top of that with electric guitars and harmonies, it turned into a heavy metal R&B feel. Which I love! But it was completely unexpected. So I guess the best way to answer your question, I feel more connected to rock and metal but I'm not married to any one style. I let the song take me where it wants to go. Sometimes this requires moving players around, because the right player for the right songs, make all the difference in the world.
NINa: You own Hyperthreat Sound - a professional recording studio in Denver, CO. Nevertheless, you've decided to travel to NYC and then Vancouver to seek other professionals' (Ten Jenson's and Randy Staub's, respectively) experience on the matter of mastering and production. Was it a smooth cooperation? What technical and interpersonal requirements did you have? Finally, what new things have you learned in the process?
One of my engineers suggest
Randy Staub
, and when I looked up his discography, I noticed he had mixed one of my favorite records. Evanescence latest release, was one of my musical addictions. I worked out to it every day for a year, and I am madly in love with that production. So it was a no brainer that I wanted Randy to mix the record. I had my lawyer contact him to see if it was even within the scope of my budget and if he would be interested. Randy only works on independent projects he personally likes, so when we got the thumbs up, I was very excited.
Once in Vancouver, I was overwhelmed by the incredible gear at the Warehouse, and the techniques used by Randy. I learned so much, and the brilliant production he layered into my music, is evidence of that. What the Warehouse has that I do not have at my studio, is tons of vintage gear, and a crew dedicated to repairing it. I learned that I needed more speakers in my studio, so I picked up some of KRK E8's and a set of Wharfedale book shelf speakers as well. Randy listens to the bookshelf speakers with a sub, and its set up to the right of his console. When I asked him why, he said "
It's how most people listen to music.
" Makes sense, most people hear music coming from different directions, rarely do they sit between two speakers. I also picked up some plug-ins that are essential for beautiful vocals, but what he did with background vocals with "Remember", to give it a unique quality and movement, was run them through a Leslie and track them from an isolated room. Really cool effect and something I would have never thought of myself.
Both Randy and his assistant Zach, we're very kind, extremely helpful and the studio was very gracious. They made my job so much easier, I learned so much about adding movement and depth to mixes, and it was an incredible experience.
For mastering,
Ted Jensen
came highly recommended by Randy, and though I wasn't able to fly to New York for the sessions, the crew at Sterling Sound were very gracious and patient with me. They worked with me to expedite changes, and I got exactly what I was looking for.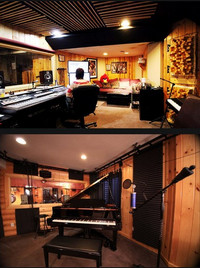 NINa: There are many poorly mastered and produced indie albums yet they are widely accepted and promoted by music stores. According to your experience as a studio owner, and a customer of others - what are the most important attributes to pay attention to when you want to hire professional mastering and production services for the first time?
When we talk about recording, mixing and mastering, we have to keep in mind that all three of these are separate processes. And all very important for different reasons.
As a studio owner I focus on achieving the highest quality results in the least amount of time for my clients. That's why our motto is "
shut up and play
" because time is money. Engineers who are experienced and "quick" are essential for clients who don't have a big budget. When I built Hyperthreat Sound, I focused my research on acquiring quality microphones and preamps. I may not have all the vintage toys like the Warehouse, however we carry some of the best mics available. It is essential to capture the sound you want, using the right microphone during the recording process. The good engineer, has the experience and speed to capture your music, and save most of your budget for mixing
Many inexperienced artists believe that they can record tracks at home, then take it to a professional studio and get the sound they are looking for, during the mixing process. However; using substandard microphones and equipment, will give you substandard results. A USB port doesn't make someone an engineer. This causes a lot of frustration for all studio owners and professional engineers.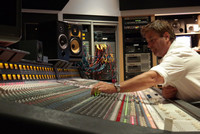 The reason Randy took the project in the first place was because he liked what he heard in the roughs. He recognized that the material was properly recorded and he could achieve the results I was looking for as a producer. A good mixing engineer can be the same guy tracking your music, however you need to listen to his full production mixes to know if he's the right engineer for your specific project. Many quality engineers will take on indie projects at a lower rate, especially if they love the product.
I was looking for world class when I approached Randy, but you can get quality mixes from a local studio by LISTENING to SAMPLES of their work and talking to previous clients. A good studio will provide these for you. Many people go into a studio based on a recommendation, only to find the production style of the engineer doesn't match their needs. So do the research, take the time to listen and compare mixes from the engineers you are considering.
Mastering is also an art in itself. It takes a special kind of ear to master a record and depending on the type of record you want. Again, look for the results you want from your own material. Provide samples of other songs to give your mixing and mastering engineers an idea of what you're looking for, and save your money to afford what you wish to achieve.
Quantum Heart album review - read here
Ghost Embrace official
|
Hyperthreat
|
GE's Facebook
|
Warehouse Studio
|
Sterling Sound
---
Pictures come from Ghost Embrace's archive, all copyrights reserved by their respective owners. Questions proofreading: Mike 'Vesper' Dziewoński.