2007-02-02 |

Katarzyna NINa Górnisiewicz
and Brian Backlash |

e-mail interview
---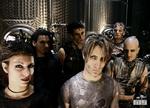 NINa: What does the name Mephistosystem mean to you?
Abele Franzé: Mephistosystem means to me some kind of diabolic system. I've selected that name because I've been looking (at) things like politics, society, goverment as a Mephistosystem. I've had some problems understanding that one has to adjust to society. I couldn't do so. Everyone makes himself enemies if they don't try to fit into norms. It's not allowed to live life the way I want. This doesn't mean that I am a criminal or a murderer. I'm just an artist that wants to say something to the crowd out there and maybe want to be understood from time to time...
I started to be sensible that this Mephistosystem exists everywhere. not only in politics and the self-righteous society, but also in friendships, in a band, love-affairs, the music business, in a posse of near peoples and last but not least in ones' self - where I hadn't expected...
NINa: Your music reveals an authentic enthusiasm that many bands are at loss to attain these days. What do you value the most while listeing to other bands' music?
I don't rate other bands. The honesty and the songwriting is important for me. There are alot of cd's which I don't like in the beginning but sometimes later it can tear me into it's spell... these are the records I can listen to for years, without making me bored.
It's like falling in love: it just happens. I listen to lots of different kinds of music: classic, jazz, electro, rock, etc. For every mood there is a special sound. I can't say what I like most. Quite varied taste of music.
Brian Backlash: Mephistosystem is still a new, up and coming band. How hard has it been establishing yourself globally in the industrial/rock worlds? What's your greatest asset in this regard?
The greatest for me is, if people listen to my music, buy a cd, come to our shows or feel touched by my lyrics. It's hard anyway in the music business if you don't write mainstream-music.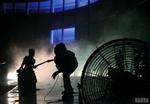 Brian Backlash: Your band is based in Switzerland, so why have you decided to sing in English?
I think that english is the perfect language for this kind of music. I'm inspired by this language and it fits perfectly into my music.
Brian Backlash: In the States, there's a deeply ingrained fear and paranoia in regards to electronic instruments in rock music. Do you encounter the same prejudices over there?
Actually Actually I don't think so. The music just has to convince.
Brian Backlash: Your official website is rather impressive, and really epitomizes the cyberpunk perspective. Are official websites really that useful these days, given the popularity of Myspace and YouTube?
I believe that our myspace site is much more successful than our official site. But on our official website we have alot more features for our fans. Mephistosystem.com is much more representative for the band. Our style and image gets transported better this way. Lots of event-managers and press ask for a official website. They are notsatisfied with just a myspace account.
Brian Backlash: Your band has produced a number of videos, which can viewed on YouTube. Prior to YouTube's existence, would you have made so many videos? Has the website garnered you more attention thru having your work listened to and seen there?
Yep, we would have made those videos anyway! Visual effects were always a big feature for us to reach the people. Also our live show includes a multimedia show to support the music.
NINa: Kinda classic question now: what gears do you use in a studio?
Haha, my favorite question ;) Far too many! Here are the most important ones: Moog Voyager, Virus Tti, Alesis Ion, Sherman II, Kaoss Pad, Line 6 filter, Line 6 modulator, Triton Pro X, Distressor Dual, Mindprint DTC dual, Urei La 12 dual, Rode Micros, different amps, native instruments and tons of software. Arragements with Cubase SX3.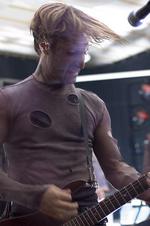 Brian Backlash: You've recently played a slew of shows, and have some more on the way. What bands would you be interested in launching a full scale tour with?
Most important is that everything is OK with the chemicals between us. I couldn't tour with people I don't really like.
Brian Backlash: Some of your music, like "Anybody Cares", has a real indie alternative rock feel. Were you influenced by groups like the Pixies or Franz Ferdinand?
Not really... anybody cares was born by my life-situation and was inspired by these feelings.
NINa: The debut release I just got called Endless Crawl is full of enthusiastic tunes. Where the listeners could buy the whole album?
Internationally in different online-shops (Arachnophobia.ch) and on itunes. In Germany, Austria and Switzerland in all well sorted record-stores.
Brian Backlash: What artists would you like to see remix your work, or conversely, what artists would you like to remix?
Lots of electro freaks gave me the feedback that they want to remix my stuff... I think this fits quite well. I would love to remix my own stuff. I would love to remix any song from any band as long I like the music!
Brian Backlash: What is your song writing process like?
OK, first is my mood... then the idea... then I look how far my instrument and voice takes me. Then I decide if I like the idea. If not = trash it. If yes = I make one verse, a chorus, one to two bridges and a finish. Then I program the drum as a layout for the studio drummer. After that I mostly fall into trance and start to destroy certain sequences and start to add psychadelic synth stuff...
Brian Backlash: How do you know when an album is "finished"?
After a long process of writing, arranging, producing I start to play with different playlists. As soon all the songs that don't fit into the concept are sorted out I listen to the work. If every song exactly tells what I wanted to say with it, the album is finished. Of course mastering and graphic-concept has to fit. A lot of decisions were made during the production-process.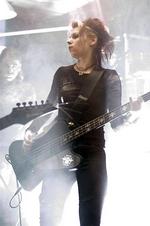 NINa: Have you come across something in your life you could classify as a deja-vu? What do you think about that? Why does it happen to some people?
Yeah, it happened to me sometimes. I always ask myself why this happens. It doesn't make sense for me but it is a great feeling!
Brian Backlash: Switzerland is notorious for being a neutral country in times of international warfare. What is the mood in Switzerland in regards to the war in Iraq and the American President?
The mood here is not bad because of that. The people here don't like Bush and his political targets. We can't tell a difference between the truth and lies. That's bad!
NINa: The Polish police is trying to win a fight with music piracy, instead of stopping murderers, thieves and thugs in this country. What does it look like in Switzerland? Who fights against the software and music piracy over there? Is it possible to suppress the piracy movement on the whole?
If they really want to do something against that they sould do so much more. No one knows what our police really is up to...
NINa: Imagine that the electricity in your city has been down for a whole week. After how many days would you show signs of an annoyance?
I would flip out after one day! We are very addicted to electricity so they can't just switch it of! Just another MEPHISTOSYSTEM.
Thanks a lot for your interest in Mephistosystem! It's always nice to see that people are active in things like your webzine and music like ours. Much success and a happy future!
Mephistosystem at Myspace
|
official website
---
Pictures come from Mephistosystem's archive, all copyrights reserved by © their authors.