2006-02-02 |

Katarzyna NINa Górnisiewicz
|

e-mail interview
---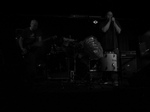 NINa: You are going to release the new CD coming spring. Will it be rough and aggressive music still?
Mark Welch: Yes, I feel that new CD is more aggressive than out last, but that's just my opinion.
How many musicians play in the band? There are listed the two only at your Myspace profile... What about Shawn?
As far as live performances, there is only Chris and I. I usually call on Shawn for his wisdom and talent when it comes to recording and mixing. In my opinion, he is a phenomenal at what he does. He is assisting with the upcoming CD.
Tell me a few things about Diatribe and Officer Down bands please. It's rather difficult to find suitable informations about them but it seems you worked together..
Diatribe was a great industrial band from San Jose, California. We had the pleasure of playing a show with them once but we never worked together.
Over the years some of the members of Slave Unit have done some work with Ofcr_Dwn but I don't know what they're up to now.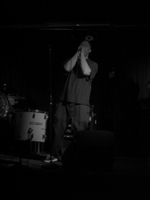 You mingle punk and hardcore with industrial mostly. What are the differences between punk and industrial subcultures in your opinion?
I feel the punk subculture is a lot more supportive of its scene, at least here in California. Kids will come from all over just to hang out and watch a bunch of no name punk bands perform. As far as the Industrial/Gothic scene, I think the emphasis is more on how you look and dancing rather than going to see bands perform. I don't think you will ever go to a punk show and see a bunch of punks jumping around to a punk DJ. The scene needs bands. I feel the Industrial/Gothic scene could survive without any live performances, which is sad, but that's just my opinion.
There are a few instrumental songs which you gave to short films. Is it difficult to compose music for movies?
So far it hasn't been difficult. The people who have contacted me have been very specific about what they have wanted. I feel if I am ever asked to do a complete film, which will be quite the challenge.
You've been signed to COP International for 3 years. How do you recall the cooperation with them?
It was fun working with COP. We met a lot of cool people and cool bands that we continue to be friends with.
You wrote at your Myspace profile: "The lyrics are often based on observations and reflections of human behavior and error." Isn't is a human right to make mistakes?
I am one of those humans that make mistakes. Some of the songs I write are about the mistakes I've made. So, sing about what you know, right?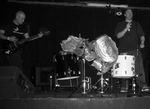 How would you react if you wake up someday in a kind of prison like that one was shown in 'Cube' movie? Would you think either about an escape or exploration?
I'd probably just go back to sleep.
Are there any rumors or opinions you've heard about the Poles? ;)
No, why?
Do you have any other occupation besides making music?
Yeah, I have a full time job that pays the bills but my heart will always be with creating music.
slaveunit.net
|
myspace.com/slaveunit
---
Pictures by Slave Unit, all copyrights reserved by © Slave Unit.