April 10th, 2013 | E-mail interview by
NINa
| Submit for
an interview
|
detailed review
| Read other
Fabryka interviews
---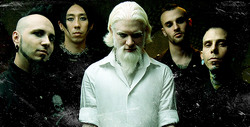 NINa: How has it been touring with Device so far? Do you guys talk daily? Have you found any common ground beyond being signed to the same label? Do you have any recent observations or anecdotes you can share?
Aaron Nordstrom (vocals): It has been good touring with
Device
thus far. The band and crew have been great to us and very accommodating. I've had some time to personally hang with them all. It's a cool tour to be a part of. It's pretty early on so there aren't really any crazy stories. David and I are both from Chicago so we have that common history.
NINa: Your song "Pleasure And Pain" is available as a free download. How do you feel about giving music away? Is this method of music promotion a call for a respect as an encouragement to grab music legally direct from the Artist?
Aaron: We wanted to give "Pleasure and Pain" for free to give people an introduction to our vision and our message. We believe in what we do and I want to bring positivity to our audience. There is so much stimuli in the world now, we try to connect with as many people aw we can so giving away a song is like extending an invitation to come with us
NINa: Your band name seems to refer to the subject of duality. Do you consider dualism as a complementary form such as yin and yang, or volatile battle of opposites stuck in the same system which can lead to indecisiveness or a birth of new creativity?
Aaron: The answer has to be both. Gemini are twins and that is the reflection of balance. Yin Yang, positive negative. Entropy Order. They all fall into the name. To have duality, you need both sides.
Official
|
Facebook
|
ReverbNation
|
Last.FM
|
Twitter
|
YouTube
|
Myspace
---
Pictures come from Gemini Syndrome archive, all copyrights reserved by their respective owners. Questions proofreading: SanDeE.
This exclusive interview must not be used for promotional or commercial purposes. See a Legal Note for the copyrights below.