Music Xray is facilitating a more efficient, lower cost, and less risky A&R process. Their growing platform enables the industry to open the doors of opportunity to musicians and songwriters everywhere and to harness the most powerful tools ever built specifically for those who conduct A&R.
They help musicians and songwriters get deals on retail offers as well as get feedback from professionals who want to help them succeed. Music Xray helps artist and music industry professionals access the gatekeepers in a way that makes it rewarding for both parties.
Source: Music Xray - about
&
Terms of Service
.
Why is that cool?
Basically, you can
create an account
if
you are an artist
or
you offer any music related opportunities
- reviews, interviews, podcast inclusion, publishing, label rooster consideration, festivals and gigs, management, radio play, movie song placements as well as sync TV/movie licensing/advertising and many others. This platform allows you to find a new cooperation, musicians, compilation releases (tribute to, remix, special event/fundraiser) and distribution deals.
Read more about how to create a Music Xray account.
Browse
various
music opportunities
inc. publishing, licensing, music reviews, TV/movie/ad/trailers, contests, compilations, festivals, label roster consideration, distribution deals, magazine exposure, song placement and so on.
Artists can also submit songs for
Diagnostics
which are basic statistics. Music professionals anonymously judge the songs you submitted and so you can learn if your track has hit potential, good composition, arrangements, production etc. See also,
how to interpret Diagnostics
.
SoundCloud integration
If you uploaded your songs to SoundCloud, you can easily import these songs to Music Xray. It's enough to
create a profile on Music Xray
and connect to your existing SoundCloud account. You get full control over your content, because Music Xray, does not upload your tracks to other sites without consent.
More about importing songs from SoundCloud.
Music search engine
Launched in January 2012, allows music professionals for finding your songs and contact you directly about their opportunities. This search engine includes below options:
-
basic search
finds you by artist name, album name, song title, lyrics, sounds like similarity etc.
-
advanced search
finds you by upload & rating time, received ratings, keywords, genres (yes, industrial is included!), moods (aggressive, angry, disturbing, energetic, dark, eerie, groovy, passionate etc.), songs BPM (60-160) and vocals (male/female as well as instrumental only).
Criteria can be saved on Music Xray for a purpose of creating a search alert. Matching results will be delivered on your email once a week.
Music industry professional or blogger?
If you work for the music industry or just keep it as your hobby, you can
join Music Xray
to offer your skills to be either paid for or do the job for free. It's all up to you what kind of interaction you keep with the artists looking for submission opportunities. You can log in from Facebook, Google, Yahoo or individually creating your own Music Xray account.
A music professional can also set up an artist account (think of label roster) so that he/she can submit songs of his/her artists to other professionals and manage in and out finances.
My offers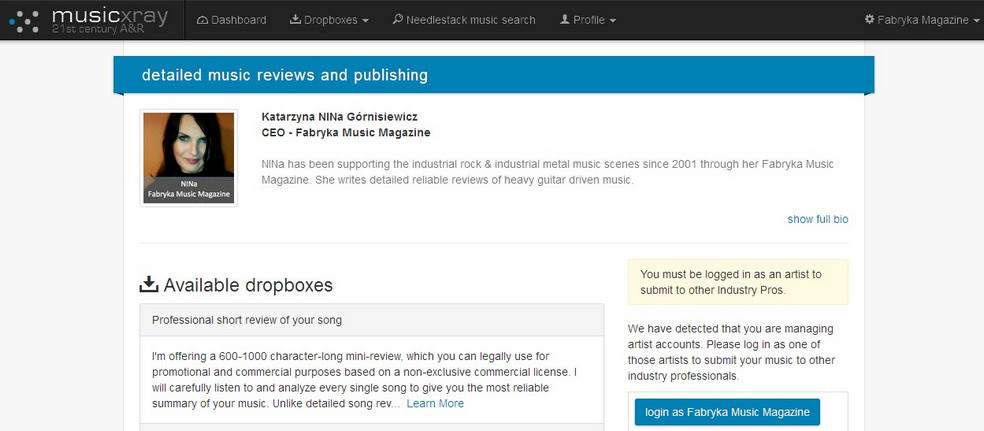 Here's what
my profile
looks like. You can submit your songs for a professional music critique as well as an interview.
I review guitar driven music
(metal, rock, incl. progressive metal, industrial rock, industrial metal, progressive rock and their subgenres) as well as
dark ambient
and
video game / movie soundtracks
.
I also offer
interview opportunities for anybody
, no restrictions.