2006-07-05 |

Katarzyna NINa Górnisiewicz
and Brian Backlash |

e-mail interview
---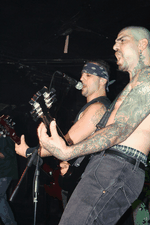 NINa: What's Lockdown's line-up?
Lockdown's present line-up is Eric Roi (Lead Vox), Jeff Lombardi (Guitar & Lead Vox), Justin P. Flynn (Guitar), Nicky X (Guitar), Lorenzo Golia (Bass) & Doug Bohnz (Drums). To give you a little history, Eric & I formed the band in 2003, however we have known one another for many years. Back in 1988, I played in Napalm, a NY Thrash band which released 2 albums via SPV records. At the time, Eric practiced in the same rehearsal studio with his band Silent Fury, so we quickly became friends. Eric eventually left and formed "In Your Face", a NY Hardcore band consisting of members of Token Entry. In Your Face definitely played their fair share of Sunday matinees @ CBGB's and were somewhat of a staple in the NYHC scene before breaking up a few years later.
In 1992, Krztoff (a former Napalm band mate), asked me if I would be interested in starting an industrial band called Bile. So I joined the group and recruited both Eric Roi as a second vocalist and Archie AK47 as a third vocalist. (the same Archie as the 25 Ta Life song " Fallen Angel"). We eventually were signed to Energy Records and released Suck Pump in 1994. In addition, we were selected for the Mortal combat Soundtrack. After several US tours, I left the band due to personal and musical differences. By this time, Bile had moved away from the aggressive crossover sound which defined the core group. This also led to the departure of both Eric & Archie as well.
To make a long story short, in the fall 2000, I was introduced to Hatebreed's debut full length album titled "Satisfaction Is The Death Of Desire". The next day, I called Eric and told him that we have to start a hardcore band. I was totally blown away by Jamey's lyrics and Hatebreed's musical attack. This album inspired me with the same intensity that Hell Awaits, Ace Of Spades, Kill Em All, The Age Of Quarrel, Victim In Pain, and British Steel did two decades ago. Those records had raised the bar for Metal & Hardcore …. those were real moments in time.
Brian Backlash: After hearing your music, you have a clearly talented drummer. How important is a drummer to a band?
I believe that the drums are a huge factor to a Hardcore, Metal or Punk band. Next to the vocals, I feel it's the most important. The drums are the energy and driving force. If the bass or the guitar isn't totally up to par, it's not going to make or break the band .. especially in Punk where is all about the attitude. But in Hardcore, if the drums are weak, it really sucks the intensity and life out of the mix. This became very evident to me when I played in Bile. The band relied on a drum machine and I absolutely hated it. You cannot replace the feel of a live drummer. Image how lame Reign In Blood, Chaos AD, or Number Of The Beast would have been with a drum machine.
Actually, the drummer on the Lockdown recording is Robert J. Priomos, formerly of Napalm as well. Rob and I had been playing in bands together since junior high school, … so he was the first guy I called to join Lockdown. However, Rob left the band a few months ago due to family and business commitments. Rob was a great friend and musician, and we wish him the very best. Our new drummer is Doug Bohnz, formerly of Suffocation (the "Pierced From Within" LP) and Welt. Doug is such an incredible musician. It's truly an honor to have him aboard and I'm looking really forward to writing & recording together this year.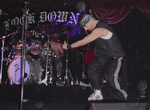 Brian Backlash: Lockdown has members who used to play in groups like Bile and Welt, among a host of others. Has that prior experience influenced Lockdown's sound overall?
Not at all, we're mostly influence by both old & new school Hardcore and Metal. We do listen to a very diverse group of music. I may thrown on Ministry or The Sisters Of Mercy, and Eric likes a lot of Hip Hop … however I don't hear that channeling into the music.
NINa: Do you play shows frequently? Where do you feel you played your best show at?
We play shows about once a month, which is not a lot at all. We definitely make an effort not over saturate the band in the local scene.
Brian Backlash: Your next show is the Woodstock of Hardcore in Saugerties, New York. How did you get on the bill, and what other bands are you going to be sharing the stage with?
Our friend Bobby from 4 In Tha Chamber, had contacted me about the show. When we heard that our buddies in Neglect, Tension & 25 Ta Life were also playing, we were down for the show.
Brian Backlash: Similar bands like Pantera would have little rituals they would engage in prior to taking the stage by storm. Does Lockdown have any such rituals or traditions?
Yeah, sort of …. I usually have to try to locate the band. They're usually out somewhere smoking weed.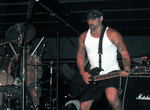 NINa: How much time did it take you to write, record and release the album?
I wrote most of the songs before we even had a full band, just sitting in my apartment piecing together ideas. The process took about 3 months to write and 2 months to record.
NINa: Your full-length album America Made crushes ears thanks to the hardcore based riffs and awesome vocals. It's produced by Billy & Danny from Biohazard. How did you come to work them?
Thanks for the props, it's always great to hear! On August 26th 2004, we opened up for Biohazard, which I believe was their last show. After the show, Billy had approached me and said that he wanted to produce the band. I was completely humbled to have that vote of confidence come from a person, which I have always considered to be a mentor. Over the last decade, Biohazard and Hatebreed have been the greatest influences on my writing, so that fact that Biohazard wanted to produce us and Jamey Jasta liked the band enough to release a track on his label Stillborn Records, has been the highest of compliments. It really doesn't get to much better than working in the studio for 2 months with one of your favorite bands. In fact, Billy ended up laying down vocals on one of our tracks called "Hatred". For years, I had jammed Biohazard songs in my apartment, so to watch Billy put his footprint on the track, was very surreal for me. In addition, Eric, Lorenzo, & I sang back up vocals on the last Biohazard "Means To An End, so that was pretty cool too. Both Danny and Billy are great guys and I feel very blessed for the experience.
NINa: You decided to put American Made online as a free download. Why is that?
I think that it's way more important for the music to be heard, than trying to make a buck. I did not get into to this for any another reason, except to create music and make it available to as many people as possible. Especially hardcore and metal fans who reside in third world countries that can't afford to spend their last dollar on a band that they never heard of.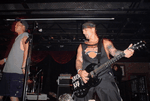 Brian Backlash: Now that you've finished your first full length, what are you doing to promote the record? Has self releasing music been a positive experience for you?
Actually, we have not been nearly as aggressive as we need to be trying to promote the record and get an independent deal. If it weren't for the emergence of the internet, we would be way behind on the promotion end of things. I know there are a lot of people that feel annoyed by the amount of spam received from local bands trying to make a name for themselves. Although, I really feel that the good does out weigh the bad. For every person that is pissed off about being contacted by an unheard of band, there are twice as many people that are glad that we did reach out to them.
Brian Backlash: Lockdown is currently on the hunt for a record label. Is there anything in particular you're looking for in a record label? Do you think there is an appropriate label out there for a band like yours?
We need to find a label that will support the band and understand our touring limitations. Most of us are in our late thirties and have careers that support our families. Therefore we cannot tour for more than 4 weeks out of a year. An independent deal would make the most sense for all parties involved. We would require small maintenance …. $10,000 – $15,000 to record, mix & master and possibly a few overseas festivals.
Brian Backlash: In your opinion, what has been the most loudest, hardest and most intense band ever conceived?
In 1983, I saw Motorhead and that was by far the loudest band ever, … I couldn't understand anything, it was beyond recognizable. But I loved it anyway, I was 15 years old and this was Lemmy! When I was in Napalm, we played CBGB's with Dark Angel & Possessed … and Possessed were probably the hardest band that I've seen next to Morbid Angel. And hands down the most intense would be Sick Of It All. These guys are pure energy …. To anyone who has not seen them, I strongly suggest seeing these legends of Hardcore when they roll through your town ... it's infectious.
Brian Backlash: Hardcore/metal is easily the most harsh and heavy music out there. What attracts you the most to that style of music?
Hardcore music is an attitude and culture that most people between 15 – 40 can relate too. The most attractive thing to me is that for the most part, there are no presumptuous ego's … it's a scene that is easily accessible and supportive of one another.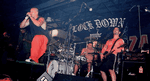 NINa: Where do you think the global hardcore scene originated from?
Hardcore is an offspring of Punk … just faster and more pissed off. The Ramones hailing out of Queens, NY, gave birth to Punk in 1974. The movement reached the U.K. shortly after with the Sex Pistols. Hardcore also began in NYC. Roger Miret of Agnostic Front credits Tommy Ratas of Rejuvenate & This Means War, for starting hardcore. Tommy Ratas was the original singer for Warzone, when Raybeez played drums. Tommy Ratas also played with the Psychos, Trip 6, Life's Blood, and Agnostic Front.
Brian Backlash: What is the hardcore scene like in New York? Are the other hardcore bands in the scene more of rivals, or more like friends?
Ask anyone who was around the NYHC scene between 1984-1998, and they will tell you that was an amazing period in time. The Rock Hotel shows were the shit! Leeway, the Cro-Mags, the Crumbsuckers, Ludichrist & Murphy's Law were all releasing the debut albums. Warzone, Youth Of Today, Bad Brains, & A.F., were tearing up the Ritz and Wetlands. Circle pits and walls of death!
Brian Backlash: For the uninitiated, what is the difference between old school hardcore and present day hardcore music?
Old school hardcore was more stripped down and raw. It really felt like you were giving the middle finger to society.. it had that punk attitude. You also felt that you were part of an alumni, because it was small and underground. Today, hardcore is more polished up and has clearly drawn elements from Metal. 20 years ago, hardcore wanted to distant itself from Metal as much as possible. From a lyric standpoint, hardcore kids could not relate to the stories of Satan, dungeons and dragons … that kind of thing. And secondly, because hardcore was very anti corporate and big business. It was for the people, run by the people. $5 shows, fanzines and show organizers we're actively involved in the music. I miss the old days, but there are a number of positive elements of today's music. I'm glad to have had both experiences.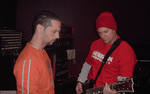 NINa: It seems like hardcore music has historically continued and evolved with few changes to the well known vibe and style, and it seems that hardcore musicians try to restrict and save the origin of the sound. Would you say it's more out of respect to the roots of the style or is there some unspoken limit that you shouldn't exceed?
In the past, Hardcore has had certain unspoken restrictions, but eventually a band comes along and makes it acceptable. For example, take Suicidal Tendencies guitarist Rocky George, nobody was playing leads with arpeggio sweeps before him… it would have been considered very Metal. Additionally, Biohazard and Madball brought in the Rap influences. And in 1985, the Stormtroopers Of Death released Speak English Or Die. That kind of started up the whole cross over thing. Since then it's evolved into what's known as Metalcore. It's funny because what is considered Hardcore today, would have been clearly defined as Metal 20 years ago. The new Sworn Enemy album is a good example of the crossover sound. Nowadays there are too many new bands with the classic Hardcore sound. Although, there is one band called Fed Up out of NY, that is a complete throw back to the old school sound. It's great to see kids around 18 years who have clearly studied the roots of Hardcore.
NINa: Are you aware of any hardcore bands blending their styles with industrial music?
Not to my knowledge. I really don't see that happening either because of the nature of Industrial music. We tried it with Bile, but with electronic drums and distorted vocals it always sounds like industrial.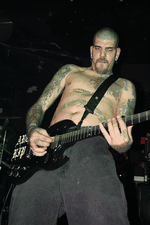 NINa: What do you think the next President of the United States should do to calm the political climate and satisfy most Americans?
A president can make a difference over the course of 8 years (two terms). Right now, we need to stop putting a band-aid on existing problems and start implementing better strategies.
NINa: What do you think is so wrong with America?
Where do I start? Government and any Capitalism which chooses to ignore the negative backlash of their actions. I also have a big problem with Hip Hop. Back in the eighties, Rap music and it's culture actually should for something meaningful, which was very enlightening for me. I was a kid living in the suburbs, who was completely ignorant to anything outside of my surroundings. The bottom line was, I lived in a white neighborhood and I came from a school system geared towards European history and early American history. It was a type of subtle racism. It wasn't so much that African American culture was being portrayed in a negative light, it's just that it wasn't really being taught. That's like sending a message to the our youth that they're not important enough to explore their contributions to this country. Sure …. we learned about Martin Luther King Jr. and the underground railroad, but that was really the extent of it.
So when a band like Public Enemy came out, it really raised the conciseness of kids like myself. The lyrics communicated another perspective on the American experience that was unlike ours. It really had broken down some of the walls and prompted some of us to question issues we ignorantly pretended didn't exist. That was a great time for Hip Hop and I emphatically supported the movement. Unfortunately, over the years it has become nothing more than a business.
Presently, Hip Hop waves the flag for everything that wrong with this country. It's all about living the pimp/thug lifestyle and placing emphasis on material things. Cars, houses, bling, Cristal champagne, firearms and referring to woman as Ho's .. bullshit like that. I don't believe that civil rights leaders, such as Medgar Evers had this in mind. On any given day, you can walk through NYC and see literally hundreds of kids wearing Scarface T-shirts. Hip hop currently glorifies a criminal mentality and promotes images of a Cuban drug dealer, who got wealthy off of blood money. This is what is being bought and sold to the youth of America .. and yet people are surprised we need metal detectors in our school system. This attitude only promotes the negative stereo type of black America and instills fear. History has shown, that in this country, people are afraid of what they don't understand, and in most cases, these scared individuals will attempt to alienate anything that they believe to be a threat rather than learn all the facts.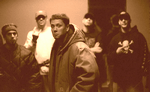 As far as politics... you want to trust your Government, but can you? Take Bill Clinton for example. The former President cheated on his wife and yet a great deal of our public defended him. If the president sold out his own wife for a piece of ass, why should he be trusted not to sell out the people that voted him in office. When you take an oath to represent your country, you should be held to the highest standards and set the right examples. Betraying your marriage vows to your wife doesn't say a lot of your character. I totally support our troops over seas and admire their courage. They are putting their lives on the line for the freedom that I enjoy. However, I have to question our Presidents real agenda for our military presence in the middle east. When ever there is the possible for financial gain, you must question their motives. President Bush has had long ties and accepted political contributions from Ken Lay the former Enron chief. How much did the President know and to what extent did he turn a blind eye? George Bush senior was the head of the CIA. The president had plenty of investigative intelligence readily available towards the background of his contributors.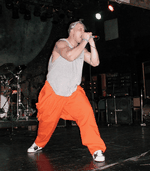 Companies like Enron and World Com are so indecitive of how poorly our officials govern our system. The public invested their savings into our financial markets and got burned for it. Once it was uncovered that we had taken a stake into inflated investments, the rug was pulled out from underneath the public and the dot.com bubble had burst. Investors lost Billions believing in what we thought was a highly regulated industry. In a poor attempt to recover from a recession and Bear stock market, former Federal Reserve board chief Alan Greenspan decided to stimulate the economy by lowering interest rates. The public now turned their focus to the Real Estate market. With interest rates being at historical lows, it became a sellers market and homes were selling way beyond their value … sound familiar? It's just like when the stock market had companies trading higher than their true value. Presently, the Real Estate market is starting to correct itself and a great deal of Americans will be on the short end of the stick. This is due to the number of scams and deceitful sales tactics that have arisen.
For example, low income families who would not qualify for the standard 15 or 30 year fixed loan rate, were sold 3 & 5 year arm loans at affordable starter rates. Mortgage brokers were aggressively selling to homebuyers who were unaware of the financial pitfalls involved with these transactions. By next year, many of these loans will adjust to a much higher rate and homeowners will not be able to sustain the payments and be forced into foreclosure. Some homebuyers were assured that when the high rates kick in, that they would be able to refinance. However, the value of homes are starting decrease. Therefore, the homeowner's equity is deceasing on parity. This makes refinancing an unrealistic option. As a result, we are going to see an influx of foreclosures and banks taking the hit. This will be another example of this country's poor management. I love the spirit of America and what it represents, but this country has a lot of problems.
Brian Backlash: What will Lockdown tackle next?
Song writing is what's up next. We recently added a 3rd guitar player, Nicky X formerly of Crown Of Thorns, Skarhead, NY Hoods & The Cro-Mags. Maybe we can become the Lynyrd Skynyrd of hardcore? We will definitely look to add more harmonies and utilize the 3 guitar assault. Also with the addition of Doug Bohnz, I will try to write and implement his strengths. He's a sick drummer. I also started writing songs in different tunings in order to give a more diverse sound in tone.
Myspace
---
Pictures by Lockdown, all copyrights reserved by © Lockdown.