2006-08-03 |

Katarzyna NINa Górnisiewicz
and Brian Backlash |

e-mail interview
---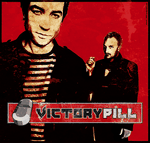 Brian: You've played guitar for The Prodigy, Pitchshifter and a few other electronic rock oriented bands. Does your approach to the guitar ever change when you start a new project?
Jim Davies: Not really, I've sort of developed a style over the years which seems to work well for me. I always approach playing guitar the same way, which is as 'leftfield' as possible. I'm all about trying to create mad sounds or soundscapes and textures. I find 'normal guitar playing' very boring! I think because most of the bands I have played in have electronic/dance elements that has shaped me as a player, I love playing over dance music and get alot of inspiration from the sounds within that genre, far more than say rock or metal.
Brian: You debuted Victory Pill in a live setting last year to test run your early material - only you did so under the name The One Condition. As you've spent time in the studio fine tuning the music, did the change in name seem appropriate as the sound evolved?
Well I was never really happy with the One Condition as a band name, me and Kieron racked our brains for months trying to think of something, that's all we came up with some we went with it. But the good thing was that we didn't launch the band last year we just played a few lowkey gigs so it wasn't like we did loads of press and established the band and then changed the name which would have been a bad move. I love the name 'victory pill'. Me and Kieron sat down one day and made a list of 10 potential new names and we got 'victory pill' by jumbling the words around from those 10 band name ideas! I really like the imagery 'victory pill' conjures up though, I'm very into the whole orwellian 1984, 'big brother is watching you' kind of thing, I can imagine people being given 'victory pills' at by their employer in 1984!!!
Brian: You've cowritten a huge chunk of Pitchshifter's material, as well as playing guitar on some of The Prodigy's best known tracks ("Breathe", "Firestarter", "Fuel my Fire"). How as the notoriety that comes with playing in successful groups helped you establish Victory Pill and move the band foward?
I really don't know, I guess it helps abit because Pitchshifter had and still has a huge fan base that I've always felt very close to and I kind of knew that alot of those people would like the 'victory pill' stuff, so I suppose from what I've done before I have a audience from an early stage which brand new bands have to build over time, but there's the down side that people might expect what you do next to be as big as those bands, that's not the idea with Victory Pill, I just want to put out an album of songs I've written, it's been an ambition of mine for ever! I hope people like it but I'm certainly not expecting to be headlining reading next year!!!
NINa: If you don't mind, what was the reason you left Pitchshifter?
Well we did a 'last tour' and did the live album of our last ever show at the Astoria. After that I assumed the band was over and moved on, I was doing an album with Keith from The Prodigy at the same time. I felt Shifter had run its course and it felt a very natural time to end it. But JS understandable wanted to do an 'official last tour' which I couldn't do because I was in the studio with Keith so I got a friend in to play guitar for Shifter. Basically my schedule has never fitted with Shifters for the last few years, I haven't ruled out playing with them again, it's just that I can never guarantee that I'll be around when they book a tour so they need people in place that can. I had the best years of my life with that band and we are all still close, I'm more proud of the stuff I did with them than anything else I've done.
NINa: Prodigy turned out to be a very successful band in the 90s with all that fashion for techno music. Europe loved Prodigy and even after years of success their latest show in gathered plenty of people in Poland. What has supported Prodigy success within all those years in your opinion?
I don't really know except that obviously The Prodigy are a great live band who work hard and also have great tunes...which helps!
NINa: Techno culture does a lots of drugs to help the people sinking into trance beats. Are you for or against such practics?
It's up to you at the end of the day, dance music is often designed for people to be 'off their heads' while listening to it!! And it works very well. I'm not for it or against it. If you can handle the comedown then good luck to you, personally I can't so I don't do these days.
Brian: You've brought dance producers into the mix to help you achieve the sound you're looking for. What is it about dance and electronic music that you find so alluring? Why do you want to go the more industrial route over say, just being a rock band?
I've just always been into electronic music, I love having the sub bass and squelchy sounds!! I find basic 'rock music' quite boring, I need to have something else going on to make it interesting. I love big grooves and sometimes an acoustic drum kits just isn't enough!
NINa: There were several legendary clubs in the UK and the USA to mention CBGB or Blitz (Sheffield, UK) where different bands and styles of music were popularized throught the parties. The movie called "24 Hours Party People" tells a story about The Factory Records, Hacienda club and his manager Tony Willson who helped such bands like Joy Division, A Certain Ratio or Happy Mondays to create the Manchester scene of cold wave and rave music through the 70s, 80s and the 90s. Do you recall any other clubs with such a long lasting and a bit thought provoking history?
Not really, I was a 'metalhead' at the time when rave was massive so I never really got into that whole clubbing thing till much later on, but the U.K. certainly has a massive dance scene that I don't think exists anywhere else like it.
Brian: You've done some interviews in the past. What's the most irritating question a journalist can ask you?
Ummmm, nothing major springs to mind, I'll talk all day about Pitchshifter but I don't like doing so about The Prodigy because I've never been 'in the band' and it's not my place to pretend that I am, I had fun with them but I don't have an emotional link with them like I do with Shifter, it's never been particularly important to me.
NINa: If we exchanged our professions for a while what would you ask us about? ;)
Who is the worst person you've interviewed.
Brian: Victory Pill isn't the first band you've started - you reportedly once led a group named Dead Mans Pants. What would be the biggest difference between your present group and the former?
D.M.P was purely a joke band, just a laugh. Victory Pill is serious, it's a showcase of what I can do rather than 3 young kids fucking about and writing silly songs, I still listen to it every now and then, bloody funny stuff.
Brian: What for you is the most satisfying aspect of being a musician? What makes it worth while for you?
Music is what I do best, alot of people have skills but are unable to make a living through them and have to do a normal boring job to make ends meet. I'm very lucky that what I'm best at is my job, especially as I'm shit at most other things!
NINa: Do record companies really help the artists to achieve their aims?
Tough question, I think record companies want to achieve their own aims first, the bands aims are second, record companies want to make money. They are a means to an end for bands but I'm far more into the D.I.Y approach, which alot of band are doing these days.
Brian: You've been given nicknames such as "Fingers" and "Goose." As a guitar player the first nick name makes sense - but what about the second?
That's just from when I was on tour in Australia with the prod, we were on a boat in Sydney and this guy told another guy to 'sit down mate your being a goose' and it just became the catch phase of the tour.
Brian: Your bandmates in Victory Pill are Kieron Pepper on bass and Pete Crossman on synths. How did they become involved in the project?
Kieron is one of my closet mates, we toured together with the prod and when I started writing my own stuff he was the first person to say it was good, he has been vital to getting the band to where it is now, I couldn't have done it without him, I can write songs on my own but I'm no good at production or programming drums which Kieron is. So we work well as a team. I've only known Pete for about 6 months, he was introduced to me by a mate who was getting Pete to mix one of his tunes, we got on great, he loved my stuff and asked to mix a few tracks and it all worked perfectly, he gets amazing beats going, I think with out meeting him this album would have taken another 6 months at least. So I asked him to join us and the rest is history. Check out his own stuff on
Myspace-Firebrand
.
NINa: You were touring a lot with many bands around the world. Is there any city you like coming back the most to?
I love Melbourne and New York.
Brian: You have a new website coming soon and you're making some real positive headway with the music. How do things look for Victory Pill's proper debut on the stage and a release of finished material?
We're getting there, the problem is we now have alot of electronic stuff running so we need to workout how were gonna do that live, but Pete's the mastermind for that so were on the case. Hopefully I want us to be playing live again by September/October.
NINa: What is the worst feature of yours?
My moodiness, I can go from being on top of the world to a deep depression in 30 seconds.
NINa: Have you ever concidered why people write blogs and show their innerside to the public?
No, who care about these peoples sad little lives, not me.
Victory Pill at Myspace
---
Pictures come from Victory Pill archive, all copyrights reserved by © Victory Pill.