2007-06-13 |

Katarzyna NINa Górnisiewicz
and Brian Backlash |

e-mail interview
---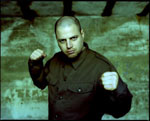 Brian Backlash: To my knowledge at least, you're one of the only, if not the only, industrial hip hop hybrid artist out there. Really, the two styles are quite complimentary, thematically and technologically. Do you find it disappointing that there isn't more cross over occurring on the "industrial" side of the fence? What hip-hop/rap groups inspire you?
Jason: Yeah, well, there have been some acts in the past that have done the industrial-rap thing. Early Meat Beat Manifesto, Consolidated, Noisebox, PWEI, Non-Aggression Pact, P.O.W.E.R. and a handful of others. I am disappointed with the industrial scene in respect that if a band started out today as an industrial-rap act they would probably be gently forced out of the scene into the rock or metal scene.
For rap, I like KRS-One, Necro, Esham, Jedi Mind Tricks, Cage, Paris, Kam, ICP, lots of stuff basically.
NINa: I saw a picture taken during one of one of your shows while one of you were cutting something with a chainsaw. What gave that huge burst of sparks? Do the show organizers agree for such risky operations to be included in a performance?
Jason: That was an angle grinder. We don't use it anymore because club promoters are extremely sensitive ever since the Great White incident in Rhode Island where stage pyrotechnics set a venue on fire and killed a lot of concert goers.
Brian Backlash: You tagged along with Christ Analogue and Sister Machine Gun on the latter's final tour in 2004, playing drums and occasionally doing an SMP song. Was the tour a positive experience for you? Are you sad to see SMG call it a night and hang up the samplers once and for all?
Jason: That tour was cool for me. It was very low key and chill because I was only playing drums instead of fronting a whole band and stuff. Actually I wrote a lot of my new album, "The Treatment" while I was on the road.
NINa: The newest album, Choke, is planned on January 2008. What's next? Tours, shooting videos, TV performances?
Jason: "Choke" is a record I'm working on with the band 64K. We're just taking that as it goes right now. I'm not sure what will happen after the album comes out. Mike, the other 64K guy, and I will just have to see where our heads are at when it drops.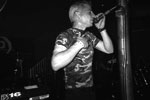 Brian Backlash: How much longer would you like to continue working on SMP? What other plans for the future do you have?
Jason: Let's see. I have an SMP album coming out soon called, "The Treatment." I also have a mixtape of hip-hop tracks, remixes and demos that I'm going to be putting out for free on the internet probably around the same time that "The Treatment" is released. Other than that, there's not a plan for future SMP stuff at this time. I'm just kind of taking it as it goes right now.
NINa: I was introduced to the band 64K and it seems you are also their drummer! That's awesome because I find 64K very fresh and kind of angry as well. When did you start working together?
Jason: 64K opened up for SMP a few years back. They didn't have a drummer and wanted one for their live show and I joined up because I liked their style. We did a handful of shows around the Seattle area until we decided to recreate 64K with myself doing a large amount of the vocals.
NINa: Your influences besides KMFDM, Ministry, Prodigy, 16 Volt, Non-Aggression Pact, Chemlab, Dope and Diatribe. I'll be interviewing the latter's ex-frontman Marc Jameson this month as well. Question is, what do you think about Marc having worked on Madonna's and Christina Aguilera's music after quitting Diatribe?
Jason: Oh, well I'm a fan of Diatribe, especially their full length album. I've always kicked around the idea of covering their song Kingpin, which I believe is about the Marvel Comics villain of the same name. I'm a pretty big comic book geek. But as far as working with pop stars or whatever, that's cool. I hope he's getting fat paid.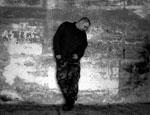 NINa: There were a few remarkable industrial music collective CDs to mention the most known "Fascist Communist Revolutionaries" released in 1996 by Fifth Colvmn and a series of remixes entitled "The Remix Wars". "A Murderous Box" was released this year by Music Ration Entertainment, LLC label and presented a variety of new bands still supporting the guitar driven industrial scene sort of Slave Unit, SMP or 64K. Was it a first release of that kind, and do they plan on putting out more such collections?
Jason: Well, I A&R'd that CD myself, and yes it was the first kind of thing I've ever done like that. It was a lot of fun to put together but I doubt I'll do another. It seems like a compilation CD is a hard sell for fans these days with people using the internet to sample bands instead of buying CDs.
Brian Backlash: You left the record label Invisible/Underground Inc. in 2003 due to "contractual disagreements." From what I've heard from Chemlab, Project.44 and Meg Lee Chin, and anyone who wasn't roped into signing a "non-disclosure form", the label is reputed to be run in quite a criminal and artist hostile fashion - no one received label support, royalties and had their creativity hindered. Have you any comment on the dissolution of your business relationship with the label?
Jason: Everyone knows what goes on at Invisible yet they still seem to attract a roster of talent. I think that really says something about the music industry.
NINa: MRE's catalogue (http://musicration.gemm.com) is full of well known industrial artists, as well as SMP merchandise. Is the CD industry still profitable? What other ways of selling music do you prefer?
Jason: I opened the Music Ration online store to sell some of the music I loved, but we're closing it down after three years of operations. There's not a lot of money in retail if you are a mom & pop type operation. I really feel for the brick and mortar types, they're the ones that are really taking the brunt of the losses in the business of music these days.
Brian Backlash: How do you feel you've grown as a musician over the past 15 years? Does your earlier work embarrass you at all, or is it still a source of pride?
Jason: I'm very proud of my catalog. There are definitely some gems in there. Some very outspoken stuff too. And yeah, there are a few duds of course. It's funny though, sometimes the tracks I don't like are other people favorites.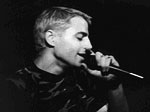 NINa: Could you tell me more about this seemingly mysterious conspiracy called The Loyal Opposition please?
Jason: Garrick from the band Doll Factory and I formed The Loyal Opposition a while back to record a single album that will be released with a comic book. We're wrapping that up right now but there's no release date yet. It's probably the most "high concept" thing that I've done to date.
Brian Backlash: This is a completely silly question, but I love your album titles. Which would you consider to be "the coolest"? Crimes of the Future is mine.
Jason: Hm, I like them all! Ultimatum is a favorite I guess.
Brian Backlash: Your myspace photo album section is full of photos of your cats - which is actually much more interesting than a bunch of photos trying to look hard core. So, kudos there. Have you always been a cat person? Do you have any other pets?
Jason: I grew up in a very pet-friendly house. You name the pet, we probably had it. Cats are my favorite though.
SMP at Myspace
|
64K at Myspace
| official
http://www.smphq.com/
---
Pictures come from Jason Bazinet's archive, all copyrights reserved by © their authors.