2006-06-05 |

Katarzyna NINa Górnisiewicz
and Brian Backlash |

e-mail interview
---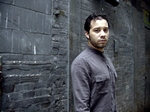 Brian Backlash: You're self releasing your first solo effort, Scene Full of Invisibles on June 6th. How did you come to select that album title, and how do you feel it represents your music?
Isol8ed: Actually there are production delays with the pressing plant. They got a little behind and I'm sort of behind another project. So there won't be a 6.6.06 release date which is a bummer but it's ready! I might release the first single ("Without My Hand") on that day, internet only. Well, as far as the album title; it came a few years back when I was playing drums at CBGB's in a rather shitty band. I give 150% energy regardless of who's there in the room but in that case there wasn't anyone there at all. Fast forward to the 2nd gig there. We play again, same crap band (I say crap because I wasn't really in it but that doesn't mean it was all that bad, although the people in it were shit...), maybe a few more people were there but again not enough to really make rock'n out worth while. Both dates after I got off the stage the sound guy tells me that there were quite a few people on the CBGB's site checking us out via the "live feed" and I just laughed. Every-time I go there it's like a scene full of invisibles. No one shows up in person but people keep playing and bands get booked and the "live feed" keeps-a-rock'n. Watch, people will be watching the fuck'n shows on "Myspace LIVE" HA HA HA. A new service coming soon!! Mark my words. I miss the days where I would play in front of a few hundred drunk rednecks in a bar. Energy! Pure primal energy, breaking shit, screaming my ass off diving on other band mates or trashing my drums. Nowadays it's "let's set our Tivo or look for a wireless connection and attend a show via our iPod Video Wi-Fi." What the hell man.... Hey, I've leaked new products from Myspace and Apple Computer the breach of non-disclosure letter is in the mail!
NINa: What gear and software do you use in your studio?
Well, here I could just go on and on listing equipment but I won't. I'm gonna be honest, unlike some of my competitors out there at my level. No I don't have an SSL or Neve Console in my studio or a wall of synths and outboard gear. I don't own Avalon compressors or a Mesa Boogie Dual Rectifier cabinet. Yes I sometimes track on Garageband and have literally mixed and mastered songs on it. On the flip side, it's not what you have, it's how you use it! Like sex. I don't believe that you have to have top of the line gear to get it out, although it's nice if you can have it. My guitars sound HUGE! Wanna know what it is? Good EQ settings, good compressor settings, stomp boxes, layering and time! I use a nameless shit guitar but it outputs a great tone. I have to say this. To those people who think if you buy a $10,000 guitar setup you're gonna be any famous bad ass guitarist, you're sadly mistaken. Although the old saying "Garbage In, Garbage Out" IS true. So, always look for tone if you're on a budget! When I say you don't need the greatest gear you DO need good tone!
I've been a huge Logic user until E-magic no longer owned the product. I still believe in the product but it's a bit counter intuitive now (such is the case with many products now, too many extra features). So now I'm all in on Motu's Digital Performer. It's not bad so far but a bit confusing also but bearable. Propellerheads Reason is a main-stay in my setup and to be honest I'm guilty of writing an entire track on it then exporting my mix and laying a vocal, done. I use a bunch of V-Synths for sounds although I wish I had a real Moog Voyager, still I do my best.
Brian Backlash: Your time with Slick Idiot was short lived due to differences with Guenter Schulz. Is that the sort of thing that keeps your present work solo, or do you just prefer working alone?
Well Guenter wasn't entirely the reason but one of the main ones. What can I say? I respect Nick [en esch] and wished I could have been a bit more involved in the planning of a success strategy for SI. The road to SI's success was possible but I felt that I wasn't able to be a partial decision maker as all my ideas were shot down immediately. Ideas that got implemented anyway by our then manager, which were never credited to me in the first place. At one point Guenter honestly felt I was taking SI over and compared me to Sasha K. I'm not Sasha first off and if having drive, showing initiative, and getting shit done is a bad thing then "...my apology..." The fact of the matter is NO ONE CARES! If you're giving fans what they want and also setting trends you're ahead of the game. You cannot live on what you were. You've gotta adapt, especially if you have to start over. You're not in KMFDM anymore... They're touring the US and Europe, quite often. Maybe spend less time complaining about why you're not and spend more time working toward a successful plan [play with heart], then the love will come. Somehow this reminds me of Cuba Gooding Jr. in "Jerry Maguire." Sometimes denial is hard to deal with, that's why I left...
I've intended to write and do a "Solo" thing because I've been in many bands with many people. I got into Gordon Raphael's band Absinthee (Producer of the Strokes) some years ago and everyone was touchy about everything, all I wanted to do was play bass. I've always felt that if I create something and it flops it's my fault but if it's working then good. The people are more than welcome to be involved but I've learned in my life in the music business most musicians get stupid about "I wrote this..." or "I wrote that..." Or "I wanna write and you're a nazi control freak." All I have to say is start your own band then. I'll join it then be a pain in the ass about my drum hit and how I WILL NOT change it because I wrote it, ahh fuck off.... I take good suggestions and improvement but once you force me, get out! It's about the song and what's best for it, most people don't get that. It's like being on a Hollywood movie set and everyone is or wants to be the director.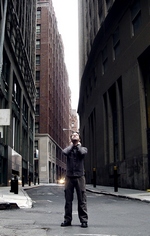 NINa: "Stupid Girl" got stuck in my head so much I was listening to that for two hours non stop. You are a drummer; do you start a new track with a drum section first?
Why thank you! 2 hours? That must have driven your neighbors crazy! You know the band COLD wrote the original? HA HA HA I thought I fucked it up but I never heard anything negative so I just went with it. I really dig the track also. It's quite cool and moody. In fact the moment Cleopatra commissioned me to do the track for a tribute album, I got an e-mail from COLD's management. I didn't even start recording yet and already got the raised eyebrow from COLD's people. I got paid and the track never saw release aside from Myspace. Go figure. Never followed up with COLD's people and they never called me again so no news is good news. So to answer your question, sometimes yeah, I start with drums. Often times I hear the whole damn song already but by the time I power up my studio and start; the idea is gone or it is never exactly what I heard in my skull. Frustrating! Other-times it just pours right out like vomiting and the breaks between heaving is the next wave if ideas coming. I'm sure other songwriters will agree, maybe not the vomiting part but the concept. LOL. I come up with melodies and idea in the shower a lot....the worst place for the muse to show her face...
Brian Backlash: How has the experience of promoting indie artists for TVT been beneficial to your own project?
I know the shit that's gonna be pulled in the record industry so don't even try! Anyway, yeah. You understand that it's not rocket science.
Brian Backlash: You used to work for NY's TVT Records, and that experience soured your perspective on record label politics. What role did you play at TVT, and what particularly ruined the business side of music for you?
Well, don't really know. If you wanna be seriously in this, you can only go so far without a label. Although there are some that would refute that but I feel the majority have to suck it up and deal with corporate music America. There are a lot of things that really suck about label politics but it's a fact of life and that's that. I used to get really mad and think I could change it but "I" can't. You can't win ALL the battles. Things suck but then things can be really great. Good with the bad. I was a marketing rep. I did a bunch of retail sales. I also showed up at shows to make sure the artist was doing well and merched [CD's there, Posters, Radio guys met the band, etc.]. The thing that ended that world for me was that it wasn't fun anymore. Too much bull. I started turning into a record label guy. Out all the time drinking and cranky. Got into a few fist fights with lead singers (will not name 'em) over label shit that had nothing to do with me but since I was the rep I was the bad guy. Long story short, I got tired of being the excuse for a band's half-assed performance. Those I had problems with are not around anymore so there you have it. I still press on!
NINa: Let's move to Charlie Clouser. I have a lot of respect for the guy and his solo efforts. You were talking to him about joining NIN, weren't you?
Yes.
NINa: Was he a person obligated to make the final decision as for the new musicians ready to join the band?
I'm not sure...well, really I think it's more like Reznor had final say, obviously. It's his world. Although I know Charlie had a word and/or input on suitable candidates, me being one of them and I know Danny [Lohner] was in charge of the second level; which I got to but lost out there. That was an experience I tell you. It was my 21st Birthday and I was in New Orleans at Trent Reznor's place! Meeting him was quite cool, he was a nice guy and we talked about dog ownership. I didn't know what else to say, I was there trying to be a professional, not a crazy fan. I tried to find something not related to music to talk about. In fact I didn't even recognize him at first as he greeted me in passing when I entered his studio in NOLA (New Orleans). I officially met him moments later as Charlie said "This is Trent." He had a Doom shirt and khaki shorts. Something I wasn't expecting from him at all. Still surreal to this day. Then I end up drinking with Ric Nealson and the rest of Cheap Tick at the NOLA Airport Bar. Still have the pictures from that. What a Birthday man!
Brian Backlash: You're currently searching high and low for a touring drummer for ISOL8ED. What are your present touring plans for the band?
Plans are to hit the road for a few dates. Good ones with friends. I plan on hitting a few states and having some friends open or I open, whatever. I'm also planning on hitting festivals and conferences, if they'll have me. I do know that I'm not BIG or Medium so I have to be realistic but I do wanna have a show that kicks people's ass! I expect the band I have to help me with that goal.
Brian Backlash: You've been a touring drummer for Slick Idiot, and nearly became a drummer for Nine Inch Nails. Additionally, you've performed a few tracks live with Chemlab and have done remix work for that band as well. Chemlab is searching for a touring drummer - have you considered acquiring the job?
I have spoken with Jared a while ago. If he's interested and ready to take me on, I'm game. I love Chemlab! Would be fun to do. Although they are fine right now also. Regan is doing a great job. I still have to give him the video footage I shot in NYC, I'm sure that's more important right now.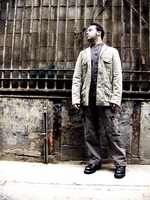 NINa: Why hasn't Invisible Records included your work on Rock Whore vs Dance Floor - the latest Chemlab remix album?
Heh... don't really know. I have my suspicions but that's all I can say. I did do two versions. One with Nick [en esch] and then I did one on my own. Both were passed on but they so exist. I know Jared and FJ dug both mixes but that's all I know. I was told that it's not that complicated of a situation though. It was simply too many tracks, not enough space on the CD and no budget for a 2 disk remix album. Is there even anyone with a dual disk remix album?
Brian Backlash: You moved to Nashville, Tennesee at a young age and played with various rock musicians there. What was it about that experience, and your eventual move to Baltimore that led you to work in the industrial music vein?
Yeah, it was quite a time there in Nashvegas. You name it, I've probably done it. I tried to be involved in the music scene there as much as I could but being so young at the time there were little options. This was also a time where I would play a 21+ bar and rock the place but also panic the owner once he found out he had a 15 year old kid drumming in a metal band in his establishment which sold alcohol. Ahh, those were the days. Now everyone is in hyper-panic mode. Now you're not just underage drinking you MAY be a terrorist.... My move to Baltimore was strictly a burnout solution. I needed out of the downside that the south has to offer. No decent work, tons of racism, the need for constant reliable transportation and a host of other factors. Baltimore was a change of scenery and a chance to see if I could really be in this business by essentially starting over, clean slate. You ever have those times where you just wanna clean slate? I wanted to do something more me. Rock has always been me but I enjoyed the 80's, what I call the hi-production synth years and industrial is a perfect marriage. You have the best of both, the angst and the smooth creaminess of synth.
NINa: What is the movie "Trapped in the Closet" about?
It's a rather amusing piece of material that R. Kelly wrote and produced. I work for a company doing post-productionsound and editing on this project. This story that R. Kelly has written, and as ridiculous as it sometimes can be, is what human nature is all about. I may be biased but I have to say the underlying theme there is "life is crazy, things happen,..live" Think about it you spend your life just dealing with getting busted down or trying to avoid it. That is the seed of progress. Or maybe it's just a DVD I worked on...
Isol8ed at Myspace
---
Pictures by Isol8ed, all copyrights reserved by © Isol8ed.