2011-01-24|

Katarzyna NINa Górnisiewicz
|

e-mail interview
---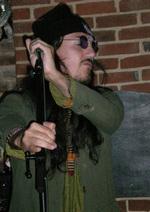 NINa: Quelles étaient les origines de Obszön Geschöpf?
Remzi Kalleci: En fait, j'ai commencé à fréquenter de plus en plus les soirées EBM, électro-indus-crossover etc… dans le nord de la France et en Belgique à partir de 1995. Et petit a petit je me suis mis à vraiment accrocher à ce type de musique, alors que je venais plus de la scène Métal avant cela. En 1997 j'ai donc eu l'idée de créer un projet musical dans ce style de musique mais avec des guitares. Il y a eu d'abord la période d'apprentissage des machines etc… puis l'enregistrement de la 1ère démo "Day of Suffering" en 1999. OG était né.
NINa: Qu'est-ce qui vous a décidé à vous exprimer à travers la musique et de devenir un chef d'une bande?
Remzi: Comme je le disais plus haut, tout simplement car j'étais vraiment passionné par cette musique métal, EBM-industrial etc… et que je voulais voir si j'étais capable de créer quelque chose de ce style, alors que tous les gens, que je connaissais, montaient leur groupe de black métal, death métal, grind etc…
Devenir le leader du groupe est venu naturellement car à l'époque personne ne voulait faire ce type de musique dans ma petite ville de Boulogne sur mer. D'ailleurs quasiment personne n'écoutait de l'électro indus dans mon coin. Mais avec le recul je suis très content qu'il en est été ainsi car cela m'a permis de ne pas perdre de temps. On est jamais mieux servi que par soi même!!!
NINa: Qu'est-ce que vous trouvez la plus convaincante lors de l'enregistrement alors que le métal et le mélange styles industriels?
Remzi: Pour moi mélanger le METAL et l'INDUS est quelque chose de naturel, en plus c'est le style de musique que j'aime le plus depuis toujours. Par contre je n'aime pas beaucoup le son Germanique en Indus Metal avec des éléments Gothic ou Dark etc… Je préfère vraiment le style USA ou UK comme Fear Factory, White Zombie, 16 Volt, Diatribe, Ministry, Misery Love Co., Pitschifter, Die Krupps,Kmfdm, Bile ou des groupes Européens comme Clawfinger, Think About Muation,Steril, Flugschadel etc…
Je pense que depuis mes 2 derniers albums, je commence à faire la musique que je voulais pour OG depuis le début.
NINa: Y a t-il des idées musicales que vous pensez avoir besoin d'utiliser dans l'avenir de remplir un espace d'expression artistique vous n'avez pas encore exploré?
Remzi: Je vais prochainement créer un nouveau projet qui s'appellera Dead Teenergers, normalement avec le producteur Andy Classen et ma femme pour les parties chant féminin, ce que je n'ai jamais fais pour OG. Dead Teenagers sera le côté le plus électro-techno rock d' Obszön Geschöpf , plus dans un style entre KMFDM, LadyTron, Lord Of Acid, Junkie XL, Prodigy, Pitchshifter etc…. bref un truc plus soft qu'Obszön Geschöpf mais avec de la pêche!!!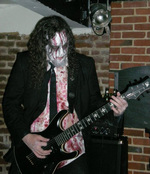 NINa: Vous avez un profil sur Facebook, mais vous continuez d'annoncer votre groupe l'aide au lieu Myspace. Est-ce en raison du trafic élevé et une base de fans solide sur MySpace qui reste utile? Quelle est votre opinion sur les réseaux sociaux quand appliqué à l'industrie de la musique?
Remzi: Et bien tout simplement par ce que j'ai bossé comme un dingue pendant 5 ans à faire de la promo sur MySpace (avec plus de 100 000 friends) donc je suis obligé de continuer à faire la promo sur ce site. Mais vu la grosse merde que MySpace ont foutu le mois dernier je pense qu'il va falloir trouver un autre support pour la promo. Facebook c'est bien mais c'est plus pour draguer :)
Car dès que tu commences à pousser avec les demande de friends, tu es interdit pendant plusieurs jours .donc c'est assez nul pour les groupes .
NINa: Vous avez fait beaucoup de spectacles en Europe, et semble qu'il est temps de conquérir Amérique du prochain. J'ai remarqué que vous avez décidé jouer o à Los Angeles, San Francisco et tandis que Seattle sur la côte ouest des États-Unis. Pourquoi avez-vous choisi le West Coast pour votre tournée américaine?
Remzi: Tout simplement car le promoteur qui nous avait proposé la première date était de là-bas. Ensuite je me suis mis à chercher plusieurs dates pour faire un mini tour. En plus une amie à moi qui habite LOS ANGELES sera aux machines pour toute cette tournée.
Jouer aux USA est mon rêve car la plupart de mes fans sont aux USA et que la plupart des groupes que j'aime le plus sont Américains également. Je pense qu'il n'y a pas trop d'avenir en Europe pour l'indus métal, à part pour des groupe comme Rammstein ou Oomph etc… ou d'autre groupes dans ce style, mais qui sont très loin du son d'OG.
NINa: Le nouvel album des sons extrêmes. Twilight a fait un bon travail sa promotion, mais que diriez-vous les fans? Quelle réponse avez-vous reçu à ce jour? Pensez-vous qu'il est difficile actuellement de recevoir un soutien grâce à des amis sur Internet ou fans en raison du format des réseaux sociaux?
Remzi: Oui Twilight a fait du bon boulot pour la promo. Pour l'instant nous avons reçu pleins de très bonnes chroniques partout dans le monde. En ce qui concerne les fans d'OG, les fans "hardcore" aiment toujours car il y a toujours quelque chose qui sonne comme du OG. Beaucoup m'ont dit qu'ils reconnaissaient du OG dès quelques secondes d'écoute sur n'importe quel morceau , et que nous avons notre propre style. Mais il est vrai que les fans des premières heures d'OG on dû halluciner quand ils ont écouté "Symphony of Decay".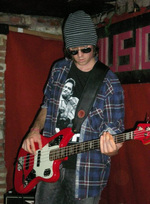 NINa: Pourquoi la musique black metal décrire les femmes dans un mauvais jour le plus souvent?
Remzi: Je ne sais pas car je n'écoute pas beaucoup de Black Métal, je suis plus Death Métal, Thrash Métal etc… En ce qui concerne le death etc.. nous sommes plus branchés serial killer, etc…
Bon il est vrai que la plupart du temps, les filles terminent dans le frigo, mais c'est également le cas pour les film d'horreurs, dont je suis un fan absolu!!!
Mais des tueurs en série comme Gacy, Dahmer etc… tuaient des hommes, donc il n'y a rien de sexiste là dedans. C'est juste que nous aimons les histoires qui font peur avec du sang partout, même si personnellement je prends ma viande plutôt bien cuite :)
NINa: Avez-vous des idées pour votre prochain album déjà?
Remzi: Oui j'ai d'ailleurs composé la base de tous les morceaux du prochain album. Je peux te dire qu'il sera Metal Indus très US avec pas mal de morceaux très Hip Hop Metal old school, car je suis un fan de ce style de musique également. Bref une sorte de crossover entre White Zombie, Fear Factory, Ministry, Clawfinger, Limp Bizkit.
NINa: Y at-il quelque chose que vous aimeriez partager avec les lecteurs Fabryka?
Remzi: Nous partageons déjà ensemble l'amour pour la musique Indus-Rock-Metal etc… car les lecteurs de ton site ne son pas là par hasard. Ils peuvent écouter sur mon MySpace quelques extrais de "Symphony Of Decay". Si vous les lecteurs aimez les guitares Métal avec des sons Indus, dans un style plus violent que la normale avec une ambiance horror des 60, 70, 80's, je pense que vous pourrez aimer cet album.
Last.FM
|
Discogs
|
Myspace
|
Facebook
---
Pictures come from Obszön Geschöpf archive, all copyrights reserved by their respective owners. Questions proofreading: Scott M. Owens.