2006-03-21 |

Katarzyna NINa Górnisiewicz
|

e-mail interview
---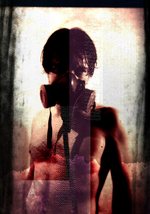 MUSIC
:
What's the band name about?
Well it's a Depeche Mode lyric from the song Halo. I love Depeche Mode, and they are probably my all time favorite. I love the meaning of the lyric and thought it worked perfectly as the title to the project, and it's also my own little homage to Depeche Mode.
Have you released any full-lenght album so far?
Well not really I had something on mp3.com ages ago when it was still up but I don't know if I would consider that an album release.
During there 11 years, have you ever thought of giving up music?
Yeah I have actually. It starts getting you down when labels show no interest in you. You start getting older thinking, I need to do something with my life and this isn't going anywhere. I would love to be able to do nothing but sit here and write music but that's just not realistic. It doesn't pay the bills unless you have a deal. So working full time and going back to school 16hours a week affords me no time to work on music. Not to mention by the end of the week I'm just exhausted. I have no energy to work on music. Once I'm done school however and get a decent job with good pay I'm going to start up again. I need to create music, if I dont I'm miserable. Which is what's been happening.
Do you get a lot of feedback from the fans? Is their opinion important to you, or is Halo in Reverse a hermetic personal project?
Opinion does mean something to me of course. I think it's 50/50. It's definitly personal, but I do want people to enjoy it and be able to relate to it.
How do you value With Teeth album to other releases?
I didn't think it was worth buying. What does that tell you. ;)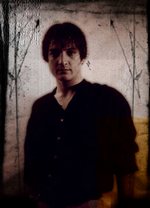 What gear do you use in the studio?
I use a Kurzweil K2000, Nord Lead 2, Oberhiem Matrix 1000, Yamaha AN1X, Korg Trinity Rack, Roland TD10 (Vdrum module). 2 Universal Audio UAD1 PCI cards in my PS workstation, Cubase SX, RME Hammerfall card with am alesis AI3 analog to digital converter, 2 Neve 1073 Preamps, a Tech21 PSA-1, ADA Mp1 and MP2 and the ADA Microcab. KRK V8 monitors, and a mackie 1604 VLZPro for monitoring everything through.
Have you ever released any videoclip
Nope not yet. I'd love to but I don't see it happening anytime in the future.
Who are the biggest pansies in the music scene nowadays in your humble opinion?
Heh, man this could be a long list. Anything in pop music. Most of the major record company's fall under Pansie. Those guys have their heads up their ass's. They are the reason everything blows on the radio these days, and nothing but shit is being signed. They can all go blow.
Is there anyone you would like to take on in a Celebrity Deathmatch (TM) fight? ;]
Yeah quite a few actually. Paris Hilton is at the top of my list though.
You've done two cover versions - 'Into The Void' by Black Sabbath and for 'Missisppi Queen' by Mountain. Do you plan to do more or to remix any other band's songs?
Yeah I do plan on doing some more covers, I really enjoy doing that. I'm thinking of doing a cover next of the Jesus and Mary Chains song Reverance.
SEX
:
What are your views about the bondage?
It can be fun sometimes. It has become pretty cliche anymore though and I can't take it seriously anymore.
Have you ever thought of changing your sex? just to see how it is? ;)
Oh fuck yes. I'd love to know what its like to be a woman getting fucked. I wish I could become a woman for a day to see what a female orgasm is like.
Have you ever been covered in vaseline?
Nope...... not yet anyways... Unless your offering.
HIMSELF
:
Do you have any unusual hobbies you would like to tell us about? ;]
Collecting porn. LOL
If you had to choose between porn and alcohol, which one would you get rid of for the rest of your life? Are you addicted to something?
Fuck that's tough. Hmm...... If I had a wife I'd give up alcohol so we could make our own porn. Other then that I can't give up either. Damn that's hard.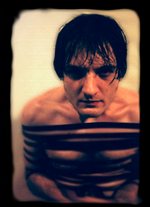 Do you live a true rock musician's lifestyle?
Heh Yeah. It's getting boring though as I've been getting older. Alcohol.... drugs.... Being able to come home to someone all the time is becoming much more desirable. Someone to share everything with. Someone to come home to sometimes make dinner with, get drunk on a bottle of wine and then fuck like freaks.
Is there someone who makes you closer to god?
Haven't found them yet.
Have you ever told a terrible lie to someone?
Nope.
Is there something you can never have?
Yeah, a clitorous ha!
Can you imagine spending a week without any music at all?
Fuck no
Have you ever sinned?
Are you serious?
If you could assassinate 3 people and get away with it... who would it be?
Jessie Jackson, Al Sharpton, and my ex girlfreind, haha!
HALO IN REVERSE OFFICIAL
|
HALO IN REVERSE at Myspace
---
Pictures by Halo In Reverse, all copyrights reserved © by Halo In Reverse.
Thanx to Vesper for some of the questions ;)