2006-06-04 |

Katarzyna NINa Górnisiewicz
and Brian Backlash |

e-mail interview
---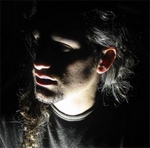 Brian Backlash: I'm starting to lose track of how many Texas-based industrial/metal/etc bands are popping up from that area. Is it something in the water?
Absolutely - it's called the Texas Anger Potion and it's mixed into the water supply by tiny little goth elves.
NINa: What does "DAX" mean?
Well, my birth-name is Dax and because this project started with just me and then expanded into a full band - and because I have a pretty unusual name - we kept it and went all caps for DAX. So, it doesn't mean a whole lot!
Brian: How did DAX form, and was your style of music decided before hand or did it develop into an industrial music hybrid?
Actually there was no vision for it beyond wanting to make heavy dance music. Then, I guess the swirl of influences just found their place and what came out of it is this mix of rock, industrial, funk, pop, etc.
NINa: Who was the biggest influence on your music?
That's a really tough question to answer and it's going to sound odd but my biggest influence is the Cocteau Twins. Now DAX sounds nothing like them but the influence is there in melodic construction and in the combination of electronic and organic sounds. Other influences are more obvious and mainstream: NIN, Bjork, David Bowie, Peter Gabriel, Pet Shop Boys, heck even Prince.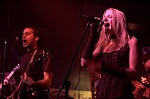 Brian: DAX has been around for about a year now - what's been your shining moment thus far?
I think thus far the coolest experience was opening for A Flock of Seagulls at Elysium in Austin. It was great fun to share the stage with such a classic band!
NINa: What has been your most successful venture so far?
We had this CD single that we made available to anyone who would pass copies out to their friends - and on the artwork we would put their name on in the "thank you" section. We ended up distributing 10,000 of those - all by request! We actually had to stop it because managing it became a full time job...but I think in terms of getting the word out it was really successful.
NINa: Could you list and tell us the reason of your choice for the three shows you would like to play for, and three people you would like to talk to?
I don't know, we would like to play with lots of bands, that's a tough one to limit to three. I know we would love to play with David Bowie, Depeche Mode, and NIN of course. Three people I would like to talk to would be...George W. Bush - I really want to look him in the eye and see if there is anything there, John Lydon because I think he is the just about the funniest guy I have ever heard interviewed, and Miles Davis if he was still around...such a cool cat.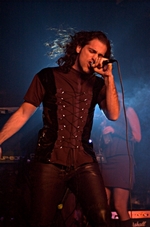 NINa: A lot of people come to your shows, make bootlegs afterwards and spread them around. The fans love to take pictures during the shows as well. Do you think it's fair to forbid them from taking pictures and have them instead photo prints made by hired photographer?
No I don't think it's fair. Artists and their managers work so hard to control their image but the reality is, in the end, that the fans own your image. Especially in these days of digital and mini-devices. We have to accept and be cool with fans doing what they want with us. The real fans will always buy what we are selling, if it is any good.
NINa: Personally speaking, would you say you're more professional, creative or independent?
This will also sound weird but I think I am more professional first. I just am - the other stuff, the creativity and independence are things I have to work harder at. The whole band is pretty professional, which is great.
Brian: There are six people in DAX - is the creative process largely democratic or do you retain a majority of control over the band's musical output?
Because I started the project it has been mostly me but that is changing, and I am glad for it! I know that working together we can continue to evolve our sound and develop ever better material, so I am very interested in my band-mates music ideas.
NINa: The industrial scene. How hidden and expansive do you think it is?
It's hard to say...in many ways because we are this weird hybrid I feel like we are outside of the pure industrial scene, which makes it a bit hard at time. I will say that I think it is actually pretty big and definitely hidden, especially in Texas. The nice thing happening in Austin though is that there is a lot of camaraderie between bands and in a way we are bringing our scene to light here.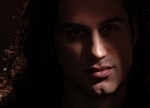 Brian: DAX is still unsigned. What labels have you approached so far, and what kind of label do you think would do a good job of supporting a band like yours?
We have approached NO labels so far, because we wanted to be ready to make that move. I finally feel like we are at that point so we're beginning to ask this question ourselves...who would be the right fit? I suspect that because we aren't easy to categorize that we should explore the independent label route - that we can find someone as passionate about the music as we are.
NINa: What video games, movies and music are you enjoying presently?
I have to force myself to stay away from video games because I get easily addicted to them and hours, days and weeks seem to vanish! I'm a big DVD watcher so right now I am watching the Sopranos box set, which is awesome, and I have been revisiting classics like old Woody Allen flicks and one of my favorites, The Last Temptation of Christ (amazing movie, and I am an atheist!). Music for me is all over the place...I am constantly on the hunt for stuff I haven't heard before. I just discovered Mogwai, who is excellent, and I just figured out who Sister Machine Gun is...and they kind of sound like us!
Brian: You've played shows thru out Texas. Who have you shared the stage with, and who would you like to share the stage with in the future?
Local bands like Ghetto Princess and LUST MURDER bOX are favorites to play with. As I mentioned earlier we had an awesome time opening for A Flock of Seagulls and we also opened for Gene Loves Jezebel, which was totally cool. I was just laughing the other day and saying that the next time an 80's hair metal band makes their way to town that we should try playing with them!
NINa: The first men on the Moon - was that a true or falsified event in your opinion?
True, heh, I am a believer.
Brian: On your website, you have a lot of professional studio pictures of yourself and the band. Do you think image is important aspect of the creative aspect of the band, or do you see it as more of a marketing instrument?
Some of both, but primarily a marketing instrument. The truth is that we live in a visual culture and people like to associate what someone looks like with their sound. So we have worked with some serious photographers. I like to give the photographers a lot of creative freedom, though, because I think their vision can add a lot to what we are presenting, and I want to make not just pretty pictures but also art.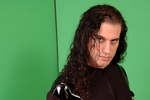 Brian: You recently self-released a 7 song EP that you sell thru Amazon and CDbaby.com. How has this disc been received by the buying public, and how have you been advertising the record?
We haven't done any advertising but sales are really going great! As long as CD Baby and Amazon keep coming back for more CD's, I am happy. We are also now available on iTunes, which is neato burrito.
NINa: Fabryka [Industrial Rock] webzine is rooted in Poland. Let's say you have an opportunity to take a trip to Poland. What would you expect to see regarding the people, music, business and landscape?
Poland has such an amazing musical history that in a way I would be intimidated playing there. But I definitely want to! I think that Poland would be a fascinating place to visit...I suspect that the people are friendly and giving and would (hopefully) welcome an American band. I also wonder if we would be considered heavy enough to fit into the industrial or gothic scene there...I hope we would.
DAX at Myspace
|
DAX official
---
Pictures by DAX, all copyrights reserved by © DAX.