2006-07-02 |

Katarzyna NINa Górnisiewicz
and Brian Backlash |

e-mail interview
---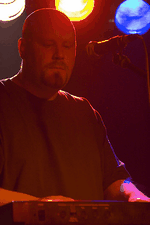 NINa: How do you think your music is best described?
O. Müller: It's always difficult to describe your own music, but if we have to do this, we think that our music is a combination of different styles such as industrial, pop and metal.
Brian Backlash: You're currently working on material for a new disc. What's the status on that project?
S. Galla: Fortunately we mostly have finished six new songs and we have just started recording even more songs. We are not sure if we directly want to release a full time album or first of all an EP. We will have to decide this in near future.
NINa: How did the idea to form Cyber Axis come about?
A. Kleintjes: This certainly is a question to be answered by Oliver.
O. Müller: I have started making music as the drummer of a German band named Diesel Christ. Sometime I knew I had to establish my own band and therefore I started building up Cyber Axis with a good friend of mine, Kay Jaeger.
Brian Backlash: You've recently brought in a new full time guitar player, Stefan Galla, and just recently added a new live keyboardist in D. Barkley. What has been the impact of incorporating new blood into the lineup?
O. Müller: When Matthes Ewald left the band just before the release of Skin in 2003 we had to search for someone who could fill out the guitar parts for our live shows. Stefan is a good friend of us and he was also involved in writing and producing "life in your soul". Therefore he has taken over the part of Matthes.
A. Kleintjes: After some time we knew that we wanted to record new songs for a new release of Cyber Axis and of course it was absolutely clear that Stefan should bring in his influences as a full time member of Cyber Axis. All in all this was quiet funny, because Oliver and I knew Stefan for a long time, but never thought about making music with him. So we both were very surprised on our first day in studio with Stefan, that he was very much more than a replacement for Matthes. He is the perfect upgrade we were looking for – as a musician, a friend and as a member of Cyber Axis.
O. Müller: D. Barkey is also a good friend of us and an excellent keyboard player and sound-designer. He is also involved in several other projects such as for instance Vox Celesta.
S. Galla: Actually we also have a superb live drummer, but unfortunately it is always difficult to bring in the complete line up for a single gig. This would be much easier if we play several gigs in a row.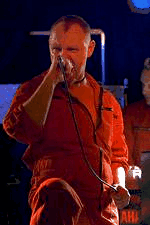 Brian Backlash: How is the Cyber Axis of today sonically or thematically different from the Cyber Axis of 1994?
A. Kleintjes: The technical standard of music equipment has extremely developed in the last few years, however we always try to use also older analog equipment in combination with very new soft- and hardware. Therefore the sound quality is much more better than in the mid nineties, but basically Cyber Axis has the same intention as in the beginning. It is always our aim to have fun with what we do and if someone is interested in the result of our work than this is everything a musician could achieve, completely independent of the music styles.
Brian Backlash: Cyber Axis has been on the road a lot over the years, most recently the festivals E-Fest in Belgium and Birthquake 3 in Duisburg. What for you is the biggest incentive to playing festivals? What do you enjoy most about the festivals?
S. Galla: Finally it's all about fun. If you have the opportunity as a band to play concerts and festivals you have to take this opportunity especially in foreign countries. You always meet a lot of different people and probably this even leads to new friendships. It is great to feel the intensive atmosphere of festivals.
NINa: What conditions do you require in order to agree to playing a show?
O. Müller: Not that much. Of course our costs have to be balanced, but besides this we only must have the feeling that the show is organised in a professional manner.
Brian Backlash: Have you ever considered playing shows in the States? What would have to take place for that to occur?
O. Müller: Of course. There exists no band which would not like to play in the US, especially for our style music, but until now there unfortunately was no real opportunity to play some concerts in the States. Hopefully this will change in future.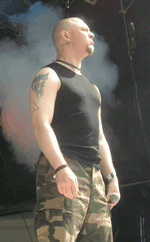 NINa: Your music reminds me 16Volt, Numb and Sulpher vibes sometimes. Are you influenced by them?
A. Kleintjes: Certainly these are all great bands, but we are not deliberately influenced by them. However we think that the Sulpher-album "Spray" is a great piece of music. Hopefully they will manage to release their new album soon.
NINa: Could you list the five best (defunct or still active) industrial-metal bands and tell me why you find their music so awesome?
S. Galla: "Ministry" is definitely my personal No. 1 in this sector. It's unbelievable how creative Al Jourgensen is even after more than 20 years of music. By the way the new RevCo album is cracking. Furthermore in the early nineties there existed a Canadian band named "Schnitt Acht" with a great debut album. Of course "Skinny Puppy" is no industrial metal band, but they will ever remain awesome.
A. Kleintjes: I´m still very impressed by the work of Trent Reznor. NIN is one of the few bands, which still can surprise me. White Zombie and Fear Factory are also cool bands – and, of course, the Revolting Cocks.
Brian Backlash: What do you feel your band offers that other bands do not?
A. Kleintjes: We are genuine and the people who have seen us live or have met us once notice this. We stand behind what we do and we would not like to be controlled by someone.
NINa: Which of the following would you recommend most for the industrial metal newbies: A) Have a deep knowledge and respect for the previous bands of the genre, B) Take care of your image and personal style to make the fans like you, C) Screw the naysayers and make the music you want.
S. Galla: Definitely C). Sooner or later only this attitude will make you statisfied with the result of your work.
Brian Backlash: Do you push yourself to make better music each time you sit down to record a new record?
A. Kleintjes: Yes, absolutely. We do not want to mark time and of course you always take a new step after finishing an album.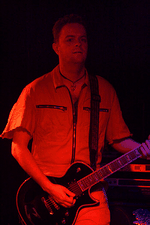 NINa: In my opinion the best song on Skin is "Life In Your Soul". How much time did you spend on that track to make it sound the way it does?
O. Müller: The skeletal structure of "Life In Your Soul" was finished in a short period of time. What is difficult, is to arrange the nearly finished song in a way that in the end it works.
Brian Backlash: What are you most proud of having accomplished with the band?
A. Kleintjes: We are proud that Cyber Axis exists for a long time and that Cyber Axis still has its supporters.
NINa: You've decided to sing all of your lyrics in English. Do you not feel that German fits with the kind of music you play?
O. Müller: German lyrics would work, but we want to make international music and if a band uses German lyrics these bands always sound similar in a certain way. As a German, English lyrics do not sound that strange as German lyrics.
Brian Backlash: Over the years Cyber Axis has created some crisp and intense music. What for you is the easiest thing about writing music, and what's the most difficult aspect?
S. Galla: The easiest thing is to create the structure of a new song. But it is always difficult to develop this structure to reach a proper result.
NINa: There are many labels around Europe but seems industrial rock/metal music was always stronger in the States. Is it a problem of marketing issues or wanning interest from fans?
A. Kleintjes: It is difficult to promote our kind of music in the best way. Unfortunately you always need money and you have to have "friends" in the right position to help you. However I do not think that there is any difference in the US apart from the higher population.
Brian Backlash: There is a massive stereotype in the United States regarding the German people always listening to techno or industrial and perpetually clad in black. How much truth would you personally say is in that particular stereotype?
O. Müller: There is a much of truth in this statement. I also think that most of the Germans prefer music which is always structured in the same way such as for instance techno or industrial.
Brian Backlash: How have you been promoting Cyber Axis? Are the clubs in Europe receptive to your music?
S. Galla: To be honest we nearly do no promotion work for Cyber Axis. Therefore this is normally up to the label, but this is always very difficult and you have to choose the "right" label. We know that our cover song of "Can't get you out of my head" was a huge success in clubs all over Europe, but we really do not know how the other songs of Cyber Axis are accepted in the club world.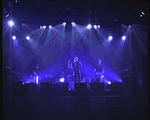 NINa: Have you ever tried to organize a contest for artwork or for a remix for your band?
O. Müller: No, not yet but this would be interesting. But actually we want to keep control with respect to our work.
Brian Backlash: What mental, visual image comes to mind when you listen to your work?
A. Kleintjes: A lovely peaceful grassland.
NINa: Having recorded a cover version of Kylie Minogue's pop song "Can't Get You Out Of My Head", seems to be something that not many bands would have of your style would have done. Couldn't get the song out of your head? ;)
O. Müller: Yes. It is a great very simple song and it was not possible to ignore that song during our recording sessions for "Skin". We recorded this song just for fun. There was no intention to release this song.
Brian Backlash: With a fresh lineup, new recordings in the works - what else will we be seeing from Cyber Axis?
S. Galla: You will be seeing some great songs totally different from the work on "Skin". Probably you will like the songs.
CA official website
|
Cyber Axis at Myspace
---
Pictures by Karsten Thurau, Thorsten Hellge and Cyber Axis, &copy all copyrights reserved