2007-03-06 |

Katarzyna NINa Górnisiewicz
|

e-mail interview
---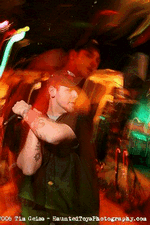 NINa: The upcoming album will be about... give a few descriptions, please.
Pancho Ripchord: The upcoming album is titled "The Pop Culture Massacre (and the End of the World Sing-A-Long Songbook)" and it is being released on April 3rd on our own independent label, ForaNation. The album continues to slaughter more familiar childhood characters just as we did on our debut, "Indoor Recess". This time around we threw Sesame Street, McDonald's, Mortal Kombat, Street Fighter, Pinocchio, food product characters and more into the mix. We have balanced out the whacky songs with others that will make you want to kill yourself and about twelve other people as well. It's a fun record. It's definitely heavier than "Indoor Recess", which was actually not planned; it just came out that way. It has a bit more of a rock feel to it, but we haven't lost our industrial sound by any means. This album takes full advantage of the concepts of fair use and parody and may end up getting us into a lot of trouble. We are ready for battle if necessary.
NINa: Who are your fans in person? Do you have any real contact with them except for the shows?
Pancho Ripchord: Of course it's always nice to meet your fans in person at a performance, but we have really had a chance to communicate with them on Myspace. We have stayed in constant communication with quite a few of them and I have to tell you, they are great people. Our fans have shown us nothing but absolute loyalty and support. We've hung around after a show and got loaded with a few of them, what's more personal than that?
NINa: Is there any country around the world you get the best feedback from?
Pancho Ripchord: We have gotten the best feedback from our own country, the USA. We have had some great feedback from Germany and England as well.
NINa: After releasing the album you'll probably go on tour. What countries would you like to play in?
Pancho Ripchord: In all honesty, we will probably just be playing in the USA for the
tour. If things continue to go well, a European tour would be on the top of the list. England, Germany, Italy, POLAND, Norway, and Sweden would be first priority stops.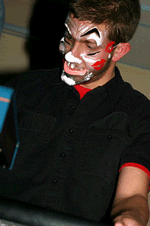 NINa: Has GWAR ever been an inspiration to you?
Pancho Ripchord: Hmmm, how should I say this? FUCK YES. Going to my first GWAR concert
when I was seventeen definitely changed my whole perception of what music and art really had the potential of being. Even though we are very different than them musically, I would say they have been one of my biggest influences. They brought humor to metal; they taught me to never take yourself TOO seriously.
NINa: The co-producer of your album "Indoor Recess" released in 2004 was the famous Mark A. Miller who's been running his own project Out Out for the last couple of years along with Slaughterhouse Recording Studio in Hadley, MA. What could you say about Mark as a person and his abilities of working in the studio?
Pancho Ripchord: Mark is a fucking genius, bottom line. This man deserves to have his ass kissed multiple times daily. He mixed and co-produced "The Pop Culture
Massacre..." as well. He is more to us than an engineer and a co-producer, he is a genuine friend. He has gone above and beyond for every project we have presented to him. He is just as much a part of CODS as I am. His abilities as an engineer are unmatched in my opinion. Slaughterhouse is jam packed with top of the line recording equipment and Mark ABSOLUTELY knows his shit.
NINa: You seem to prefer long names. I find it difficult as a marketing thing because some of the people would remember "Circus" or "Squirrels" ;) What does Circus of Dead Squirrels mean to you and... why squirrels??
Pancho Ripchord: I don't see Circus of Dead Squirrels being an overly long title. There
are plenty of bands with three word names and that's technically what we have here. I think if people do remember "circus" or "squirrels" that they will recognize the full title when they see it. We do shorten it quite often to CODS (pronounced cods, like the fish, not C.O.D.S.). We had originally settled with the name Squirrelbait until shortly after we found out that it was used already back in the 80's. So it was transformed into Circus of Dead Squirrels (I wanted to keep squirrels in the title because they are such interesting, crazy, and weird little creatures). I mean, seriously, have you ever heard something so morbid yet at the same time you can't help but say to yourself, "that's silly." Well that was the reaction we were going for; it sums up our sound quite well.
NINa: What do you do daily besides running the band?
Pancho Ripchord: Not much! We are independently supporting the band, so that comes with
a heavy load. I spend a great deal of time working on promotions, advertising, and graphic design. Ninja Turtle Liberace (Guitars/Keyboards/Programming) has begun work on our next record, "Operation Satan", which will be released later this year. I'm a big movie guy and take pride in my DVD collection. The only thing I find irritating is how these companies feel it necessary to re-release each movie on DVD four or fives times in some cases. Why can't they just release the Super Extended Director's Cut Unrated Collector's Series 3-Disc set the first time?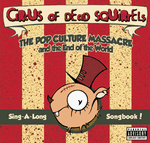 NINa: Who designs the comic-like art for you?
Pancho Ripchord: Travis Falligant of IBTrav Illustrations (ibtrav.com) was hired to do
all the artwork on CODS 2 and his work can also be seen throughout our website and Myspace page. We plan on using him for future releases as well.
NINa: Which song from the latest album do you like the most and which one
gave you a headache during the recording process?
Pancho Ripchord: I'm sure all of us would say something different, but for me personally, I would say "Elmo's Last Laugh" (featured on our Myspace page currently) or "Hell's Kitchen!" are my two favorites. Maybe it's just because I found it extremely difficult to sing parts of these songs without laughing. In fact, some of these parts were recorded multiple times because I would lose it every time. The recording process went relatively smooth, so a headache song doesn't come to mind immediately.
"Overpopulation Annihilation" was the first song that was mastered so it took a while to figure out all the proper levels. So after about the fifteenth time hearing the song, I definitely started considering shooting myself in the face.
NINa: How long have you been present in industrial-rock-metal scene?
Pancho Ripchord: Well, we've been performing since the release of "Indoor Recess" in
early 2004. So about three years now. I became involved with industrial (listening, attending shows) about eight years ago.
NINa: Is this scene rather friendly or strict on the whole? Is it supportive in your area or do you need to reach further and wider to gain the interest?
Pancho Ripchord: The industrial scene we have found to be very friendly and supportive.
The metal scene, on the other hand, is a little more strict and hard to please at times. When we have played some metal shows we have been asked by quite a few people, "Were you that techno band?" I usually respond with, "Ummmm...I think so?" We are based in Connecticut and sadly the music scene kind of sucks shit here. So we find that we have to venture out into other states to really see a good turn-out.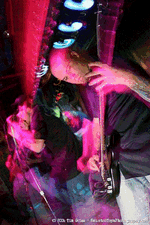 NINa: "Year Zero". What does this name suggest to you?
Pancho Ripchord: Not really sure, I haven't given it much thought. Honestly I'm not too interested in NIN anymore. I heard two of the tracks from the record and I wasn't impressed. Maybe it's because I keep hoping to hear that classic pissed off Trent that we heard on "Broken" and "The Downward Spiral". "With Teeth" was very disappointing although I did really like a few tracks. Maybe "Year Zero" means that this will be the year that I won't like ANY of the tracks. I respect Trent Reznor immensely but I really wish he had laid NIN to rest and released these recent albums under a different name.
NINa: If you had a chance to write an autobiography of CODS, what would you focus on to make the band well-remembered? Would it be full of stories similar to those Marilyn Manson included in his book for example?
Pancho Ripchord: I would focus on the highs and lows, the reality of any artist or dreamer. That sometimes getting involved with entertainment can destroy a part of you when things don't go smoothly. I think the book would be an inspiration to people who want to take a similar path in their life. There have been many times that I wanted to give up and just conform to a "normal" person's life but I knew I'd probably end up killing myself. This is all I've ever wanted to do and the only thing that makes me happy, so I would try to illustrate some of the worst case scenarios that we have
encountered and describe how we picked ourselves back up again. It would be a very "real" book about strength and perseverance. I guess it might be categorized as inspirational rather than an autobiography, or depending on how this all turns out, a true-crime novel.
NINa: Aren't you bored with the Internet yet?
Pancho Ripchord: Yes. Thanks for this opportunity and for promoting and supporting industrial-rock.
CODS at Myspace
|
official website
---
Pictures come from CODS archive, all copyrights reserved by © 2006 Tim Galae, HuntedToyaPhotography