2008-07-05 |

Katarzyna NINa Górnisiewicz
and Brian Backlash |

e-mail interview
---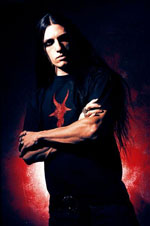 NINa: Society 1 is said to be an extreme band with eccentric musicians. What is the most extreme thing you have ever done so far?
Matt "The Lord" Zane:
On or off the stage? I am the first singer to be suspended from 4 shark hooks through his back and sing and entire set. I have been detained by the police for an incident in Denver that happened while on stage. I have been chased out of towns by bike gangs, started riots, been sued etc... The list is rather long.
Brian Backlash: Where does your nickname, "The Lord" come from?
Matt "The Lord" Zane: Lord means master. Check it out in the dictionary. Everyone thinks I am trying to be Jesus which is cool. I have always said Jesus took shits and so do I so why couldn't be Jesus?
NINa: Your live shows emit a rough male power and sexuality. While giving an interview for Seveth Circle you said "I'm tired of almost being arrested and getting banned from clubs." Is it too much testosterone in your body or a need for provocation that makes you wild on the stage?
Matt "The Lord" Zane: At the time when we were all about pushing the limits I think it was just about trying to get a real reaction that resulted in a unique experience. I was always trying to break out of the ordinary to really know what it was like to be alive.
Brian Backlash: Your latest disc is titled "Live and Raw". What made you want to release a live record, and what is your feeling towards live albums in general?
Matt "The Lord" Zane: Mainly we wanted people to hear the band live because it is so different from what we sound like on the records. People always said they became a fan after they heard what we sounded like live. Plus a lot of the material you hear on Live And Raw we won't be playing anymore after the new studio record is released. Usually in this day and age live record are never as good as the studio records. Back in the old days they were great! I love live records from the 60's, 70's and 80's.
Brian Backlash: What are your plans for hitting the road in the near future?
Matt "The Lord" Zane: Not until after the new studio record is finished. We are in the studio as I do this interview.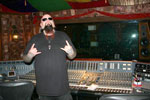 Brian Backlash: You're self-releasing your albums now. Do you find you garnish a better return on your music nowadays than through a label?
Matt "The Lord" Zane: If we make $1 of our music we have made more than we would in other deal we had.
NINa: Have you ever had to deal with metal fans rejecting the band for being too industrial, while having industrial fans rejecting the band for being too metal?
Matt "The Lord" Zane: All the time. We are in a weird middle ground. Quoting a great man "...I straddle the fence and my balls hurt."
Brian Backlash: What event, or series of events, transpired to make you rebel against organized religion and work in music?
Matt "The Lord" Zane: Nothing ever made sense to me within society especially the spiritual aspects of society. My music is my medicine, my meditation, it's how deal with it.
Brian Backlash: According to your website, yourself and your bass player were recently socializing with Britney Spears and Kelly Clarkson, the former getting tattooed, the latter in an act of vandalism. Tattooing I can understand - but what's fun or interesting about vandalism?
Matt "The Lord" Zane: The mere fact that Kelly Clarkson was doing it.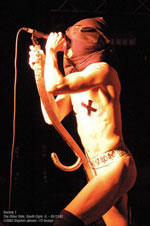 NINa: How important is the dark side of life for you? Could you mention three things associated with a term 'the dark side' and explain your choices please?
Matt "The Lord" Zane: Why 3? I don't believe in morality at all. I don't believe it exists.
NINa: Would you ever want to play a role of a 'dark' character in a movie? If so, what would you want the film to be about?
Matt "The Lord" Zane: Something about the Devil of course.
Brian Backlash: According to Lacey Connor of Nocturne, a couple of years ago you punched Edsel Dope right in the face for no particular reason. What's your side of the story?
Matt "The Lord" Zane: The guy told me to suck his dick and waved me on to go get him. So I did.
Brian Backlash: You seem very aware and integrated with your own sense of spirituality, going as far as to name your record "The Years of Spiritual Dissent". How have your methods of hedonism and debauchery strengthened yourself and your life?
Matt "The Lord" Zane: I am not influenced as easily as most males and much more focused.
NINa: I've heard you had been into making alt-porn movies. Is it another extreme thing you wanted to be involved in? How did you get into that business?
Matt "The Lord" Zane: I have made adult movies on and off for 10 years. I kind of invented alt-porn in a crude form but never the less I was first to get into that whole thing.
NINa: Where do you find the models for your movies? What does the job interview look like?
Matt "The Lord" Zane: These days their are agencies like any other entertainment biz.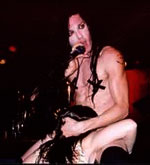 Brian Backlash: What's next on the horizon for Society 1?
Matt "The Lord" Zane: In the studio record Sadist Messiah. We will be playing Dave Navarro's Spread Entertainment July 30th.
Brian Backlash: Los Angeles is known for being a cut throat city for establishing a band in. What's your biggest difficulty in being based out of LA? What makes LA worthwhile?
Matt "The Lord" Zane: The weather is great!
NINa: How does it feel to hang for 5 hours constantly with your back skin punctured by 4 hooks only?
Matt "The Lord" Zane: 6 hours. World record. No man has ever been able to accomplish that before me. How does it feel? Like nothing I can explain but I will tell you I will never do it again.
Brian Backlash: You've said you polarize the world into converts and enemies. Who are your enemies, presently?
Matt "The Lord" Zane: To many to list. Besides do their names deserve mention from my lips?
Society 1 at Myspace
|
official website
---
Pictures come from Society 1 archive, all copyrights reserved by © Stephen Jensen, other authors.
This interview must not be used for promotional or commercial purposes. See a Legal Note for the copyrights below.