2008-04-29 |

Katarzyna NINa Górnisiewicz
and Brian Backlash |

e-mail interview
---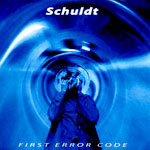 NINa: I'm only familiar with the album, First Error Code, but once I looked into Discogs.com I'm impressed by a number of your collaborations, even if they were only single remixes, which sometimes demand much more harder work than regular albums. Could you please point out a particular song of yours you are totally proud of, one which you don't like and another that has an interesting story behind it?
Tim: Well, for me it's hard to choose one as a favorite, but if I have to select one of them, I would tend to choose the remix of Eternal Afflicts "Isolation Comes". I really like Julia Beyer's (Technoir/Ex-Eternal Afflict) vocals and they made it pretty easy in matters of inspiring me. On the other hand, in the retrospective view I'm not totally satisfied with my VNV Nation remix of their track called "The Beloved". I had quite a different vision in the beginning, but at this time I needed to fulfill some specific requests towards the dancefloor compatibility. Maybe this explains, why some of the listeners of that remix were pretty surprised of the big change in the middle of the track... Anyway, today I would reject such concessions...
Brian Backlash: As NINa mentioned, you've done a lot of remix work. How did you get involved in doing so many? Do you think your remixes improve upon the original work, or simply offer an alternate version? What do you think the ultimate goal of a remix should be?
Tim: There's not a big story behind: for some of the remixes I was asked by the artists, others came up from some labels I knew or worked with and the rest of those artists/bands I made the remixes for were just friends of mine. Most times I keep the vocals as a sort of skeleton. This will be the guideline for me to set it in the context of my own vision without destroying the innermost idea of the song, but to achieve just another interpretation in my very own way. So in my opinion all things I just mentioned would be the ingredients of creating a good remix.
NINa: What is your opinion about these days 'industrial' scene in Germany? Do you respect bands like Rammstain or Oomph? Are they 'industrial' enough to you at all to fit the style?
Both: The industrial-metal scene in Germany is regrettably quite shrunken today Are there - besides Limbogott - any good bands left, by the way? ;-) Nowadays Rammstein will seem to us sort of more "industrial metal"-like, yet in the 90ties Oomph invented a musical language that defined some industrial foundations. Today Oomph has grown quite commercial in the meaning of being more like a conventional rock band, whereas Rammstein are just hugely popular with their very own style which is still a bit more, let's say, dark and heavy.
Brian Backlash: Do you view Germany as having a diverse musical landscape? What are the current trends there, in music?
Both: Indeed Germany has a wide spread musical landscape, probably not that different from other countries, especially all the mainstream stuff. Concerning the more underground or independent stuff, there are many huge scenes: Metal/Gothic/Wave/EBM/Techno etc. Here in Germany there are several of the really big and worldwide known festivals (f.e. Wacken, Wave Gotik Treffen, Love Parade etc.) which testify that all these genres are still very alive.
Brian Backlash: Over the years, the number of bands working in the industrial vein has grown exponentially, while the fan base has gotten smaller and more geared towards EBM and Gothic styles. How difficult is it for you to stand out from the crowd and make an impact in such a musical climate?
Both: Yeah, these circumstances sometimes will seem like a big burden to us, but somebody has got to do the job! ;-) Well, to be honest, we are just creating the music which we want to and which we like. In the first place during the creation of that music we don't think of any trends.
NINa: Do you prefer working on your own or with other musicians?
Myk: It depends on the state I'm in: Sometimes I enjoy writing songs on my own, and then again I crave to be back within a circle of musical comrades.
Tim: I agree. I have to say that both "worlds" are really cool and important to me. I think it is pretty refreshing sometimes to change from the one to the other. After working alone most of the time in front of the computer, it's really a great change to be with other musicians or band members in the rehearsal room just playing together or creating new stuff.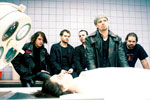 Brian Backlash: Do you work on music regularly, within the confines of a schedule, perhaps? Or do you focus on your craft when the mood and inspiration strike?
Myk: Ever and anon a break is needed to gather new inspiration. In the past I forced myself to write endlessly, even without being inspired, but there were too many song ideas of minor quality. :-)
Tim: I work on music on a daily basis, but this doesn't mean that it has to be my own music. Since I have a studio for recording and mastering, I'm pretty busy with doing some stuff for others - which is really fine. On the other hand sometimes I am missing some spare time to take care of my own things.
NINa: Because you work mostly with electronic music I suppose you have some great gear and software. Do you prefer Apple or PC?
Myk: For me it's all one. I record my ideas with an old ghetto-blaster. And in the very most urging need, I still can turn to my Atari of 1988. ;-)
Tim: Well, what to say, I work with both platforms, but in my innermost heart I'm a big Macintosh fan. And anyway I'm a huge equipment addict, there is always something on my wish list, but during the years I had the chance to collect some nice gear. But there will always be the next nice toy...
NINa: What fascinates you the most about making music?
Myk: One idea is fascinating me, concerning making music: if I had not sat down one particular day to create an idea, this song would never have entered the plain of existence.
Tim: I have no choice, I'm forced to make music. ;-)
NINa: Do you read a lot of literature hardware, software and other music making tools and issues, like Charlie Clouser does?
Tim: Indeed I read quite a lot of literature concerning music and all related things. Sometimes I even get suggested to better read some real books instead of all that music stuff... ;-)
Myk: I read a lot as well: Nabokov for example or Tolkien or Beatles lyrics.
Brian Backlash: You've also released a few songs onto compilations. Do you find compilations to be a successful marketing tool?
Both: Sure! But: if you are really famous you even might get "over-compilated". Luckily we are not in that danger!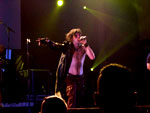 Brian Backlash: With your music appearing on dozens of compilations, remixes and other releases, have you seen a significant financial return on your music, or has file sharing made that difficult or impossible?
Myk: There was never enough financial return, in all my ages!
Tim: Well, it's hard to say. Obviously there is a big change going on in the music scene concerning the financial aspect, but I hope there will be some way in the future that bands and artists can get back at least a bit of their time, heart and effort which they put into their music, to be able to create some more stuff in the future. I guess there is still a big need for a good way of using the technologies we have nowadays. Definitely this mess with copyright laws and people who still want to get their media faster and cheaper than the cost of a CD does really need a good solution for both sides!
NINa: When you get new software, do you learn it from studying the accompany literature or do you feel it through instinctually?
Myk: I have not even the tiniest instincts in such matters. I can only press the buttons I was told to.
Tim: Whatever it takes! Can't say much more...
Brian Backlash: What are your strengths and insecurities as an artist?
Myk: I think I'm able to create special weird atmospheres, yet sometimes I believe it might not be disastrous to handle the craft of real singing.
Tim: There are always things I would like to improve myself concerning music; maybe that's one of the reasons I like to read so much literature etc... In the first place my strength is to be able to switch on my studio! ;-)
NINa: Is composing music for the cinema or for records easier? Do you prefer to make music that has no specific audience in mind?
Both: When we sit down to make a new song or track, we don't have a specific audience in mind, but of course it is no question that this is going to be heard by people who belong to a specific audience.
NINa: Your industrial-metal band called Schuldt http://www.myspace.com/schuldtband finished recording and mixing their second album last year. When do you plan to release Major Disaster Area and how do you want to distribute that album?
Both: Well, actually we're still not done with mixing yet and because of that we are still not able to announce a specific date regarding the release, but you can be sure that we're on the case and we're pushing things forward as hard as we can. It should be definitely expected in 2008. Concerning the distribution, we want to try several possibilities: on the one side we're going to check out the traditional ways with labels etc. and on the other side of course also the opportunities which are given through the Internet.
Brian Backlash: Has Myspace helped you push your work forward and gain you considerable exposure, or is it just a website to you?
Myk: It is a useful tool, no question. My Atari however is not that much in that web thing.
Tim: I agree that Myspace is a very good connective and promotional platform; if it was "just a website", then it wouldn't be that successful and spread. I really like the idea of networking and being able to find bands or artists who I would never have found without Myspace. And this just relates to the question if Myspace is pushing us forward, because obviously it's easier for people to find us! If that wasn't the case, we wouldn't do this interview, right?! ;-)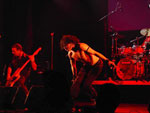 NINa: Myk Jung is doing the vocals for Schuldt. I remember him doing really good work in Testify, to me the best German industrial metal band (before Schuldt!) ;). I think he was the best choice for Schuldt. How did you meet and decide to work together?
Myk: Thanks for the compliment! Well, we didn't know each other when in 2002 Tim was seeking a singer for the titles he already had created. A mutual friend advised him to contact me and thanks to his good instincts, we straight found out that we complement each other very well! The funny thing about it: when we met the first time to record some of the vocals, we found out that we're actually living only about 1km apart from each other, but for that long time our ways never crossed before.
Brian Backlash: So far Schuldt has only the one full length album. When can we expect to see the follow up for this album? Will it be appreciably different from First Error Code?
Both: As we mentioned before, Major Disaster Area will be released in 2008 and you can expect the album to be pretty different but still authentic. Since we grew to a "real" band including altogether 5 people - besides the two of us there are Kai Angermann on drums, Ulf Häusgen on guitars and Jannes Vassiliou on bass - the whole process of creating this album was much different compared to the first album. The new material is definitely more song orientated, a bit more "metalish" but still includes a lot of electronic stuff. Keep on checking our Myspace site
www.myspace.com/schuldtband
and visit our new website majordisasterarea.com /link inactive/ for more information, snippets and more!
NINa: (to Myk) Are there any unreleased Testify songs?
Myk: As far as I remember, there's no material left to be released, sorry!
NINa (to Myk): I talked to Adam Grossman (ex Skrew/Ministry) about the Mmmyaoooo album he produced. Did you like working with him? What was the most specific thing you liked about his studio work?
Myk: I appreciated the work with Adam very much and I would like to repeat the cooperation with him for any sort of future project. He had a great input in those glorious MMMYAOOOO sessions. Moreover he grew a friend of mine.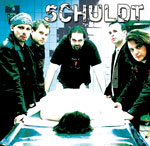 Brian Backlash: How long does it usually take you to finish a song? How do you know when you're satisfied a song is finished and ready for the public?
Both: Roundabout 4 years! LoL
Myk: The basic idea of some titles are found within mere minutes, but to shape them to the very end often requires months. Yet this one fact remain: some special titles demand more time of growing than others.
Tim: Yeah, pretty the same to me, but apart from this - proved by the remix work I did - I'm also able to deliver a finished tune within a requested time schedule. So it is possible to create and finish a whole track in a couple of days, but I have to admit that there are some tracks you'll be never satisfied with or which make you think you'll never reach the completion.
Brian Backlash: Do political or social issues influence your work at all?
Both: Of course they do influence, but to be honest there are so many things influencing the music; so politics and social issues are just a part of it. This world made by mad mankind, bears numerous phenomenons that may bring forth your anger and a sort of - for example - political and religious rebellion. So you might consider our musical construction as a kind of instrument to articulate our rage.
NINa: The death of Paul Raven was a shock to all his friends and the fans as well. Did you know him personally?
Tim: I knew Paul "personally" via emails. He did a remix of a track of the First Error Code album called "Traced Back" for a maxi CD. We mailed through that period and recently, right before he died, we were in contact again. We had the plans to meet each other at one of the Ministry shows during their last tour in Germany, but just a couple of days later I also was in a big shock when I found out that Paul has died. May he rest in peace!
Both: Thank you for the interview and support. Stay tuned for some news on our sites soon and prepare yourself for the upcoming MAJOR DISASTER AREA...
Schuldt at Myspace
---
Pictures come from Schuldt's archive, all copyrights reserved by © their authors.