2008-04-29 |

Katarzyna NINa Górnisiewicz
and Brian Backlash |

e-mail interview
---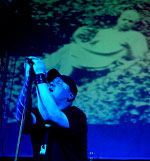 Brian Backlash: You first formed the band in 1993. Were any of you involved in projects prior to starting Pedigree?
Bonne: Oh yes, we had a funk-influenced metal band called Vortex... and Leslie had his own band Misnamed... and we both had some not so important fun projects as well. And all guys in the current line-up had also several bands and projects before and during Pedigree.
NINa: Are you the only industrial band currently active in Estonia?
Bonne: No, there's a few more out there...No-Big-Silence, the more mainstream and poppy version of industrial rock...and Forgotten Sunrise, more into gothic, darkwave and EBM kinda thing...also, Finish Me Off who played modern metal with some industrial elements, but I think they recently disbanded.
Brian Backlash: Estonia isn't well known for being a hot bed of heavy music, at least not in the United States. Do you find people there take to your music easily, or is there some kind of cultural resistance?
Bonne: I guess it's got to do with the Soviet Union and all the iron curtain shit. But we are doing fine now and everything develops pretty fast. And narrow-minded people just become extinct. We'll put Estonia back on the map in the near future.
Brian Backlash: How does your name reflect or relate to the attitude of your band or it's music?
Bonne: We have one of the best band names ever and it totally sums up our music and attitude. It's got nothing to do with dog food although I already like that parallel too. Actually, the first time I spotted the word was in 1992, in a Carcass song title.."Pedigree Butchery"... sounds and looks so fucking great... love at first sight. I'm really proud of our name and our logo.
NINa: Is it fair to say that due to the Internet, the record industry is going bankrupt, and that it's much more common for bands to take on the tasks of promoter, graphic design, webmaster, book keeper and lawyer? Has the internet killed the music business, or is it helping bands in self-promotion and earning money from their efforts?
Bonne: Well... y'know... all this shit been recently rattling and boiling so much in the media that i'd really like to skip the longer discussion on that. All I can say is.. there's always two sides to a coin.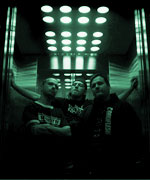 Brian Backlash: What's the biggest non-material reward you've garnered from working in this band?
Bonne: Everything that's non-material... my soul.. my life...
NINa: Do you think the music industry is taking the brunt of the downturn in sales, or is it affecting cinema, video games and other software markets?
Bonne: Yes I think so... but of course it affects other shit too.
NINa: How do you go about writing your songs? What do you usually start with first?
Bonne: Oh, there is no formula or certain agenda. As I write all lyrics.. I already have some basic idea for the riff or tune too... but as I said, it might vary... all other guys come up with ideas also... sometimes the song starts from a sample... from a sound on the street... from a scratch... we generate lotsa stuff from films... from the world surrounding us... lives we live.
Brian Backlash: What do you think is the quintessential Pedigree album? Is it also the same album you're most proud of?
Bonne: That is always a tough one for me... I'm proud of all of them... I'm not the one to judge... but I'm always most excited about our next album.. hahahaaa
NINa: Do you work in a studio, or do you create your music at home?
Bonne: We have our own studio... which is a mental and physical home/asylum for Pedigree... of course, everybody can write stuff at home too...
NINa: Where are you more popular - Estonia, Europe, or the USA?
Bonne: Obviously, in Estonia... our country is so small that if you do at least something worth to bark about, quite much everybody knows you... but yeah, Europe somewhat already acknowledges Pedigree... and USA is anyway on all fours.. hahahaaaaa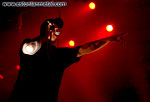 Brian Backlash: You've shared the stage with a lot of well known metal and industrial metal acts. Which band was the most impressive? What made them impressive to you?
Bonne: Well, almost all people we've met down the road have been fucking cool... fuck man, Metallica invited us guys from support bands onstage to sing "So What" with them... that was a huge thing... nearly 80 000 people... can there be anything more impressive, haha? But yeah, I still chat with many guys from the bands we've played with and I'm in touch with many of the household names of the genre.
NINa: Do you have any particular preferences when it comes to instruments, operating system, software or sound systems?
Bonne: Oh boy... there's shitloads of gear we use and abuse... but I'll try to mention some... on the soft side Native Instruments, Logic Studio Pro, Addictive Drum... on the hard side Fender, ESP, Jackson, Mapex, DDrum, Fostex, Marshall, Mesa/Boogie, Paiste, Korg, Yamaha, Shure and many more. Also, we are endorsed by Vans.
NINa: I find a lot of Godflesh's influence in your music. Are there any bands who inspired you that much as well?
Bonne: Oh well.. hell yes... besides Godflesh, of course The Young Gods and Ministry been a huge influence... stuff like Swans and Neubauten... Nine Inch Nails... on the other hand things like Pink Floyd or PJ Harvey or old-school rap and hiphop... definitely Faith No More and Pantera has this certain influence on us... Massive Attack, UNKLE, Tricky... bands like Neurosis and Isis.... different film scores...Pitchshifter's "Desensitized" album played an important role back in the days. All Scorn stuff. That's the music we love...always a great source of inspiration.
Brian Backlash: What's the name of your new album, and where can people go to pick up a copy?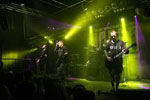 Bonne: The working title for new album is "Skeletal" and most likely, we'll stick with the name. Seems like we'll release it again through our own PedigreeSonicUnderworld imprint... and you can keep yourself updated at our website... www.pedigree.org.ee (under construction at the moment)... there you'll find older albums and merch to grab too. Also vistit
www.myspace.com/pedigree1
Brian Backlash: "March of the Blades" is a really fantastic song, and is currently one of my favorites. The production and composition is brilliant. Do you produce all of your own music, or do you bring in collaboraters and other producers to help you achieve the sound you're looking for?
Bonne: Yes, "March of the Blades" shows pretty much the direction we took for our forthcoming album. Colder, tougher, simplier, heavier and more stripped down. We always produce our music ourselves but we are at the same time always open to collaborations with cool people.
Brian Backlash: What do your families think about the music they make? Do they support you in your endeavours?
Bonne: I'm not the right person to talk for all of us. But my folks support me all the way. And I love and respect them for that. Because I know... it's not easy to have a son, brother, husband and a dad like I am.
Brian Backlash: Have your live shows been primarily contained to Estonia, or have you made it out of the country to do shows elsewhere? Where are some of your favorite places to play?
Bonne: Yes, besides Estonia we played pretty much in Finland... also Germany, Russia, Latvia... but yeah, nothing feels like home y'know... I think home will always be the best place to play...
Brian Backlash: What is the ultimate goal you hope to accomplish with Pedigree?
Bonne: You know... even if I'd die right now... I'm happy with everything I accomplished with Pedigree... but well yeah, there's much ahead... there's lotsa things still to come.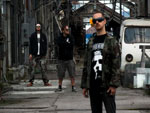 NINa: What are your general opinions on Estonian people and it's culture?
Bonne: To survive all those wars and regimes through all history... to struggle and fight yourself free again... for such a small nation... that's something awesome. Brave country, brave nation, brave language, brave culture.
NINa: Is there any Estonian meal you enjoy the most?
Bonne: At the end of December, it's sort of a tradition to enjoy all the different food the Estonian cuisine has to offer... and believe me, some of that is really obscure for foreign people. So visit Estonia during Christmas and you'll get the picture... And there's an old Estonian proverb that goes something like this: an Estonian's favourite meal is another Estonian...hahahaaa.
Pedigree at Myspace
---
Pictures come from www.estonianmetal.com and Pedigree's archive, all copyrights reserved by © their authors.