2006-09-16 |

Katarzyna NINa Górnisiewicz
and Brian Backlash |

e-mail interview
---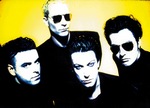 Brian Backlash: Burning Retna utilized a lot of up and coming technology in your recordings and performances. What was your favorite electronic device to use and abuse?
Chris Bradshaw: Hmm, I'm probably not the best one to answer this as I was primarily concerned with writting the lyrics and vocal melodies etc. , but as I recall sampling was in its infancy, and I remember being very impressed with the S 1000.
Brian Backlash: You've just released "The Frozen Lies" on the well known Cleopatra label. Why did you decide to wait 13 years after the formation of the band to finally release any material?
Chris Bradshaw: After the band went our separate ways, Cleopatra released "Write My Name In Blood" as a taster on the The Black Bible (a 'Goth' compilation album), and was prepared to realise what is now, "The Frozen Lies," as a follow up. However as all involved in Retna had, by now, other projects they were involved in, everything
just sort of fizzled out. Also I think everybody was just too burned out with the whole thing to really be bothered, which in retrospect, was a pity.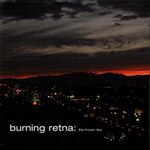 NINa: The new album by Burning Retna entitled "The Frozen Lies" was released by Cleopatra Records. Cleopatra seems to have a wider distribution in Europe. Do you find it a more supportive market in Europe as opposed to America or Japan?
Chris Bradshaw: Whilst it's true that Cleopatra does have a certain global distribution network in play, I'd have to say that, in our case anyway, the answer to that is no. The album is unavailable in record stores in Europe, however the opposite is true in the U.S and Japan.
Brian Backlash: The band has had quite a few lineup changes over the years. What was the most beneficial aspect of having so many different musicians involved?
Chris Bradshaw: It's to be born in mind that the hardcore nucleous of the band was Mick Cripps, Sean Beavan, Charlie Clouser and myself, and that the vast majority of the material recorded (over 30 tracks) centered around that line up. That said, Kelly Nickels DID bring a definite attitude to the project in both writing, recording and playing live, which we never did when Sean was in the band.
NINa: It must have been an incredible time in the mid 90's when you had the opportunity to work with Sean Beaven and Charlie Clouser. Was it difficult to bring everyone together?
Chris Bradshaw: Burning Retna was really Mick's baby from the get go, and indeed it was Mick that bought us all together (in LA). I had known Mick since his time spent in London (we had been in a band together prior to LA Guns), and I guess he just liked the way I thought and put things together! As for Sean and Charlie, Sean was LA Guns' sound man on the road and Charlie was a friend of a friend, and subsequently none of us really knew each other. That said it just all kind of worked.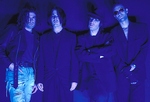 NINa: What did you like the most about working with Sean and Charlie?
Chris Bradshaw: Those guys were incredible to work with, as was Mick (who, and without sounding like I've got my tongue up his arse, was in my opinion one of the most underated guitarist around at the time). As for Sean and Charlie, it was amazing to watch those guys work. Their dedication to their craft (and technology!) was awesome to behold, and it was obvious to me that one day they would reach the top of their game (I still tip my hat to Clouser for sitting up till 6 in the
morning every night, tweeking sounds whilst the rest of us slept it off!).
Brian Backlash: Burning Retna disbanded around 1995 when Charlie Clouser left to join Nine Inch Nails. Was it Clouser's departure or a sense of finished business that concluded the band?
Chris Bradshaw: Unfortunatly there really was no sense of closure, as I said things just sort of fizzled out. It wasn't until earlier this year, when Mick and Myself were
sitting round one night reminising, that we got around to listening to the 'old' material and realised just what a great project we had all been involved in,
hence our desire to finally put out the album.
Brian Backlash: Do you think the band accomplished it's mission of creating a soundtrack for new millenia?
Chris Bradshaw: Hmmm, only you can answer that one! I think that tracks like 'Portrait of Charlotte', and 'Walk Across the Wasteland' came very close to realising our collective vision, but it's to be born in mind that we had very poor management, and virtually no record company support (we weren't on Cleopatra at the time), so in some respects I don't think that we ever really had the chance to reach our potential.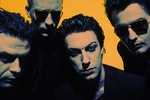 Brian Backlash: You've listed people such as Steve McQueen and Charles Bronson as influences. How do these tough action stars of the 60s and 70s affect the sound and mindset of Burning Retna's music?
Chris Bradshaw: Definitly our mindset, hence probably our sound. There is an almost cartoon like quality to actors like Bronson, and the way in which their movies deal with the very real issues of violence etc. are often laughable. Burning Retna, I think, to some respect reflected that, and subsequently sometimes our tongues
were planted firmly in our cheeks.
NINa: Your coldwave style of music reminds me of bands like The Mission, Bauhaus and New Model Army. Are those bands some of your major influences?
Chris Bradshaw: Whilst I (We) like(d) those bands, I don't think that anybody really influenced us. We were more interested in getting the most out of the emerging
technology of the times.
Brian Backlash: If you could go back in time, what would you change in regards to the project?
Chris Bradshaw: As I said, there was a very poor support structure surrounding the project, and this ultimately took its toll. I guess you could say that the 'powers that be' just didn't "get" it, and if they don't smell big bucks, ulitmately they don't want to know (has anything changed?).
NINa: During the LA Guns era, were you in the band at the same time as Axl Rose?
Chris Bradshaw: Mick has asked me to, respectfully, point out to you that Axl was (is) in Guns and Roses.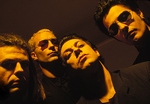 NINa: What interesting memories or stories do you have from your time with the LA Guns?
Chris Bradshaw: And again, without sounding petulant, Herr Cripps has asked me to state that he no longer wishes to talk about his time in 'Guns'.
Brian Backlash: Burning Retna played a lot of shows in the LA area in the mid-90's. Did you ever play any shows with other like-minded area bands such as Penal Colony and STG?
Chris Bradshaw: Unfortunately not. In fact we weren't really aware that any other bands were making this kind of music (locally) at the time - which is a pity.
Brian Backlash: Now that you've released this compilation, do you have any intention of resucitating Burning Retna? Does the idea of even a couple of one-off shows interest you?
Chris Bradshaw: Let's just say that the world hasn't heard the last of us yet!
BURNING RETNA AT MYSPACE
---
Pictures come from Burning Retna archive, all copyrights reserved by © Burning Retna.