2007-07-07 |

Katarzyna NINa Górnisiewicz
and
dugoutTX
|

e-mail interview
---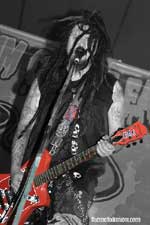 NINa: You have this great opportunity to live and create in Texas, where we've found the most interesting bands so far speaking of industrial-rock/metal music. So let's start the journey through your career. 1990, Demiltry at the age of 19. Have you ever released any of the band's songs? Who was in the line-up and did they continue their music making interests after Demiltry's split up?
Mike Riggs: Some of the songs on BLAH...BLAH...BLAH... where from that band... MURDER SONG, NOTHING GIRL... and Brandon played bass in Demiltry and now in SOTE.
NINa: Next, around 1992 you joined one of the best industrial metal bands of all times - Skrew. What is your take on the legacy of Skrew? Of the two possible stories, we'd like to hear that longer one please ;)
What legacy? I don't know about the two possible stories, but from what I remember about it my friend Danny Lohner was starting up that band and was looking for musicians so we geared up hit the road forever and he left to join NIN I did one more CD with the band and left to join PRONG..... so I was only around for the first two CD's..... and that's it.
NINa: 1992 I suppose, another great and unfortunately undervalued project called Burn you founded with the other ex-Skrew member Clay Campbell. I had a chance to listen to some of its songs and I wish they was remastered and re-released :) Have my promotional support with it, because they're the best vibes I've heard since Skrew's break up! Was this stuff ever finally put to CD from the actual original Mac files?
Just the ones I listed above... I use riffs from that band in everything I've ever done.... There where a lot of good riffs from BURN that I still haven't used yet... I was just a kid with nothing to do except write guitar riffs all day... now I'm to busy drinking. I was talking to Clay about releasing some of the BURN songs, but I don't know. We recorded those songs on a Mac classic in about 2 seconds 15 years ago, we didn't have a chance to really work on them, they were more of an idea than an actual song.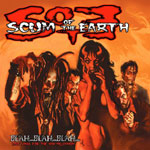 DugoutTX: What has Clay Campbell been up to lately? Are you still in touch?
Who are you ? I must know you somehow..... Yeah I still talk to him... He helped write some of the lyrics on the new SOTE CD SLEAZE FREAK...... He is busy being insane at the moment, or maybe forever.
NINa: 1994 - Prong. Rude Awakening is found as the best Prong's album by many music reviewers. Do you have any cool stories of that time to share with us?
Maybe...... When I was in Skrew we toured with Prong in Europe around '92 and I stayed in contact with Tommy Victor after that for about a year until I finally talked him into letting me be in the band. I never got to play on any Prong CD's but I did learn a lot about playing guitar from Tommy... He is really overlooked in the history of music and I think Prong influenced a lot of popular bands of today... the prong CD Cleansing was one of the first CD's I know about that had guitar driven music with the strip club vibe.
NINa: Few years later you met Rob Zombie who gave you a chance to play guitar for his newest album (Hellbilly Deluxe). Seems like you found a good company because with brothers Mike and John Tempesta you've been playing as Scum of The Earth for a few years. The new SOTE's disc sounds like its coming along great. Do you want to warn us about any surprises we may be in store for with this session?
John and Mike never toured with SOTE they played on the CD. It was fun and that was what that CD was all about. The new CD is more about kicking you in the face, it's fucking heavy and vulgar like never before... We really live up to our name on this new one. There aren't any surprises other than it kicks ass from beginning to end... I have never liked anything I have ever recorded before, but I really think this CD is going to surprise a lot of people. It's the exact opposite of what's going on in the music scene... Its not radio or MTV friendly... and a lot of people have been wondering what happened to the heavy music.... Here it is in its sleaziest form.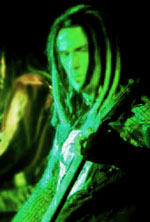 DugoutTX: Any possibilities of crews that you might hit the road with to support the new offering?
No idea.
DugoutTX: You seem willing to venture into new marketing avenues to get in front of a larger audience. Soundtrack work, CD Baby, iTunes, last.fm, etc.,... Some bands embrace all these new arenas while others have remained focused on only a few. What do you think of the current state of the industry?
Don't know, don't care. I just want to tour and whatever the record companies think they know next... good luck.
DugoutTX: You worked also with people from The Skatenigs and Auschwitz 46. Were there any more musicians known from other bands in your collaborative career?
Yeah, I've worked on music with everyone from The Neptunes to Courtney Love.
DugoutTX: You got involved with the independant film "Devil Girl" for example - is this the start of a more concerted effort to get your music in more soundtracks in the near future?
I thought that the DEVIL GIRL movie looked really cool... I like to help out independent films and friends who are making movies, ya know, anything to help out.... but I don't care what it gets used for... I am not trying to be political about songs....
DugoutTX: I really enjoyed the testosterone-fuled overhaul of "We Will Rock You". How did the Queen folks take to the whole revamping "Porn Star Champion" made on their old classic? Were they receptive or skeptical about the collaboration?
I saw it on the Brian May website, so I guess he isn't going to try and kill me over it..... That is a song I did for the any given sunday score with Michael Bienhorn and the Neptunes......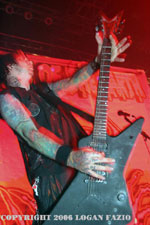 NINa: Would you like to make a movie someday? What would it be about?
I always thought it would be cool to make a really bloody gory movie about a serial killer who runs into another serial killer and have at it... but I think someone already did it.
DugoutTX: Have you been listening to anyone we need to know about? Who is currently on your personal playlist?
Yeah, everyone needs to check out DEAD HORSE (peaceful death and pretty flowers)
DugoutTX: Other areas of interest? Artists? Movies? Sports? Hobbies?
NO.
NINa: I heard you were into women a lot. What was the strangest place you've had sex in so far?
Where did you hear that?......... I don't think anyone wants to even think about that one.
DugoutTX: How did you get your first nickname "Possum"? Is there any good story to that?
Well of course... When I was a kid my Grandmother killed a opossum in the chicken coup with a vacuum cleaner... I told that story to someone and everyone started calling me that. It was a short lived nickname..... luckily.... How the hell do you guys know so much? Who are yall ?
DugoutTX: Any parting advice for those fledgling metalheads out there still trying to make a name for themselves?
There is nothing worse than advice.
SOTE at Myspace
|
official website
---
Pictures grabbed from SOTE's Myspace profile, all copyrights reserved by © Logan Fazio, themetalunion.com, and SOTE.