2006-04-09 |

Katarzyna NINa Górnisiewicz
and Brian Backlash |

e-mail interview
---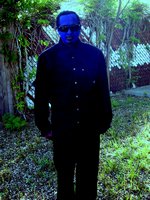 NINa: I don't know anything about you, besides the fact you make awesome music. Please tell us a few words about how you first got together - when and where you decided to start a band, whether you played in any other bands previously, and if you were influenced by any kind of music?
Rodrigo: It's mainly always been me and Mike (drummer). We grew up together in Rio Hondo, Tx. We started as a cover band in high school and soon after we began playing only original music. Our first band was called Spiral , later changed. We have gone through several different band members since we started but at the moment it's just us two. We recently worked on a side project with the band Guild. We have always listened to heavy music but also listen to different types of industrial and techno music. I think I have been influenced by all types of music. I have so much respect for all music. You take something from it all.
Brian Backlash: What was your initial reaction to hearing industrial music for the first time, and what made you decide to pursue that style of music with The Paramecium?
When I first heard industrial music I really didn't like it. I was more into metal than anything else. I do like different types of Industrial music but I'm obviously more interested in Industrial Metal. I think Ministry has inspired us the most. Although we do have many other bands and styles that have influenced us.
NINa: I'm addicted to the song System Lost. Where did you take the laughing and dialogue samples from?
Dialogue comes from the film Lost Highway, David Lynch. I like this film for it's dark artistic vision. I think film and music fit well together sometimes.
Brian: You've been making music as Paramecium since 1994. In that time, what has been your biggest achievement with the band?
I think the biggest achievement is the transition into our current style. Our style is definitely going exactly where we have always envisioned. We've been fortunate to get the equipment necessary to create our ideas. I think our attitude has contributed to our on going efforts as well. I don't think I could live without creating music. It's what keeps me alive and reinvented.
NINa: You wrote in your profile, "Being original, different, and real is what keeps us going." Is it difficult to make original music these days? What do you think it takes for music to be called original?
I think it is a lot harder to make original music these days. What hasn't been done? Everything. I respect musicians out there who express there own creativity and uniqueness. When we create music we try to think of the future through our own eyes. I think for it to be original you need to have your own vision, you need to be different, you need have your own style and create something so unique. Sometimes the past has a way of coming back in a different light.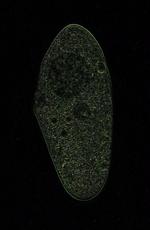 Brian: On your Myspace profile (include link), you make a point to tell your audience that while you use synthetic percussion in your recordings, you use a live drummer for your shows. Why is that?
Well currently record our own music and recording live drums has not been perfected as of yet. It is a challenge to record live drums but we are definitely including that sometime in our future recordings. Once we're done with our set I'm sure we'll work with some local studios to record live. For now we will use synthetic percussion. We actually use both live.
NINa: Do you have lots of live shows, or is The Paramecium a studio project only?
Currently we are not doing any live shows. We are working on a set for live performance as well as new songs. For now we have our keyboard parts, bass parts and sample parts preprogrammed. We wouldn't mind finding some other talented musicians to join us but for now we feel the show must go on.
Brian: You've stated that over the last twelve years your musical style has changed and altered quite a bit. What were your early incarnations like, and how did your sound develop to the level it is today?
I think all the different bands we've listened to has changed us. Going back to our early days we had a metal/grunge sound. Nothing but guitars, bass, vocals and drums. After listening and being introduced to the psychadelic culture we started listening to music that had keyboards and samples. Combining the two only felt natural for us. So we invested in keyboards and computer software and that's when our music really altered into a more heavy trip sound.
Brian: How has being based San Antonio, TX been conducive to the success of the band? Are there other artists in the area that work in a similar vein as you?
San Antonio does have some local support for industrial/metal. Union Underground and Pitbull Daycare are probably the most well known bands right now from San Antonio. We came from a small town with no scene at all and coming here to San Antonio has opened a lot more opportunities for us.
Brian: How has the exposure of being on Myspace aided to the affluence of The Paramecium?
To be able to expose your music to people around the world I think is awesome. It's great to hear thoughts and feedback about our music. It's also good to know we do have fans out there for this project.
NINa: Could you recommend us any movie or a book you think has 'industrial' culture?
I personally like twisted dramas that take your mind into something unexplainable. The movie Pi is definitely on my list and the book I would recommend is The Doors of Perception and Heaven and Hell'. by Aldous Huxley.
NINa: I was browsing on the net searching for a website for The Paramecium but haven't found one. Do you plan to create one? If so, what will it contain?
We do have plans for a website in the future. Once we create it we will have the bands bio, current information, pics, and videos of live shows.
The Paramecium at Myspace
---
Pictures by The Paramecium, all copyrights reserved by The Paramecium.