2006-01-18 |

Katarzyna NINa Górnisiewicz
|

e-mail interview
---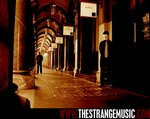 NINa: What is the concept of hiding behind the masks?
Syres (guitar)
We wanted to remove ourselves from the "cult of personality" and make people concentrate on the music created by the band rather than focus on us as individuals. Sort of a statement against the huge industry of celebrity. At the same time it's part of our image reminding people of the facelessness of the corporate culture and it's inherently psychotic nature.
Filth (drums)
No one is hiding. To me the masks are about the lack of self importance. It's nothing to do with not being recognised or anything like that. We are all alike as a species, I think that's the message I was going for. The masks show in part we're not interested in fame.... just fortune... hehehe
Are The Strange shows connected with any theatre performance? Do you try to influence people minds because of using some artifacs like for example the masks mentioned above?
Filth (drums)
I feel we're trying to make people think differently about music, and performance. There is so much boring music around... why not make it interesting..? Our music is somewhat mechanical and we do use graphics and theatre to broaden the possibilities (considering we have no vocalist). I think (or hope) that as we grow as a band we will put more into the theatrics of it all.. backdrops, lights, video are all important parts of the performance.
Devo (bass)
I think its harder and more challenging to make a gig part theatre and part performance art, than to say just have 5 guys up in jeans and a t-shirt onstage. Life is quite depressing these days, so it fuels the need for people to be entertained and for artists to offer some form of escapism. We always try to make our shows a cinematic experience, so that all your senses are hit all at once. I remember reading a review from one of our gigs and the review said "For me, words that allude to the Strange's music would include: Emotive, Cinematic, Running Through Midnight, Collision, Touch." which made us all really pleased, because she understood and appreciated what we were doing.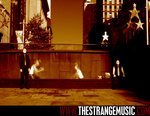 What does "the strange" name mean to you? That adjective has many meanings in English language...
Iso (synth)
For me, "The-Strange" is a term that has a double meaning, depending on what your point of view is. It reflects the suppression of the minority by the majority through their fear of what they don't understand. Conversely, the label "The-Strange" sets us apart from those who choose to live their lives ruled by fear.
Filth (drums)
When I was growing up and indeed now still, I always like the people I met who were a bit different... the people that weren't popular... or good looking or interested in any of that kind of stuff. Strange is good to me...different. kind of special in a way.
Can you recall any STRANGE events in your life? ;)
Devo (bass )
When you've involved in the alternative music scene, it tends to be a haven for a lot of deviant activity, drugs, alcohol, a source of creativity and a sense of rebellion so strange things happen all the time. I once saw a group of kids set fire to a pool table in a night club and continue to play on it, whilst it was burning which was quite amusing. You tend to see a lot of individuals doing some really pecurliar things when they're high too. People always look really stupid when they're on drugs and for the most part, they pretty much act the same as well.
I've also never understood why people listen to radio or watch TV...to me it seems strange to allow yourself to be bombarded with adverts all day. All that time spent staring could be put to far greater use I think. And I found it especially strange and worrying that during my lifetime, someone like George Dubya could not only cheat his way into office, but also get voted in legally for a 2nd term. I just didn't get it and I still don't.
Filth (drums)
Many strange events.... many... The strangest ones are too X-rated for this interview!
You have the new musician in the band. Did he adapt to you easily?
Filth (drums)
Iso and I have been playing music together for years now.. we met through a common friend while they were at university. He is a very talented player and can adapt easily to anything he works on. He is slotting in just fine I think so far... The really exciting stuff is yet to come!
Syres (guitar)
I think it's always hard coming into a band with a fairly established sound, but Iso's really found his feet and brought his own sound, feel and sensibilty to our songs. He also co-wrote a cranking new song with the band, a song showing a much more intense side to Strange.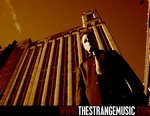 Is promoting bands at such music websites like Myspace or Purevolume make people either buy more records or use P2P networks instead of?
Filth (drums
) Well that's quite the conundrum... I think the web is great for advertising.. and getting your music out there... We as musicians have little choice, the cd is going the way of the dodo and we have to adapt to survive. I'm not a fan of downloading music.. I don't disagree with it, but we have to make a living somehow.... I tend to download a couple of tracks and then base my purchase of the artist's work on those tracks... I like having the cd and the artwork and all that.. plus I think you should have to pay for their efforts.. it costs money to make records...
Could you list your Top Five of favourite bands who influenced you please?
Collectively (In no particular order:)
Bjork, Underworld, Pink Floyd, Jethro Tull, Nine Inch Nails, Tool, Marilyn Manson, Janes Addiction, Pitchshifter, Smashing Pumpkins, Faith No More and Vast
What is your opinion about making cover versions of other bands songs? Would you ever do something like that?
Devo (bass)
- As a band we've talked quite a bit about doing a cover, both live and for the debut EP. I like the idea of a cover, because people can instantly identify the song, but then they get to hear you version of it and they can then gauge how much effort you've put in, or how creative you've been. Of course you have to pick the right cover, there's the usual ones which everybody does, "Tainted Love", "Take On Me", "Personal Jesus" and "Blue Monday" so if we do end up doing a cover, it would have to be slightly obscure but well known in its genre.
There's a Sydney band called 'Many Machines On Nine' and they do this fantastic industrial cover of Bjork's - Army Of Me and it works really well. The bassline and structure really lends itself to an industrial alternative sound. So I think covers are a good concept, providing you can add your own twist to it, make the song your own (but still recognizable). Most bands perform the cover exactly how it's written, and I've always considered that to be a really lazy approach. One of the truly great covers is Johnny Cash doing his rendition of "Hurt" by Nine Inch Nails and I'd even go as far as saying he topped the original.
Filth (drums)
Definately, I think that covers can be great. I kind of like bad covers too.One of the best I've heard recently is a Johnny Cash album which is all covers... he does a version of NIN Hurt, It's simply magic.. I hope the strange do decide to work on some covers in the future.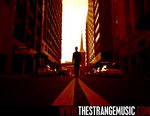 What styles of music are the highest rated in your country - Australia? Is alternative music in the underground there?
Syres (guitar)
A huge portion of the population seem to thrive on the latest mass-marketed, TV-created, recycled drivel. Terrible MOR pop, manufactured bands, plastic RnB rubbish, singers with no talent and Midi backing, awful electronica.... It just goes on and on, some locally produced but most courtesy of the United States. Fortunately there are independent radio stations playing local music of most styles and there's a pretty healthy local music scene, centering around live gigs in small to mid sized venues and pubs. Rock has made a real comeback over here - loads of bands sounding like a cross between ACDC, The Stones and any other 70's rock act. It's not great but it's better than pop punk.... Alternative is so hard to define these days but there is definately an underground scene of bands and artists that don't quite fit into whatever current musical fad is getting the media coverage. It is thriving though these days - the live scene has really taken off in the last few years as people lose interest in the cult of the DJ and return to checking out gigs once again.
Filth (drums)
Our kind of alternative is a little underground. I have been in alternative bands for years and the audience is growing compared to what it used to be. Mostly crap music is popular, I think that's the same anywhere though.
To sum up I'd like to mention your excellent website. It's clearly visible you take care about this side of marketing and communication with fans. Who's the main designer?
Filth (drums)
Well when it comes to our site thestrangemusic.com /link inactive/ we all have a little input there but the guy, the big Kahuna behind the marketing and design is really Devo. Our chance meeting all that time ago now has led to some really cool things happening in my life. He's the genius behind all the design. Plus Syres is quite the photographer, I think we might see more of his work in print in the future.
Devo (bass)
Well thanks! It's a collaborative effort really, the guys give me ideas and then I just take it from there using their direction as an outline. There's so many bands out there who have really dull sites or who only update them once every 6 months and we wanted to make sure we did the reverse. We post new music, news, interviews (like this one!), video clips all the time, plus we have a web journal which we all access.
I guess the most interactive part is the forum, that's the real hub of the site where everyone gets to talk, discuss and interact with everyone else. That's how it should be, freedom of expression and open communication - its this really cool community, full of some really creative and talented people and we consider them all to be part of our little family. As for the imagery on the site, it's all the work of Syres and his incredible photographic skills, I really don't have to do much, I just arrange it all!
Myspace
---
Pictures by The Strange, all copyrights reserved by © The Strange.