2007-12-01 |

Katarzyna NINa Górnisiewicz
|

e-mail interview
---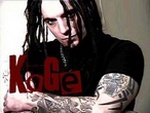 NINa: Where does your nickname come from?
KaGe: My mother gave it to me when I was a baby.
Summer is over, dark and gloomy winter days are coming. Does the season inspire you in any way?
Actually it does, I hate bright sunny days, and I get alot more time to write and produce.
Are you more a person who works better late hours or do early mornings suit you better?
Definately I'm a late person, I usually work most hours after 10 pm.
Seems like the Americans are kind of hyped about Halloween. How did you spend this day?
Working in my studio.
I found you over Myspace. How much time does it take you to add new friends, manage friends' requests, reply emails etc. per day? May it be addictive?
Addictive? Definitely not, in fact the most time I do spend on Myspace is answering fans mail and comments. There are some very cool people out there!
What does piss you off the most as for the internet based friendships?
*laughs* That most people try to look like whores. j/k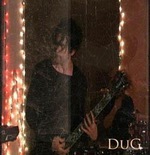 What is the main strength of Myspace to you as a musician? Aren't there better services for bands to promote their music through?
I'm sure there is, Myspace is great to bands everywhere, but we'll be looking into that the closer it comes time for the CD's release.
There are you and DuG in the studio. Do you feel you two are enough?
Definitely, I feel we write very well together and it's much easier to create with the least amount of people.
You've just found new live musicians. What were your priorities for making a choice when musicians began sending you replies to your offer?
Attitude, skill, looks and a willingness to totally commit to the project.
When could we expect your shows?
Mid to late Feb.
Do you plan any surprises or spectacular, thought provoking visuals for the shows?
Absolutely!
There is Godflesh in your Myspace Top Friends. What does this band music mean to you? Have you been their fan?
I have nothing but love for them... they are Gods.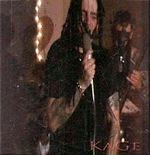 Nik Skumm and Kristov of Marazene appear in your video "Morphine" taken in 2004. Did you ever plan on making some music or shows together with Marazene?
We love those guys, I'd love to, but all that remains to be seen.
What is your most favourite software for music making and why do you find it so great?
We use alot of different software, we like Adobe Audition, Fruity-loops, and Pro-Tools mainly.
Can you remember the first ever song lyrics you wrote? Can you recall what the lyrics were about?
Yes I can, I remember they were very lame. *laughs*
What's the main idea behind Oblivion M? What do you want to achieve with the project?
To create surreal soundscapes of pure emotion. We hope to achieve nothing but what we think is in our best interests.
Note: Oblivion M formerly Kage vS The SuCt.
Oblivion M at Myspace
---
Pictures come from Oblivion M archive, all copyrights reserved by the band.