2007-06-07 |

Katarzyna NINa Górnisiewicz
and Brian Backlash |

e-mail interview
---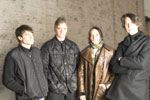 Brian Backlash: You've recently announced the release of your debut album, which should be sometime in September of this year. You've been mum on the details so far as they've been up in the air - do you have any details you can share with us now about this album?
The album will probably be called "The Spoils" and will be out in September on Fuzz.
NINa: Where did you find Gary Call? His voice sounds very significiant and will arouse the interest of your audience for sure.
Gary is a musician I've seen perform with a few different bands here in Nashville. I thought he had a very good voice and presence, and is also a very good all around guy - writes, plays many instruments, is very tech savvy, etc...
Brian Backlash: Is the creative process in fairly democratic, or do you work on a "what works best" kind of basis? Did you write any lyrics for the music prior to Gary Call's arrival?
We go with whatever sounds best for each song. Most of the material begins as a piece by one of the individuals, and then gets the 'group treatment'. We had a lot of lyrics written before Gary came along, then we re-wrote it.
Brian Backlash (to Gary Call): You're an unknown singer working with some quite reputable musicians. What do you think Paul and Duane liked about your vocal
style that they decided to recruit you?
I don't know, I guess they just like the fact that I can hit notes without overdoing it, you know? Our favorite vocalists are not necessarily the best singers; if that was all that mattered, I'd stay home and listen to Pavarotti!
Brian Backlash (to Paul Baker): It's entirely refreshing to hear the new material you've written with your new band - it's a complete departure from the music people normally associate you with. How did you end up working with Duane Denison on this project? Did you have anything specific in mind when you began?
I've know Duane for years, we have a lot of mutual friends, etc. I really liked the stuff he was doing with Tomahawk and since I'd quit Ministry I was ready for some new challenges.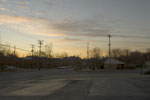 Brian Backlash (to Duane Denison): You initially got into music playing classical guitar. How did you evolve into a distortion fueled rock guitarist? Do your classical origins influence the work you do now?
I actually played piano before I played guitar, and sang in a church choir (before I got kicked out due to smoking, sexual abuse, etc) also. I already played rock before I played classical guitar, actually....so it was easy.... The classical training was good, I learned a lot about chord voicings, form and structure, tone, etc.... Franz from the Young Gods has a similar background...
NINa: Were there more controversial events like that one in Odd Rock Cafe in Milwaukee, Wisconsin where David Yaw, a lead vocalist for Jesus Lizard showed his boner to the public while performing a song "Tight and Shiny"?
There's too many to remember them all, honestly.... I liked it better when the audience took their clothes off!
NINa: (to Paul Barker) Scratch Acid was a band formed in 1982 where two of later Jesus Lizard (David Yow) and Ministry/Lard (Ray Washam) musicans played in amongst others. Yet again Jesus Lizard and Ministry ways have crossed because of your bass player Paul Barker who spent 18 years in Ministry working for its 'cult' industrial rock band status. Paul, do you miss the Wax Trax! ays?
Not really. It was a lot of work.... I'm not a very nostalgic person.... I'm cold, dark and evil! Aaargh!
NINa: What's the most remarkable thing you remember about alternative music of the 80's and 90's?
It was sometimes very exciting and abrasive, and actually penetrated into the mainstream consciousness..... and then it became regimented and codified for more commercial appeal.... and then it disappeared.... and now the independent rock scene is wimpy and dull..... it's time to take it back!!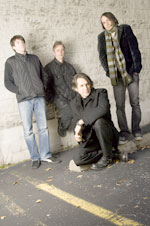 NINa: (to Paul Barker) Your bass playing is very 80's cold wave orientated, so the early Ministry albums were very significiant and their music easy to recognize because of your technique. Did you feel compromised in terms of style with the more rock and roll approach of Ministry's later work?
No, I just moved on to other modes of expression.... computers..... sex..... computer sex.....
NINa: (to Paul Barker) Paul has been involved in many projects including his solo venture Lead Into Gold, as well as Lard, RevCo and Pigface. You are said to work with ex-Skrew leader Adam Grossman and present in addition to The Narcosis Design and Stayte musician Andy Whorehall. Will there be any album released soon of that collective?
I have no idea.....
Brian Backlash (to Paul Barker): You often do not use a pick when you play bass in a live set, tho it sounds like you do when you're in the studio. Which is your preference, and why?
I actually use a pick most of the time, Brian...on the USSA album, there's one song ('Cab Ride') that I pick with my fingers.... it must be my iron-fisted technique that fooled you!
Brian Backlash: You're planning a tour in support of the debut. What acts would you like to tour with? What do you take into consideration when looking for such a band?
They must be young and foolish, have low self esteem, and are willing to work for slave wages. Actually, we'd like to find someone unusual to tour with - not a generic metal or industrial band; something fresh!
Myspace
---
Pictures come from U.S.S.A. archive, all copyrights reserved by © U.S.S.A.