April 2nd, 2017 | E-mail interview by
NINa
| Submit for
an interview
|
professional review
| Read other
Fabryka interviews
---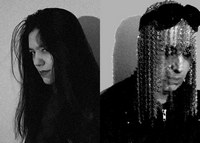 NINa: There seems to be a glass ceiling that industrial music had never had a chance to break through. There exist very few opportunities for industrial musicians to have their music licensed in mainstream movies or ads. Promoters & club owners may not be so eager to open the doors for such niche bands. The industrial scene seems to be a reflection of its people - the psychological problems related to negative ego and a lack of self-love, ultimately leading to a rather unsupportive environment.
What's your personal summary based on your impressions collected during 20+ years that you've spent listening to other people's music and writing your own industrial tracks? How could the scene be helped to break the corporate wall, considering that the music business has indeed changed a lot since the 90s?
Ammo & Sepsis:
We've only been active as Malice Machine for approximately 4 years, before that we were supporting musicians for various industrial/goth bands in the NY area. We really had no concise vision of what we wanted to be, kind of just drifting in other people's directions. At that time the door to Industrial music seemed to be more accessible thanks to the likes of
NIN
,
KMFDM
,
Ministry
, Skinny Puppy, etc., and other bands that have broken ground between underground and mainstream. When we finally pulled our project together, the genre moved away from potential commercial success by morphing into various sub-genres which also divided the unity of cultural identity. The scene now consists of people who only support a specific category of the Industrial genre such as Dark-Electro or Metal-industrial, with very little chance of crossover. For instance most clubs and popular internet radio channels don't play guitar orientated Industrial.
So we're in a position, now, where we have to try to appeal to all sides of the spectrum to gain a sustainable audience. Without any sort of support it would be impossible to break through the corporate wall. But truthfully, it's not what we feel industrial music was meant to be. It's a form of counter-culture, it's not really a mainstream expression of art which is the root of it's appeal and why we all associate with it. It's the voice that we want to hear, the sound that yearns to escape our souls. It's not going to sell cars or burgers and that's perfectly OK. All kidding aside and to sum this up, the scene is way too fractured to be a viable force to be reckoned with. It's ultimately up to the listeners to be accepting to all the varieties of this art form, and that's always been the challenge that every artist has to address.
NINa: What challenges have you come across in terms of touring? Are there any specific cities, or venues in the US which are industrial-friendly these days?
Ammo & Sepsis:
Digital Scars
is our first album so we're now preparing to perform our material live. Before this we only played in the NY area which is friendly towards this style of music. We specifically moved to Pennsylvania because it's a centralized hub to more cities such as Philadelphia, D.C, Baltimore, Pittsburgh, Chicago, and of course NYC. All these have had long term scenes and established clubs. We're also interested in the Southeast like Florida and up North to Canada.
As far as challenges go, we're a duo as opposed to being a full band so it's more difficult to arrange the material, especially since it really requires more members to perform. It'd be much easier if we were strictly an electronic band but unfortunately for us that's not the case. Until we find members with the right chemistry, it's more challenging but we're working it out between the both of us.
NINa: Your excellent Digital Scars album released this year features 13 songs - over 60 minutes of material. Have you addressed and expressed everything what was on your mind at the time of writing it, or are you already getting into new song ideas and working on the follow-up?
Ammo & Sepsis:
Digital Scars
was not formulaic, some of the songs were written over a couple of years so it's attitude doesn't express a consistent vibe. It was different feelings and experiences at different times. It's also taken us time to acquire the knowledge and ability to record, mix, and produce our own music. Of course there's things that we could vastly improve on but overall we're pretty happy with our first album.
In between preparing to play
Digital Scars
live, we're writing new material. Hopefully it will be a better bridge between guitar and electronic elements so we can appeal to a broader Industrial audience. We also feel our new album will be far more consistent and coherent because we've improved our writing methods and we're more skilled in our recording and production techniques. But mainly it's because these songs are being written in a shorter period of time that they'll capture our current feelings and philosophies, making them far more unified. We're quite ambitious so it wouldn't be out of the question for us to release 20 songs for our next album.
Read also: Digital Scars album review
---
Facebook
|
YouTube
Buy on:
Bandcamp
|
CDBaby
|
Spotify
|
Amazon
|
iTunes
|
Google Play
---
Pictures come from Malice Machine's archive, all copyrights reserved by their respective owners. Questions proofreading: Mike 'Vesper' Dziewoński.