December 22nd, 2015 | E-mail interview by
NINa
| Submit for
an interview
|
professional review
| Read other
Fabryka interviews
---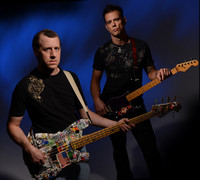 NINa: One burning question arises after listening to Broken from Binary, since every song brings quite a multi-genre mix. Have you written it that way to challenge your own creative skills or rather to please a variety of listeners who have quite contrary music tastes - metal, pop, industrial rock?
GITM: We definitely do challenge our creative skills in songwriting. There is a lot of satisfaction derived from completing songs especially when they take finesse and creative blending to have them stand on their own stylistically. Our influences and musical likes are extremely broad and varied so that ties in with how we perceive music. We really don't view songs as belonging to genres… more that there are just good or not so good songs. There are strengths and weaknesses to all styles of music and we try to draw on those strengths we perceive and weave our songs with them. Symbolically the different genres can be analogies for different aspects of our complicated lives and combining is a way to simplify and ironically to bring clarity. When life is hard and dark... There, in that intersection of those things that normally do not meet, they can be fused and transcended. This purposeful accident can lead us to enlightenment, open doors, shed light on the darkness and turn failures into life lessons so that we can move on to a better place through the
Ghost in the Machine
.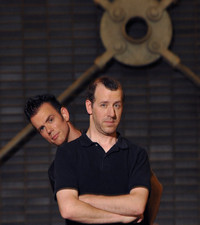 NINa: You've successfully submitted a number of your songs for use in TV and games. What's the toughest part of licensing music? What kind of intellectual property risks should other musicians be aware of if they wish to submit their tracks for such placements?
The toughest part of licensing music is understanding what the customer really needs. Sure, it is hard to make connections to even have the opportunity to license music. But there are lots of publishing venues now where most bands can get a shot. But even once you have a foot in the door, there are many challenges to accurate communication with the customer. We have learned that how a musician looks at a song is very different from someone who wants to license it. Terminology is different ideas about what the music, mood or feel means is different. Sometimes they won't be able to articulate or express what they really want… you'll get the infamous "
they'll know it when they hear it
".
Another critical component is we had to learn to detach ourselves from our music. As songwriters and musicians, we all think our music is great and perfect for whatever need is at hand. You can hear it fitting almost anything but that is because we are biased. Learning to really step away and let go of that bias is critical to making the communication more true and really meeting the customer's needs. Licensing has become saturated with music these days so those needing music filter through a ton of music and their patience and attention are very short. Look at the music (for this purpose) as a widget and think objectively if the music REALLY fits the customers need (even if you think it is perfect). Learn how someone from the other side views music and how it will be used. Be respectful of the customer's time – if you just submit without giving it thought or not really listening to the need, you can damage an opportunity or the relationship. Bottom line – don't take the rejection personally. It just wasn't right for their project.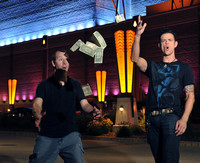 Of course you have to be careful with any legal agreement you sign with the music and it's always best to get an attorney for support. You need to understand how the music will be used and any limits or perceptions it puts upon it. Most publishers and customers are pro-artist these days but you still have to be careful. Be sure you know the difference between different licensing types and the intellectual rights of the composition and the sound recording. It really is another side to the music industry and very technical. Take the time to learn the basics even if you are working with a publisher.
NINa: What's next for GITM? Promotional live shows, recording new music, or a long-awaited holidays spent far from the crowds?
GITM is already recording new music! Our passion really is the expression and creative outlet of writing music so that will definitely continue in the near future. We are considering some upcoming key live performances for promotion but also just for fun. While the end of year holidays are here, GITM will be working but will definitely take some time off to enjoy the holidays.
Broken from Binary album review - read here
Official
|
Facebook
|
Twitter
|
SoundCloud
|
ReverbNation
|
YouTube
Buy on:
Bandcamp
|
CDBaby
|
iTunes
|
Amazon
---
Pictures come from GITM's archive, all copyrights reserved by their respective owners. Questions proofreading: Mike 'Vesper' Dziewoński.