April 6th, 2015 | E-mail interview by
NINa
| Submit for
an interview
|
professional review
| Read other
Fabryka interviews
---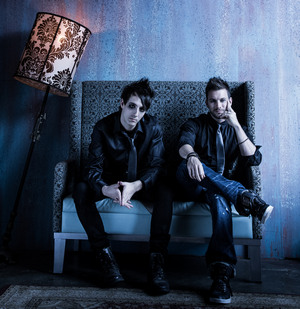 NINa: An album that offers catchy, smartly arranged and composed tracks, with many potential hits, almost calls for a tour to check out how people react to your music. I've heard you'd like to perform for soldiers, just like Filter did in Iraq a few years ago. Would you be interested in playing shows for the U.S. Army only or perhaps other allied military forces as well?
Chris Hodges (vocals):
Performing for the wounded warriors at Camp Pendleton was one of the highlights of my musical career. It was a special moment, because a lot of them had just landed back in the states from Iraq, and they were so excited and welcoming to us. I got to meet some very brave soldiers who lost their limbs only two weeks prior, but the energy and passion they brought to the show with them was unforgettable. I have so much respect for our military; I'd do a tour for them any day, any time, any location.
Chris Egert (guitar/synth/programming):
It would be a real honor to do a gig like that. It's refreshing to play to people outside of the "scene" who are so enthusiastic and receptive to the music, and a show like that would certainly carry more gravitas and meaning than some stupid bar on the Sunset Strip! My little brother is actually part of the National Guard and getting ready to deploy overseas again this fall, so this kind of opportunity would really resonate with me as well.
NINa: Despite the high energy and high tempo arrangements, the lyrics are not that positive. There is a lot about the suffering of the heart and mind due to a loss/a break-up, second-guessing, blaming, bullying, a suicide, but also awakening to the new and an emotional detox. Would you say that it's co-dependency, selfishness, and weak willpower or rather one's wounded inner child's unresolved issues that deteriorate all kinds of relationships between people?
CH: That's such a great question. I think what deteriorates relationships between people goes deep into how they process every day information based on past experiences. Maybe they loved once and got burned, so they shut down that emotion later in life. Or they were abused or bullied as a child, so they grew to hate themselves as an older adult, which led to self-destructive behavior. Most people have a very hard time letting go of the past, and these destructive coping mechanisms pop up out of nowhere, ruining relationships. There has to be a constant mindset of addressing where these behaviors come from and how to overcome them. Personally, I find self-acceptance to be a lazy way out. I want to overcome personal obstacles because it makes me more effective in life. I won't accept or allow the past to dictate my future, and that's what I want everyone to take away from listening to this record.
CE: Although many of the songs are musically very high energy, they all echo the lyrical themes very closely. Once we figured out what a particular song was about, we worked very consciously at keeping that emotion running throughout the arrangement. It was a very organic process for us. As a result, the album undulates between light and dark, and the songs evoke a wide range of emotions and feelings, from hauntingly beautiful to dripping with anger and animosity… all the while being driven by a huge rock sound.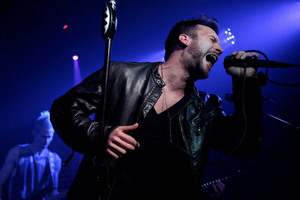 NINa: Your In Virgo debut album's major theme speaks of breaking free from restrictions. Could you list and shortly explain three major restrictions which you personally had to release yourself from to be able to enjoy yourself, develop your passions and live life in general?
CH: Anxiety is a big one, in part because I didn't understand what it actually was. It was only later in life that I was connecting the symptoms with the disease… understanding that it was real, and had a name. I had to acknowledge it before I could move forward with overcoming it.
Depression was also serious for me, and usually works together with anxiety. It was also very dangerous. Anxiety and depression are always enhanced when you don't feel in control, so I stay in control of my health, my decisions, and my mind. All of that takes a lot of practice.
Lastly, not believing I could accomplish all of the things I wanted. I had dreams and things I wanted to do, but I didn't believe I could get there. I now realize that if I hadn't worked my ass off improving my voice and songwriting skills, I probably wouldn't have accomplished any of this. There is no magic wand; it is all hard work to achieve what you want. The bigger your dreams, the more work you'll need to put into them. I had to realize that. The saying is true, "The harder you work, the luckier you get." We worked hard for two years on this album… now it's time to get lucky!
CE: Getting out of my own head is something I've always had a hard time with. As artists or musicians, we tend to spend a lot of time there! When it comes to songwriting though, it's necessary to step outside of oneself and really make an effort to communicate and connect with the listener; that's the whole point of being a musician! This kind of music can be extremely technical, so it's important to not lose sight of that.
Another is placing too many unreasonable expectations on myself. I'm a very driven person, but I've learned that it's important to make time for other people in your life, or you'll never truly grow as a person (or a musician). It's wonderful to have lofty goals and ambitions, but life is a winding road, and you have to learn to ebb and flow with it, especially when you are working in (or on the fringes of) a broken industry like the music industry.
Finally, a major restriction I had when I was younger was not believing in myself or my abilities. It can be extremely daunting being an artist or a musician in a sea of other extremely talented individuals. Sometimes it can be intimidating just being yourself! You just have to let go and live in the moment. Performing has helped with this immensely, because it pushes you outside of your comfort zone and forces you to just be in the moment. I've had some amazing opportunities in my lifetime as a musician, and none of them would have happened if I had shut down and thought that I couldn't do something. Stay open, receptive, and positive and good things will come.
Official
|
Facebook
|
Instagram
|
Twitter
|
YouTube
|
SoundCloud
|
ReverbNation
Download/buy this album:
Bandcamp
Buy this album:
iTunes
---
Pictures come from In Virgo's archive, all copyrights reserved by their respective owners. Questions proofreading: Mike 'Vesper' Dziewoński.