August 20th, 2013 | E-mail interview by
NINa
| Submit for
an interview
|
detailed review
| Read other
Fabryka interviews
---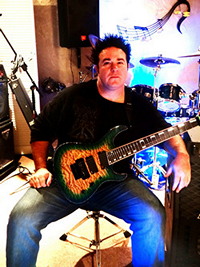 NINa: You released a solo album (Guitarcadia) in 2012. It features a few instrumental songs mixed by C.J. Snare (FireHouse). Moreover, you performed a cover song of "Sucker Punched" with Rick Stitch (Hotel Diablo) and Jerry Dixon (Warrant) for the purpose of The Cigar Chronicles V/A by the Liberty n' Justice project. Your other collaborations or live show supports include artists such as Symphony X, UFO, Kip Winger, Dio Disciples and Neil Zaza (Danger Danger). What do you like the most about working with rock stars? Is there any idol left on your personal list of desired collaborations? Finally, can you share any funny backstage stories?
Xander Demos:
Wow, you covered a lot there.. What I like about working with these guys, some of whom I grew up listening to, is that you can always learn something from them. They've been there, they know the game and how to play it. Most have been complete pros and have treated my band and I with tremendous amounts of respect. It's been a real thrill to have the chance to be at NAMM metal jam last year, and hook up with some amazing people like Mike Wilton of Queensryche and Jeff Martin from Racer X. In fact, Neil Turbin and I have become really close, due to that association. I'll be heading out to play at this year's NAMM Metal Jam, too. It's going to be amazing, and Neil and I have talked about some collaborations in the coming months.
My personal list would have to include Journey at the top of the list. I've always been a huge fan, and I think the
Escape
album is still one of the best overall albums ever. As far as funny backstage stuff… If I gave that away, what good would a backstage pass be? No, seriously, I don't really have any wild or crazy stuff that's happened. We keep it pretty low key.. focused. Sorry! Oh wait, there's the one about the one-legged midget hooker and the carp…
NINa: There's also a project called Sabbath Judas Sabbath by James Rivera (ex-Malice) which you've been involved with for some time now. It started with an East Coast (US) chapter in 2012, followed by the European chapter a year later. Are only famous and experienced musicians invited or does James headhunt for less known talent to give them some exposure through performing cover songs live?
Xander: James is such a cool guy and super talented. He completely owns the stage. So, it's a real thrill to be performing along side him in SJS and also in his new solo project. We're going to heat things up with that in the early 2014. Obviously, experience is key. You want guys who can handle themselves in front of large crowds and who have the chops to play some of those incredible covers. Sabbath and Priest… those tunes aren't easy! I would say that it's kind of a word of mouth thing. If somebody knew someone that could hang, then I'm pretty sure James would be up for it, but I don't want to speak for him.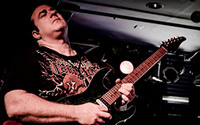 NINa: Guitar shredding has been used in many metal music subgenres, but it can be easily overdone. However, judging by your songs from Guitarcadia, it sounds like you've found the golden mean. What piece of advice could you give to other guitarists who lose themselves in either the technical details or too much passion?
Xander: Always remember that songs are the key in the music industry. Don't lose sight of the melody and song structure. If you listen to my stuff, there are definite melodies and hooks. You can hum along in between bouts of shredding. The songs have definite verses, bridges, choruses, etc. So, it's not just me going buck wild and masturbating all over the fretboard. That gets kind of boring. You want to have something that people can listen to and even if they aren't a shred fan, they can hear the melodies.
NINa: You have a signature model - the 7-string, 27-fret guitar McNaught XD727, the production of which started in May 2012. It is to be followed by the 6-string XD627. The blue and yellow patterns covering the guitar body remind me of looking through clear water at a sandy river or sea bottom. What are the most recommended features of these guitars?
Xander: Glad you asked! Complete specs for the XD727 are: Basswood body, black back, Quilted Maple top, custom burst, TRS-PRO7 tremolo (won't be used on production models), EMG 707 (bridge), EMG 707-TW (neck), 27 frets, Stainless Steel 6100 fret size, Luminlay side marker dots, MOP and Malachite block inlays, Ebony fingerboard with flame maple binding, reverse headstock, three-way pickup selector, master volume and EMG SPC control. How's that?? Lol. I seriously love this guitar. Dave McNaught really puts his heart and soul into his guitars, and it was the highlight of my career, so far, to have a signature model.
NINa: I've heard you're an animal lover. Do you prefer to donate to associations helping with rescuing domestic animals or to those protecting species doomed to extinction?
Xander: To me, the two go hand in hand. I am an animal lover, period. I do a lot of work with the animal rescue people and the shelters, but I am also a shark nut. I just admire the beauty and awesome intelligence of all animals. I think it is our duty to protect them and cherish what they bring to our world. I completely support animal rights 100%. I have a zero tolerance policy with any kind of abuse that takes place, and I hope that I can make a small difference with donations from my album sales, as well as through press and interviews like this.
---
Official
|
Facebook
|
ReverbNation
|
SoundCloud
|
Twitter
|
YouTube
|
Myspace
Buy
Guitarcadia
on:
iTunes
|
Amazon
Pictures come from Xander Demos' archive, all copyrights reserved by their respective owners. Questions proofreading: Mike 'Vesper' Dziewoński.