July 22nd, 2013 | E-mail interview by
NINa
| Submit for
an interview
|
detailed review
| Read other
Fabryka interviews
---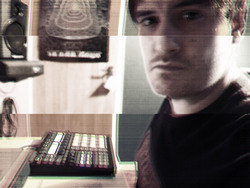 NINa: Your music is labelled as industrial for the most part. Have you ever analyzed why industrial musicians as well as fans are fascinated with heavy industry - machines, factories, repetitions, cycles, loneliness, the cold and the noise? What emotions can be expressed through making industrial or experimental noises?
James Orez:
It's funny, when I started making music I had no direction, in terms of genre, for what the overall sound would be. I was very unfamiliar with
Industrial music
, apart from
Nine Inch Nails
, and I had only heard of Skinny Puppy. My music taste lies more in the metal genre, you could say. I mean, I am a huge fan of Tool and Deftones. So, after I made a few songs, which were dreadful, a bunch of people were calling it Industrial music. So, I did some research and really delved into the Industrial genre.
This led to many new and cool ideas for me. It seemed like a realm of, 'do whatever you want! if it sounds good, then it works'. I am a big fan of adding old movie samples into music and I did that on the song "Reclaimher". It was taken from some film made in the 40's I think. The voice recordings really had a cool sound about them which would mostly be due to the older tech.
The great thing with experimental noise is that there is a high chance that the sound you just created doesn't even exist yet. I believe in making your own sounds in a huge way. Sample some odd sound in your current environment and go to town on it and manipulate the heck out of it. Same goes with synthesisers. Start from scratch, make your own sound! I think this is why
Message To The Machine
fits into the Industrial genre… It's cuz I am making these weird noises which I think are expressive and unique.
I would also say that there is safety in repetitions. Apparently, we don't like surprises or changes. And heavy 'industry' sounds can lead to some heavy music and we all like to jump around and scream in our rooms, or even in public, from time to time. It's expressive, it's what we as humans do.
NINa: Is the industrial subculture more about a 'collective' (as machines and cogs are connected) or expressing 'self', to you?
To me, currently, I would say it is 'self'. Where I currently live there is no culture, which I could latch onto at all. It is the sad and frustrating thing about my MTTM project, I gotta do a lot of it on my own. And I put that frustration into my music… This is why the first song is "Screamer Number Four" on the album. You could say that it is my 'god damn you!' song.
I always had this idea, which seems dumb now, that getting into music would allow me to meet more people and create something together. To a degree, I have managed that on-line... However, you can't really hang out on-line and jam together, you know. Saying that, I have met some amazingly talented people on-line and it totally sucks that we can't hire a studio for a week and make music together.
NINa: The creation process for Self-Inflicted took place entirely in your home studio. You also offer affordable mastering services through Dark Feather Productions. Do you enjoy more the artistic (writing, performing) or technical aspects of maintaining a musical project?
I definitely enjoy the creation process the most. Creating sounds is a highly enjoyable past time of mine and then having these sounds come together to form beats and patterns is what makes music so enjoyable. Writing and performing the vocals is a lot of fun and it allows me to help nurture the songs on a whole. It also makes the songs seem more real to me.
I do enjoy mixing music, I find it relaxing when it's not my own music. Having done the mixing for the
Self inflicted
album I became too attached to some of the sounds and I think that compromised the overall mix at times. However, when mixing for someone else, I don't get like that. Same for mastering, I find that enjoyable but only when it's for someone else's music. I guess the phrase 'obsess much' could describe my approach to mixing and mastering my own material which I think has a little bit of a negative effect. It's just very hard to step away from yourself… literally.
You may also like reviews:
Self-Inflicted (2013)
Endlessly Copying Ourselves EP
(2012)
Official
|
Facebook
|
ReverbNation
|
SoundCloud
|
Twitter
|
YouTube
---
Pictures come from James Orez' archive, all copyrights reserved by their respective owners. Questions proofreading: Mike 'Vesper' Dziewoński.