April 12th, 2013 | E-mail interview by
NINa
| Submit for
an interview
|
detailed review
| Read other
Fabryka interviews
---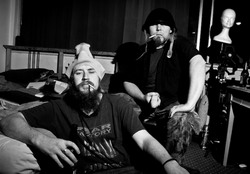 NINa: There are two of you - Yok Rzeznic and AD Millennium in a band with a funny sounding name. Are you hoping to revive the true industrial metal scene of the 90s that fans are familiar with, let's say through the most significant albums by Ministry or Godflesh? Or is it the joy of doing what you love personally whilst living in a country that seems to offer little support to industrial music?
YOK: Yes, so far it is the two of us and we'll always be there core, but we are talking to prospective collaborators for a live situation and possibly further development, nothing in stone yet to mention though.
Reviving the forgotten industrial sound is something we have taken on with gusto, not that we're being completely true to the old-school, what with down-tuned guitars and bigger production styling, but why copy something when you can recreate it for yourself? We just want to make music that we want to hear!
A.D: Growing up, I was always inspired by a lot of great industrial acts. as I eventually came to the point of writing my own music, that era of music had faded and other genres such as EBM became more prevalent in the scene. these styles are also great in their own right, but I always missed that hard hitting combination of heavy guitars and industrial machinery. Teaming up with Yok has been a great opportunity to realize this dream and we both hope to drag as many willing people along for the ride as far as the road sees fit to take us.
NINa: On your Facebook, there's news of a new album incoming as well as a suggested tracklist, including song titles like "Bitchshifter" and "Refinery". Will you be continuing the same musical direction found on Unfit for Human Consumption EP?
YOK: Haha, uh, well, I believe in freedom of information and sometimes it's fun to rattle off these things, some of the conceptual ideas for songs are still in a 'working title' status where they could very well end up somewhere else down the line, it all depends how the song chooses to evolve and feel, something that is not 100% in the control of the creator.
Hence why we'll have songs labeled "Tom Hanks" and "McCrunch" and "BallTickler" at some point, from there, they could turn into anything.
A.D: 'Refinery' is a word that works on multiple levels for us. most notably, with our direction. After working on the E.P. we began working more as a collaborative, forming ideas together and refining others. The result has been chunkier than discount night at an all-you-can-eat buffet!
NINa: Of the three characteristics: anger, original concept, satirical provocation - which are the most important for you to express through music and deliver to the listeners?
YOK: Satirical provocation, for sure. Anger can be faked and concepts can fail miserably, but satirical provocation can't be faked or half-arsed. I am not much for listening to lyrics, but if someone is clever enough to twist available words and phrasing about particular situations and make them hilarious yet fiercely intelligent, I am all ears. For example H.B. Flaubert and Ron H. Barassi from TISM, echelons above most songwriters in satire and wit. On the other end, though, you have something like System Of A Down that lacks any rhetoric and is fine with jamming left-wing bumper sticker slogans into your ears, effort boys!
A.D: I think anger is over-used. It seems any kid who has experienced a breakup at the age of 14 can sing a metal-core song about it nowadays. The music that always stands the test of time are from those bands or artists who have an understanding of the political/social climate and aren't afraid to break it apart, analyze and dissect it.
There's a fine line between sharing an informed opinion and preaching your point of view to people who may or may not want to hear it. Satire works best in this and I think that is partly why it works best for what we do. We can maintain the aggression and passion of things we believe in, whilst always remembering that we look like a pack of dickheads while doing it!
Download for free:
Unfit for Human Consumption EP
SoundCloud
|
Facebook
|
Twitter
|
Last.FM
|
Myspace
|
Discogs
---
Pictures come from Maximum Sexy Pigeon archive, all copyrights reserved by Necrooptics. Questions proofreading: SanDeE.
This exclusive interview must not be used for promotional or commercial purposes. See a Legal Note for the copyrights below.