[
NINa
and Marco Gariboldi, e-mail interview, 2009-07-25]
---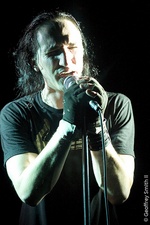 NINa: VTG plans to release a remix CD. I'm getting quite sick listening about another remix release of any band, no offense of course ;) Why has it become so popular especially around this music scene for the last 5 years?
Lawrence: HAHA, Now that you say it, I'd have to agree with you, I'm kinda sick of them too. So, fuck, I'm a hypocrite now. I'm not actually sure why it's so popular nowadays... Maybe it's the extra potential revenue stream, cause there's so much money in music these days :) -or- maybe it's a chance to see what other artists come up with... or maybe, it's because everyone is a musician now and everyone who has Ableton live can 'kill that shit' and rip up your new track.
I'm doing it because "Love is Letting Go" (LILG from now on) was a rock album and I LOVE dance music. So, the remix album is a chance to get our new tracks on the dance floor, a place I've neglected for a while.
Marco: I've read that you are intrigued by the Daft Punk sound, or rather by the particular compression of their songs, called "ducking" (http://sonictransfer.com/side-chain-compression-tutorial.shtml). Are you using this technique for any upcoming songs?
Marco, good question - love it. So ducking is when the amplitude of one instrument is used to compress or reduce the amplitude of another instrument. Here's an example. You're listening to Daft Punk and you notice that every time the kick hits, the volume of the whole track or certain instruments gets lowered for a split second and it creates a sucking, driving sound in the track. Anyways, that's ducking, it's also used on-air when a DJ talks over the music and the music gets softer while he's talking.
I've always loved the air it gives a track and I've started combining that particular effect with Electro, Breakbeat, Rock n' Roll tracks and it's pretty intense. Think a faster Dubstep bassline, hard breakbeat drum sounds, electro synths and some nasty guitar. That sound I've just described is the essence of the new album, an underlying theme. A lot of the raunchier sounds are coming directly from an Access Virus soundset I just released for free on the website.
NINa: You wrote me in an email: "I'm actually really excited about my next release, totally different, much more prodigy-esque dance music. There's a track up at myspace.com/vtg Dance Floor Game." So how many songs have been made so far and what's the idea behind the album?
There's a little over a dozen tracks, most of the music is finished and I'm working through lyrics and refinements. I'll probably cut it down to ten tracks or so, cut the fat. So here's the concept behind the album and yes, it's a concept album. A little more so than the last two releases, which were as well. The album is called "Dance Floor Game" and it's set in the future, there's a main character - wait,... let me stop here, this is going to take too long to describe. Let's just say it's an Atlantis themed album, meaning it's about loading the bullets to the gun that eventually takes you down. There's a virus, the dance floor, and the music is infecting everyone. I'm looking to release an online comic book to go along w/ the album that tells the story and plays the album in the background - we'll see.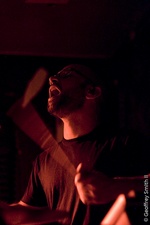 NINa: Watching your brand new video "I Lie Pretty" and promotional pictures, it seems you like to expose your body. What do you think of the body cult these days? All those 'Photoshopped' pictures lying about everyday reality, and people's complexes of minority rising due to that?
I think for that video I had to expose myself a bit and no, I'm not opposed to that, but I think it has to fit the context for it to be 'right'. The topic of the song is so personal, I'm not sure the story could have been told more effectively in a different way. I put full creative control of the "I Lie Pretty" video in the hands of Winston Good and Bradley Furnish. They took the song and came up with a story that fit and also tied itself in with the Narcissus and Echo tale.
To get to the question though, I'll be blunt. Let's take models for example, who really wants that? No ass or breasts, weird enhanced facial features, nothing to hold on to ;) It's totally unreal and frankly I don't get it. I don't find super skinny, cookie cutter bodies attractive. Maybe it's just easier to make people think something is attractive than go out and actually find someone that IS attractive. And fuck Cosmopolitan, cause... well, fuck Cosmo.
If people put as much effort into their personalities as they did their appearance - holy shit.
NINa: The video is full of passion however the girl still wears clothes. Didn't you try to make her naked but keep the video far from porn?
I think you're imagination will take you to a darker, sexier, more fulfilling place than your eyes ever will.
NINa: Why does sex still rise so much of emotions if people have seen everything about it so far? Are we genetically programmed to feel horny watching certain pictures?
Sex is us. It coerces us to make decisions, empties our pocketbooks, makes us insane. It's a base instinct. In the same breathe, it's a huge creative force and I think you'll always find it in art because people are so intrigued and driven by it. If I told you, "hey, listen to this music, it'll take you on a sexual journey", would you listen to it? If you thought yes and said yes, you're 50% of people. If you thought "yes" and said "no" you're 49% of people. If you screamed "YES!".... call me, I can help :)
NINa: The video is available on YouTube but do you want it to be broadcasted on the regular music TV stations too?
Of course! Frankly, it's on the to do list - sending it in, but I don't know of a lot of stations that would air it. I'd love it if you or anyone reading this had any suggestions.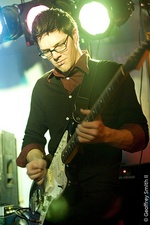 Marco: On February 28th you played with Gary Zone (Dismantled), WGTF and Diabolic Disciple at the Retox Lounge in San Francisco. Did you already know these artists? How has it been sharing the stage with them?
The Guys from WGTF (We Got This Far) asked us to perform with them at that particular show. We're friends with them and they're great guys. Previously, I had never listened to the other bands performing, though the guys from Diabolic Disciple are really friendly. Honestly, I haven't been keeping up with the industrial / EBM scene for a long time. I've mostly been listening to electro-ey dance music. I spend the little time I have cruising beatport.com for new music.
Overall, I thought it was a great bill that WGTF put together, really high energy and lots of live instruments, which I love.
/Question for Lawrence/ Marco: You're the owner of the 3am Devices label; you already published two albums under this label and you're doing it for free, or donation. Are you looking for other artists to add to your roster? What are your projects for the 2009?
YES, we are definitely looking to release more artists. We've got a few pre-requisites though - you've got to be OK with releasing your music for free download and also fall somewhere within the electronic music realm. I think our mission statement sums it all up.
VTG at Myspace
---
Pictures come from VTG archive, all copyrights reserved by © Geoffrey Smith II.